Many people are looking for a way to convert existing space into something more livable, particularly given lower interest rates. But not everyone wants to pay for a full and complete home addition which is why converting your garage into an extra space is a viable alternative.  When you convert your garage into an actionable living space you typically add about 600 square feet of room for the average 2 car garage. Garages already have a roof, foundation, and walls so depending on the quality of each, and how much of the existing structure you want to use, you can convert your garage into an extra room for anywhere between $20,000 and $50,000.   
Converting your garage can take up to six weeks on average because you have to raise the floor height so that you can put insulation over your concrete slab, you also have to insulate the walls and the ceiling which, for most garages, has to be done from scratch. You will need to upgrade your electrical service, integrate heating and cooling either with an independent system or by converting your main system for heating and cooling from the house into the garage as well.
You should also learn more about garage floor coatings that can provide a low-maintenance and attractive solution to the finish of your floor.
If you want to connect to the entire space then you can open up the partition wall that separates your garage from your home and just enjoy the additional room, alternatively you can close that in if you want to make a completely separate space. The garage doors will have to be fully insulated with new stud walls and any new windows or doors will have to be put in their proper place.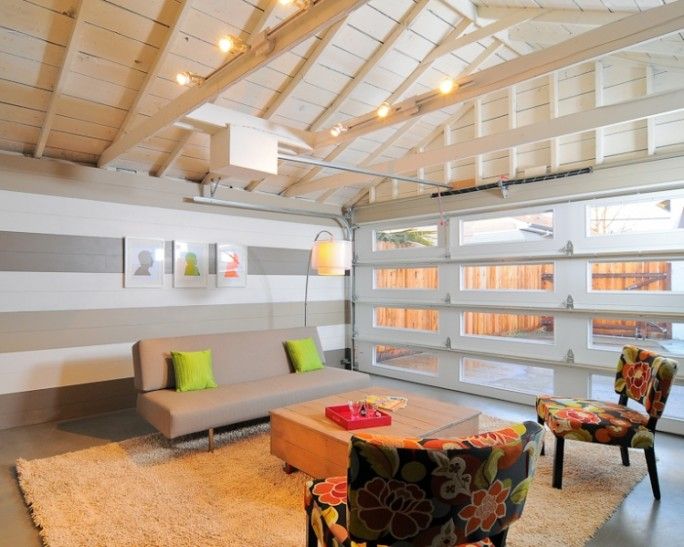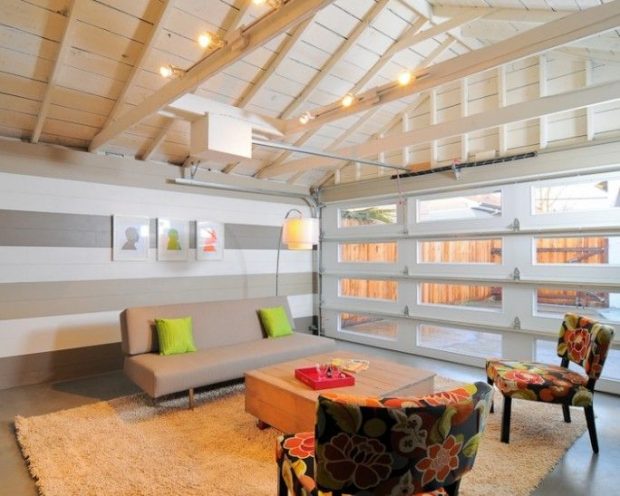 Remember that if you want your garage to legitimately look like an extra room and not just look like you hung some nice tapestries from your garage, you need to incorporate new door openings, lots of windows, and maybe even rooftop designs. Otherwise it will just look like a barn which may or may not be the look you were going for.
Converting Your Space
Converting your garage into an extra room is a great opportunity for many reasons.  
When you convert your garage into an extra room you can choose to make your conversion for guests specifically, locking the door that links your home's interior to the garage and instead installing a separate entrance directly to the garage room. This entrance can be set up with a specialty padlock so that you can rent out the garage room to travel websites like Airbnb, or just have it available when your adult children come home unexpectedly.
Converting your garage allows you to add more usable and marketable square footage to your home without a room addition that permanently eats away into the amount of outdoor property you have.
Garages are particularly useful for conversion into an extra room for people who just need a specialized place for crafts, hobbies, an extra child, an adult child still going to school but needing a bit of independence. This is great for families that don't use the garage to store their vehicles.
Once you decide to move forward make sure you follow the right codes for your area, something that can be more easily done with the help of a professional contractor. Have in mind an alternative place for parking your cars, something that might not be a big issue if you have a very long or circular driveway. If your current garage stores things like gardening tools, snowblowers, or winter sports equipment, be sure to have an additional space in which to store those since the garage is now spoken for.
Technology In Your Larger Home
Technology in your newer, larger garage room can be used to keep out burglars and keep the environment as safe as the rest of your home. Alarm systems and other technologies like cameras can be integrated into your home security systems. With your newly completed conversion, you should consider improving the technology around the extra room early on. This might include installing temporary solar-powered CCTV cameras if you have any large construction materials left outside prior to the completion. This will keep your risk of potential theft at a minimum. Once the room is completed you can install new alarm systems like stick on window alarms for a sliding glass door if you have one installed, individual window alarms that can be turned on and off when you are home and when you are not, as well as door alarms if you have installed a new door for a private entrance to your new room.