Playing with a tepee tent is a fun and creative experience for any child. Taking a nap, hiding or playing creative games are just a few of the numerous ways a tepee tents can be used. Once you understand the tepee's benefits in your child's development, you will want to provide him with one. You should always enjoy some quality time with your kids. This Teepee Tent DIY will help you to some fun with your kids.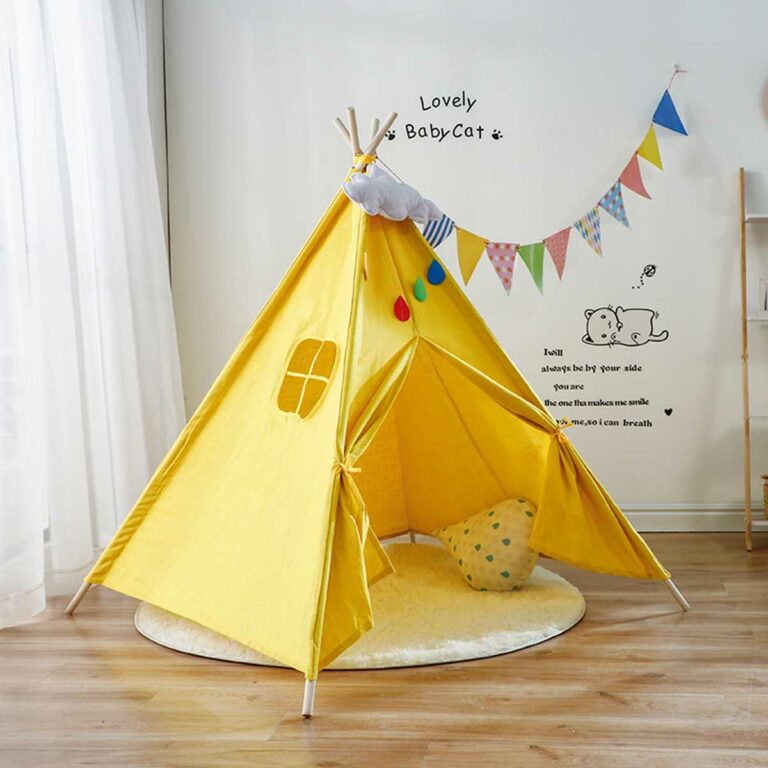 Kid's teepees come in a variety of measures, colors, and patterns. Because some of your favorite tepees might not fit your budget, a solution could be to design and build one. Making a kid's teepee saves you some money and allows you to do something new and fun together with your child.
Use Poles to make tent
First, you need to decide how large your tent will be. The number of poles required in Teepee tent DIY can vary from three to six, depending on the tent's weight. You cannot use less than three poles. For a very stable tent, it is recommended to use six poles. Avoid poles made from metal or wood because they are too heavy and can splinter, break, or rust. PVC poles are the most recommended because of their small weight.
Next, bind the poles together to make the tepee framework. Wrap the poles tightly with a rubber band, leaving about 10 centimeters (4 inches). Stand up the frame and spread the poles evenly on the ground in a cone shape.
Fabric
The next step would be to cut the fabric according to the tepee framework's shape and to make sure it fits properly. Don't forget about the door! You need to cut a hole in the fabric in the shape of a door.
Customizing the fabric is the fourth step. Ask your child to join you. He will love using colors to paint his teepee, and this way, you will also encourage his creative skills. Choose well the painting materials. The tepee needs to survive a couple of rains, at least. You could search for tepee patterns and decorations on the internet or simply write the name of your little one on it.
And for the last step, slip the fabric over the standing tepee framework once the paint has dried.
By now, your unique kid's tepee tent is ready to use. And you saved a lot of money in the whole process. Children love having their shelter. They use it as a secret hideaway where they can play in an imaginary world. Let your kids invite their friends so that they can all enjoy the kid's tepee you've made.
How is a tipi tent stored?
You can store your teepee tent packed in any dry place. As mentioned above, make sure that you dry it thoroughly after use before packing it back together. This way, you prevent firstly that the impregnation becomes permeable after a short time and secondly that your tipi tent does not start to form mold stains and mold.