Every piece of furniture placed in any interior design only reaches its true potential when it is complemented by the right décor, accessories, and ambiance. All of these things help enhance its presence. Since the Corbusier Lounge Chair is one of the most iconic pieces of furniture in history – and even today – it's safe to assume that it needs sufficient visual intervention to showcase its true potential. If you don't know how, here are 8 ways to enhance the presence of your LC4 recliner;
1.Lush planters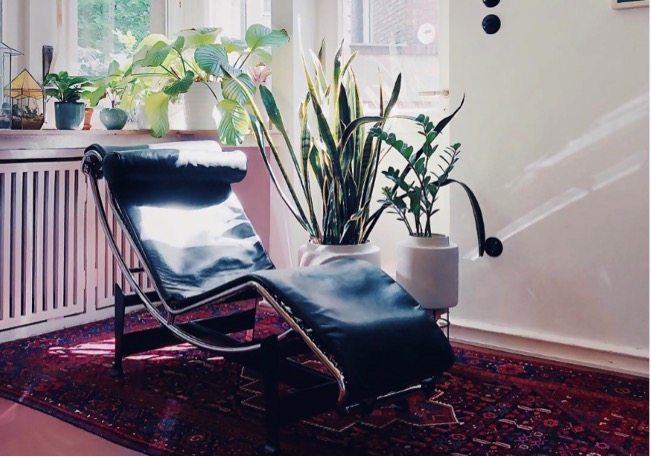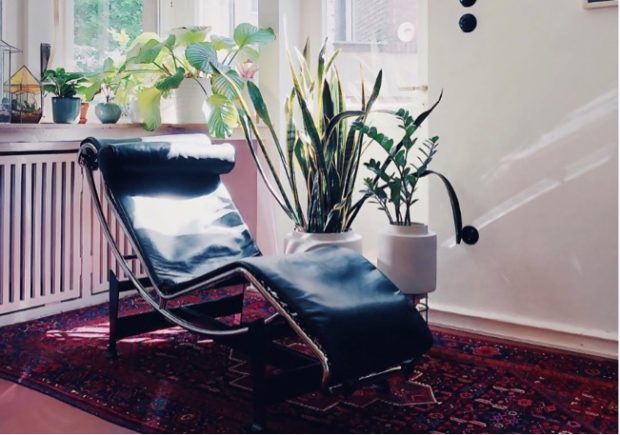 Accompanying your Corbusier Chaise Lounge with a set of potted indoor plants is a beautiful way to enhance its presence. The lush green of the plant leaves will contrast the leather upholstery of the recliner in an interesting fashion. This image showcases the perfect way you can set up such an arrangement. Just make sure you do it in a sunny spot so that the plants don't eventually wilt away.
2.Floor lamp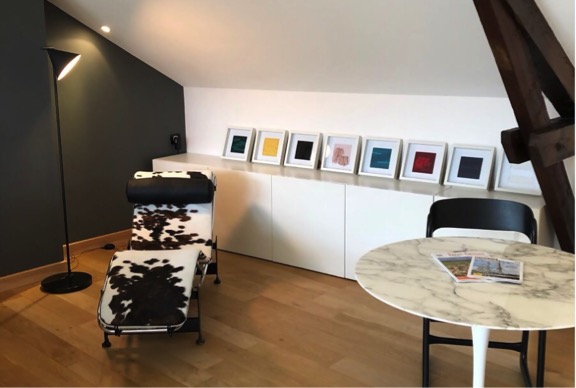 A modern floor lamp is an excellent accessory to enhance the presence of your Corbusier Chaise Lounge. However, there are a few things that you have to consider while choosing the perfect lamp: it must not show-off or undermine the design of the recliner in any way and it must be understated in design. The minimalistic piece featured in this image is an excellent example of such a selection – neat, straight-laced, and complementing the stately aura of the chair perfectly.
3.Gallery wall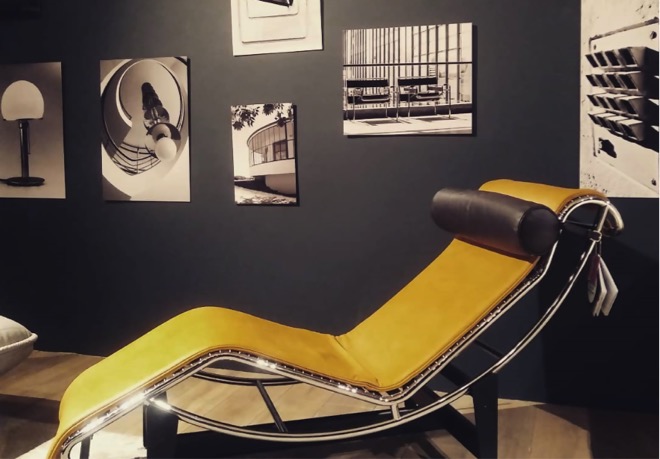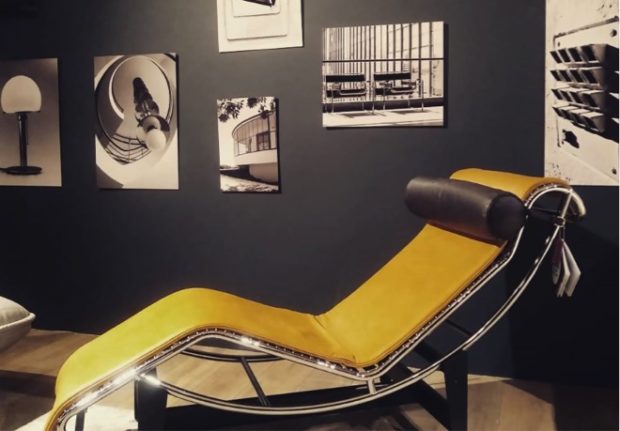 The Corbusier Chaise Lounge is a statement accent piece. Its upholstery and design are deliberately eye-catching, so that the eye can never just skim over it. This is why it needs an interesting backdrop to feel truly wholesome – as if it belongs in the place. A gallery wall is a great way to do this. The gallery wall that features the archives of modern architecture in this image are a beautiful way to set off the mustard yellow upholstery of the LC4 recliner – they both enhance its presence and evoke the right ambient mood.
4.Furry throws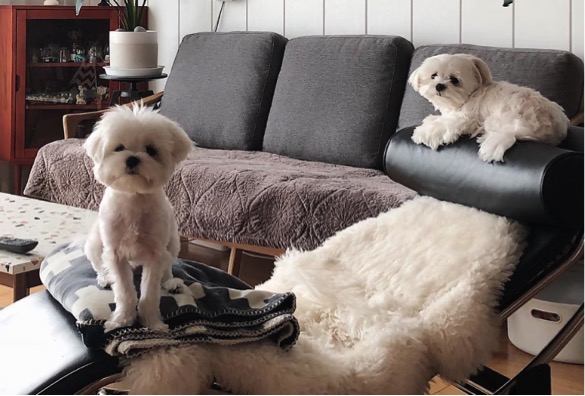 If you think that the Corbusier Chaise Lounge is too sleek an addition to your casual and homely interior design, then you can get the best out of it by throwing a fluffy throw over it. It would add a comfortable and cozy aura to its austere modern presence while matching well with your home-oriented theme. The arrangement featured in this image is quite an excellent way to achieve this effect wholesomely.
5.Vintage contrast with a storage trunk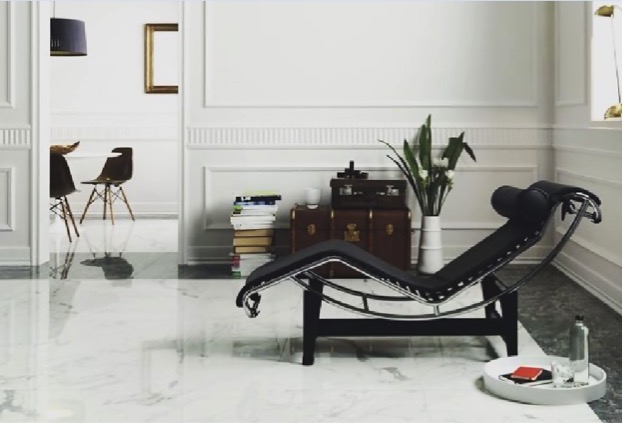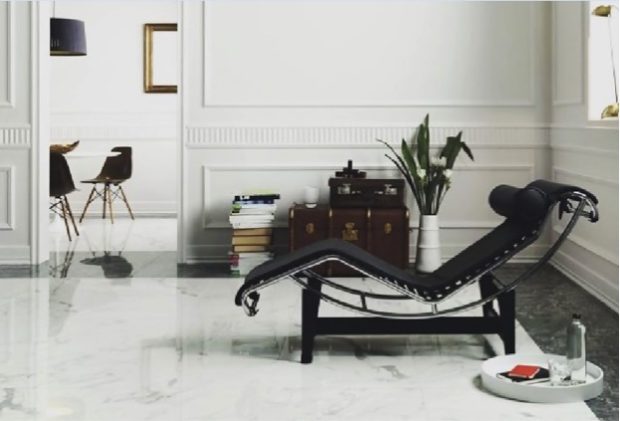 Sometime, you need a stark contrast between two objects for one (or both) of them to stand out. Since the Corbusier Chaise Lounge is such an iconic piece of modern history (sleek, cleanly designed, elegant, and sophisticated), you'll need something old-school to make its presence pop! A vintage storage trunk is an excellent choice. As you can see in the image, it perfectly complements and sufficiently contrasts the modernity of the recliner while adding a lot of charisma to the ambiance.
6.An area rug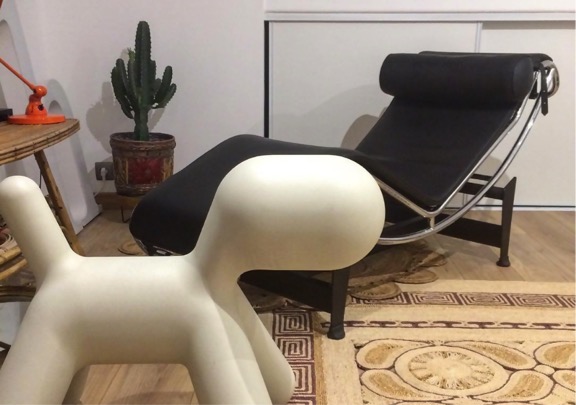 A gorgeous area rug could be a great way to enhance the presence of your Corbusier Chaise Lounge. But it's important to note that the type of area rug you choose is important here. Since you want to highlight the design of the recliner, something oriental in bold colors would be an excellent choice. Alternately, you can also choose bright neutral colors such as brown, grey, and beige in any oriental design. Both will make the austerity of the chaise shine.
7.Matching upholstery cushions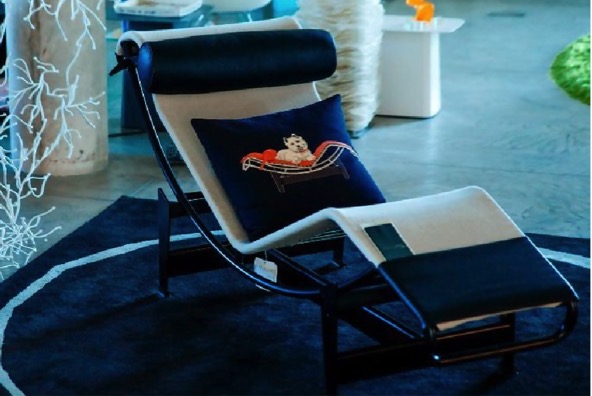 A good way to both personalize your Corbusier Lounge Chair while enhancing its presence in your homes is by loading it up with a customized cushion that either matches or contrasts the upholstery. Since the anthropometry of the LC4 is very compact, you cannot really feature more than a single cushion, so you'll have to make it out while choosing the design. If the upholstery of the chaise is unpatterend, you can choose cushions with patterns and vice versa.
So these are some clever ways that you can make your Corbusier Chaise Lounge stand out in diverse home interior types. Now you can bring out the best in your LC4 recliner with a few right props!