We are sure that we intrigued you to look up our tasty healthy breakfast recipes, so here comes part two. We offer you another 6 healthy breakfast recipes that may become a ritual of your wonderful morning moments.
1. STRAWBERRY BANANA PORRIDGE WITH GOJI BERRIES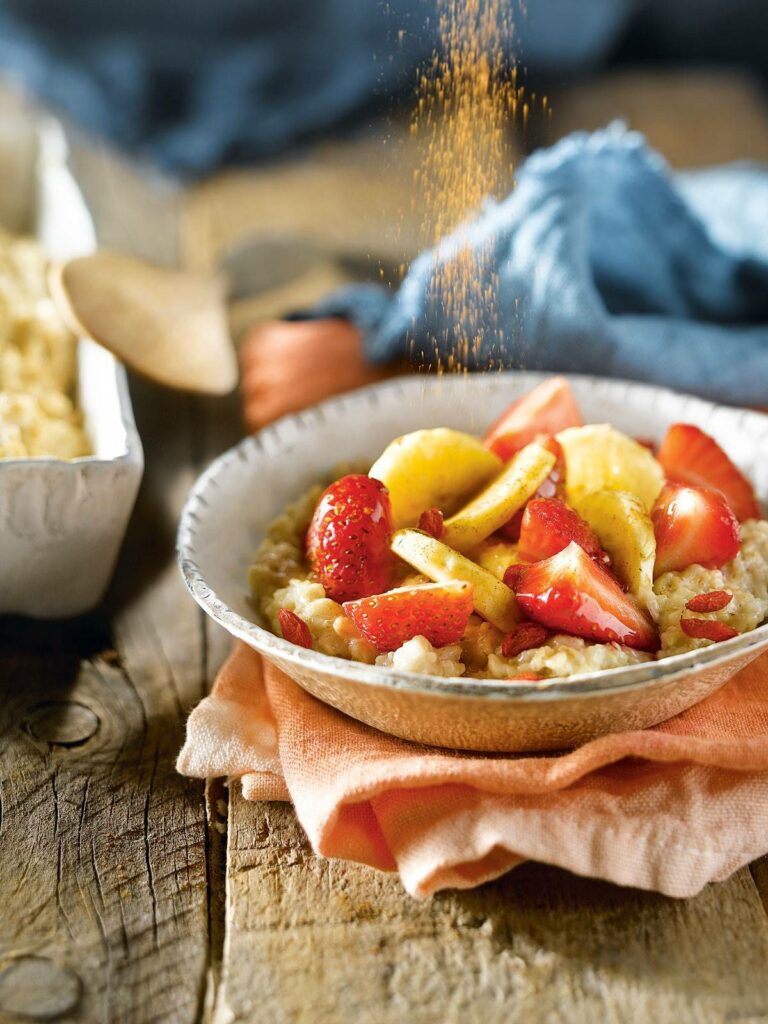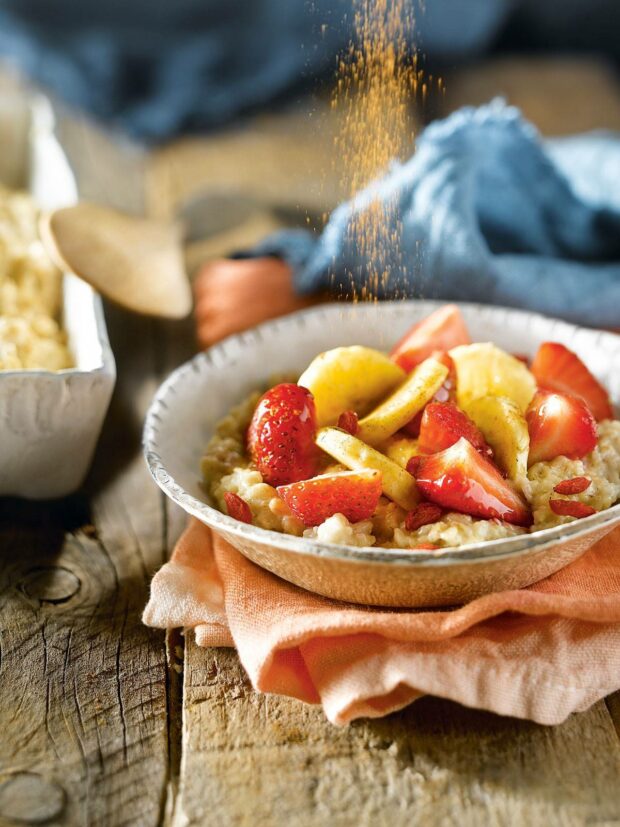 Porridge or oatmeal is a healthy and high protein breakfast. If you are going to exercise later, this breakfast is perfect. Also for the winter, it is one of the ideal options for a healthy and hot breakfast. Preparation time: 20 minutes.
Ingredients for 4 people:
200 g of rolled oats
500 ml of water
500 ml of rice milk
2 tablespoons of whole cane or coconut sugar
1 teaspoon ground cinnamon
150 g strawberries
1 banana
50 g goji berries
a pinch of sea salt
Preparation: Preparation: Heat the rolled oats in a saucepan with water, rice milk, and salt over medium heat. When the oatmeal has thickened enough (about 10 minutes), remove from heat and let it rest, covered, for another 5 minutes. While cutting the strawberries and bananas. Divide the porridge into four individual bowls and add the fruit. Before serving, garnish with the goji berries and sprinkle with the cinnamon.
2. VEGAN SALAD PITA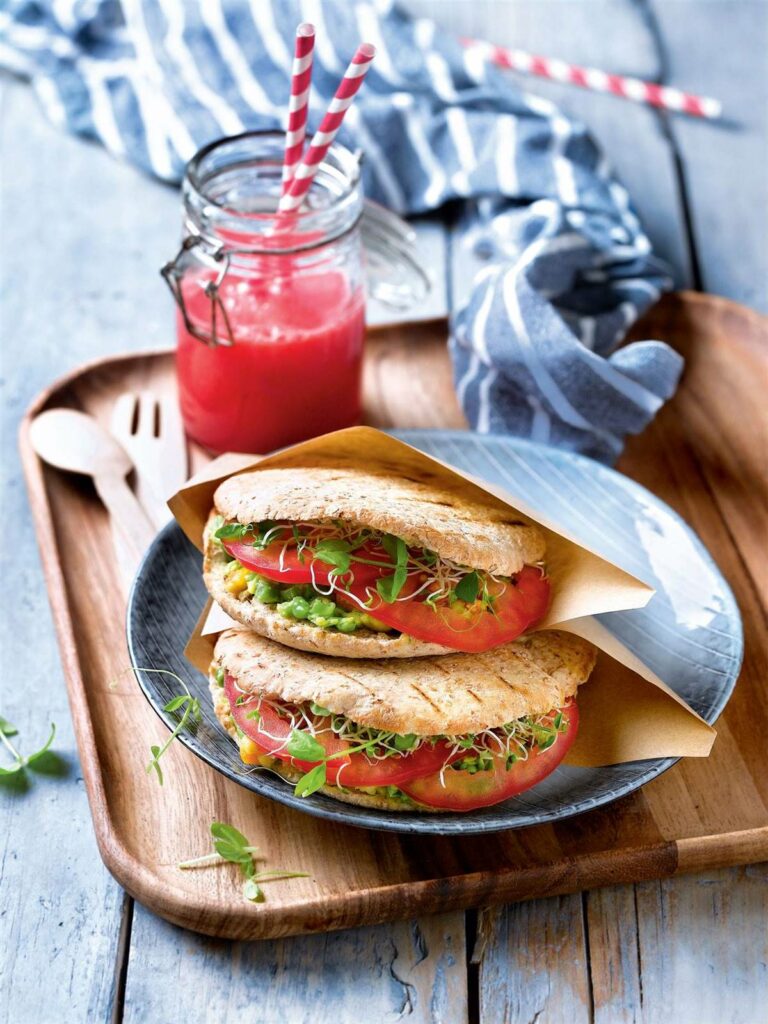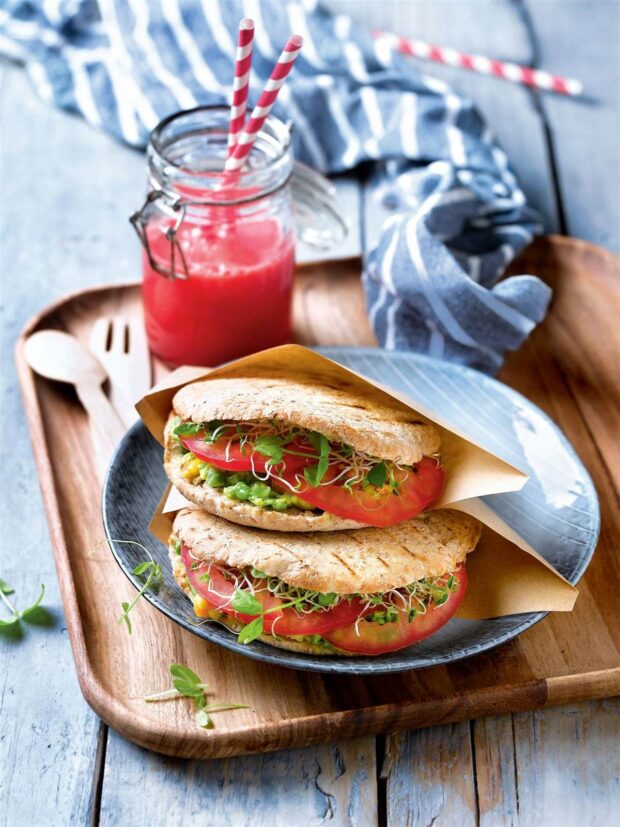 In 10 minutes you will prepare this healthy vegan breakfast for 3 people.
Ingredients:
6 whole-wheat pita bread
1 cup of vegetable stew drained
1 cup of chickpeas, cooked and drained
100 g of green peas
1 tomato
1 cup alfalfa sprouts
For the cream:
1 ripe avocado
100 ml of vegetable milk, without sugars or flavors
1 tablespoon of lemon juice
Salt to taste
preparation: Open the avocado, remove the bone, and put the pulp in the blender along with the lemon juice and a pinch of salt. Blend it all adding the non-dairy milk little by little until you get an emulsified sauce. Then, reserve the preparation in the fridge. Lightly brown the whole wheat pita on both sides in an oil-free grill pan over medium heat. Remove them and open them. Mix the vegetables and legumes in a bowl, pour the avocado cream on top and mix it with a fork, trying to squash it a little so that there are no large pieces. Taste it and add a little more salt if you consider it necessary. Then cut the tomato into thin slices. Spread the pitas on the inside with the salad and place some tomato slices. Finish the sandwich with the alfalfa sprouts, making sure they don't come off. If you have homemade or purchased vegetable mayonnaise.
3. GRILLED VEGETABLE SANDWICH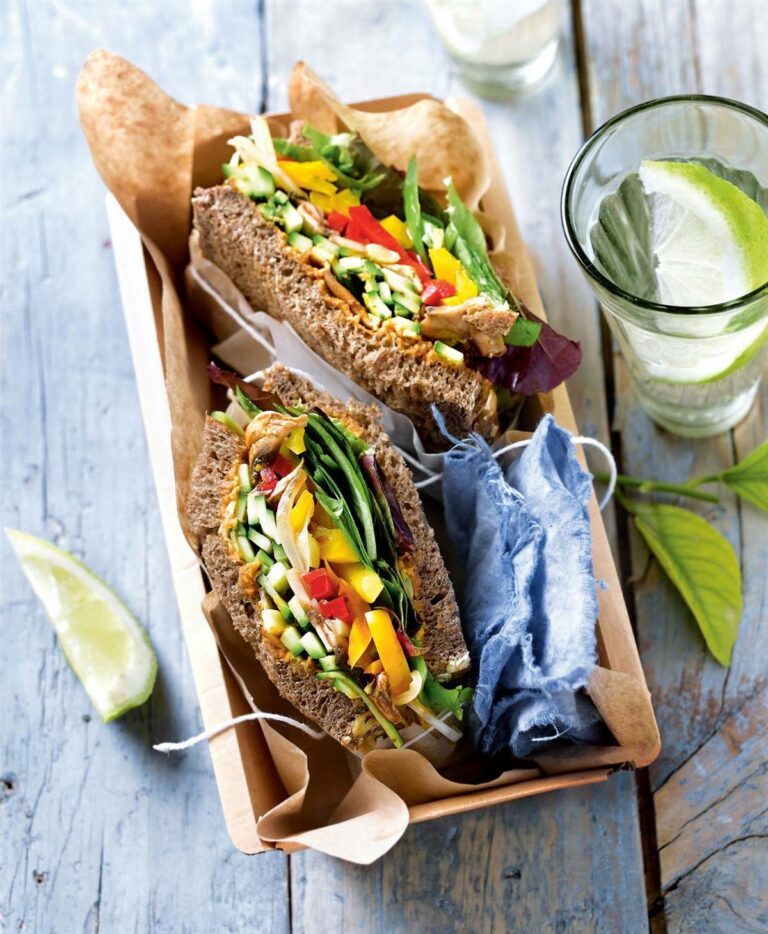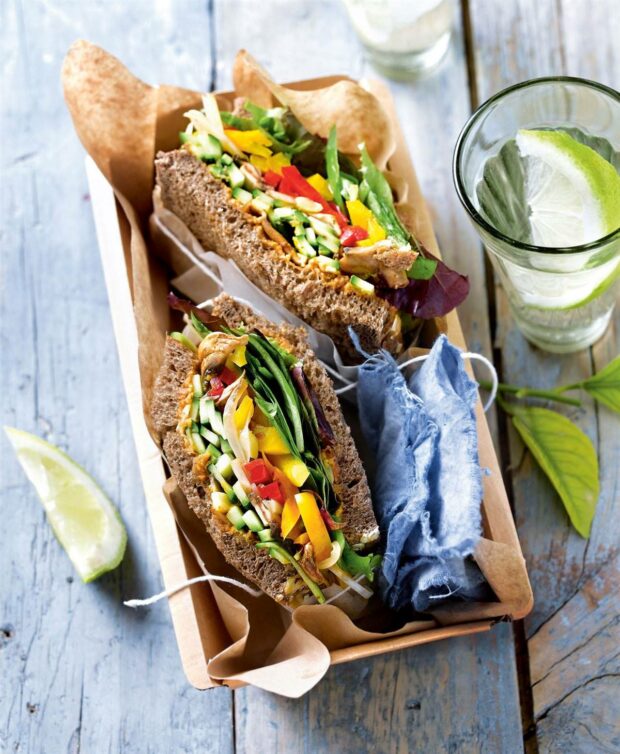 This healthy breakfast is perfect if you know you are going to have a late lunch. And in 15 minutes it is ready.
Ingredients for 4 people:
8 whole-grain sandwich buns with seeds
6 lettuce leaves
1 red bell pepper
5 mushrooms
1/2 leek
1/2 zucchini
1/2 onion
1/2 cup of lentil pate
1 teaspoon thyme
1 teaspoon oregano
¼ teaspoon black pepper
2 tablespoons of virgin olive oil
1 pinch of salt
Preparation: Wash the vegetables and mushrooms. Cut the pepper and leek into strips, the lettuce into pieces, and the rest into slices. Mix the spices in a small bowl. Then put a pinch of oil in a nonstick skillet over medium-high heat and the slices of vegetables that fit, without stacking. Arrange them in batches and brown them on both sides. Sprinkle it with a pinch of salt and a pinch of spices.
When they are golden brown, remove them and reserve them on a plate. Spread half the buns with mustard and top with the lettuce and grilled vegetables. To finish, close them with the rest of the slices, which should also be smeared.
THE TRICK: Adding a few thin slices of apple will make the sandwich even more delicious.
4. BANANA, MANGO AND VEGETABLE SMOOTHIE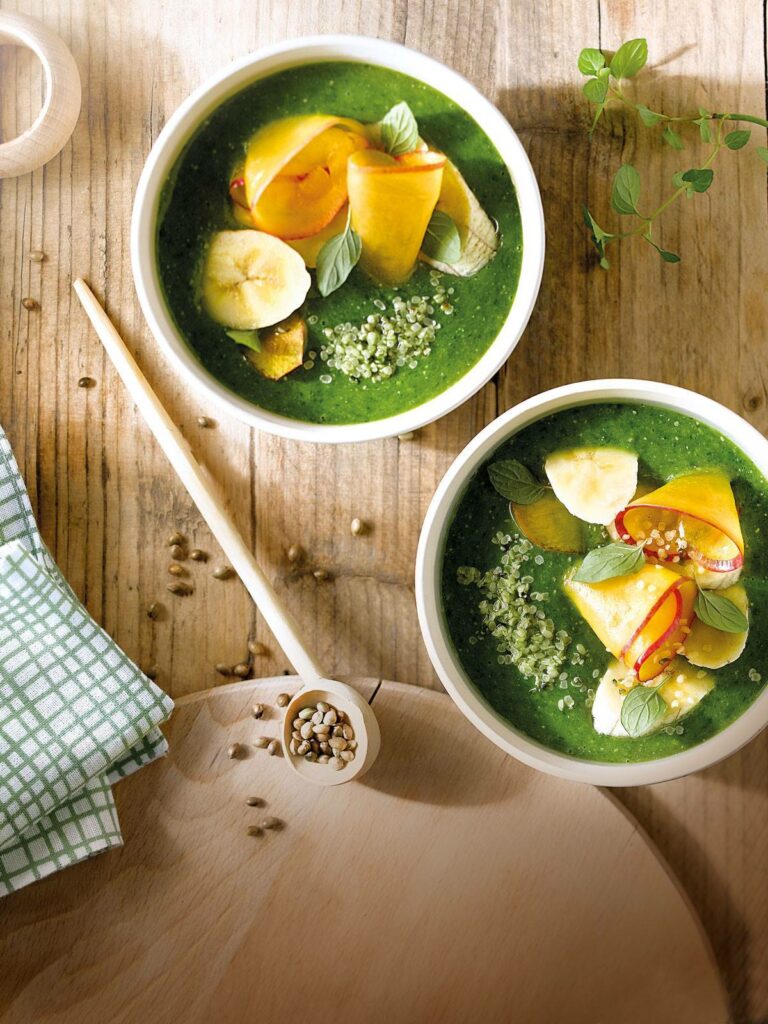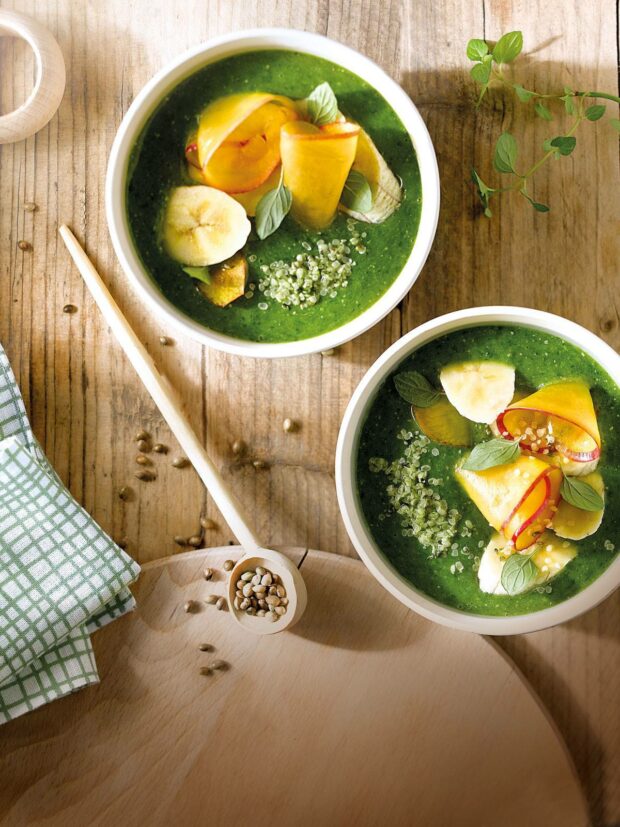 Ingredients for 2 people:
For the base:
2 bananas
1 mango
80 g kale or baby spinach
1 small handful of alfalfa sprouts
2 tablespoons of hemp seeds
Mint leaves
Basil leaves
125 ml of vegetable drink
For the topping:
Banana cut into slices
Sliced ​​mango
1 tablespoon of hemp seeds
Preparation: Beat the base ingredients and serve in a bowl. Add the toppings so that it is easy on the eye.
5. AVOCADO TOAST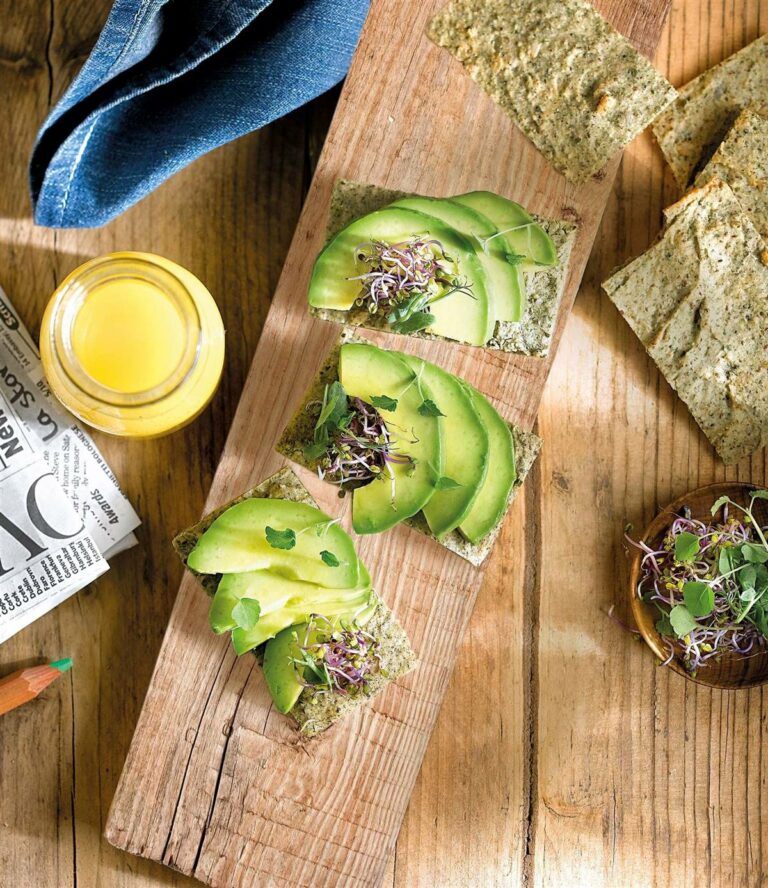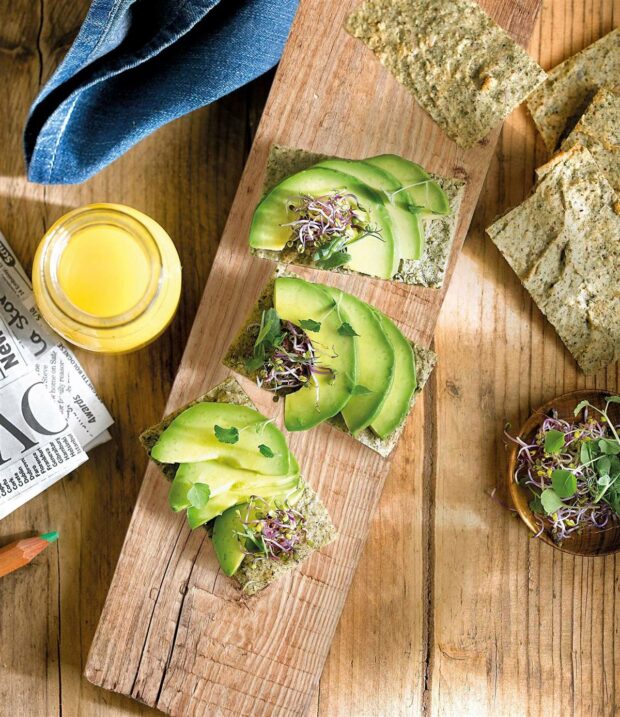 Many things can be made with avocado and one of them, of course, is to savor its texture when eating it. Toast some slices of bread and cover them with avocado and alfalfa sprouts, flax, pipes … But if you want to go a step further, make the dough yourself (gluten-free). You will need the following ingredients:
1 ½ cups pumpkin seeds
1 cup of Brazil nuts
1 cup of buckwheat flour
½ cup sunflower seeds
3 tablespoons psyllium
2 tablespoons chia seeds
2 tablespoons of Provencal herbs
Black pepper
1 ½ cups of filtered or alkaline water
½ cup of seawater
Organic extra virgin olive oil
Preparation: Beat the Brazil nuts well with the pumpkin seeds. Mix this flour with the rest of the dry ingredients. Add the water slowly and let the mixture absorb it. It may take at least 1 hour. Preheat the oven to 180 ° C.
On a tray, spread a little oil and add the dough. Bake for 45-60 minutes. Take it out, let it cool and serve with avocado and sprouts. What about you can keep in the fridge.
6. GOJI BERRY SMOOTHIE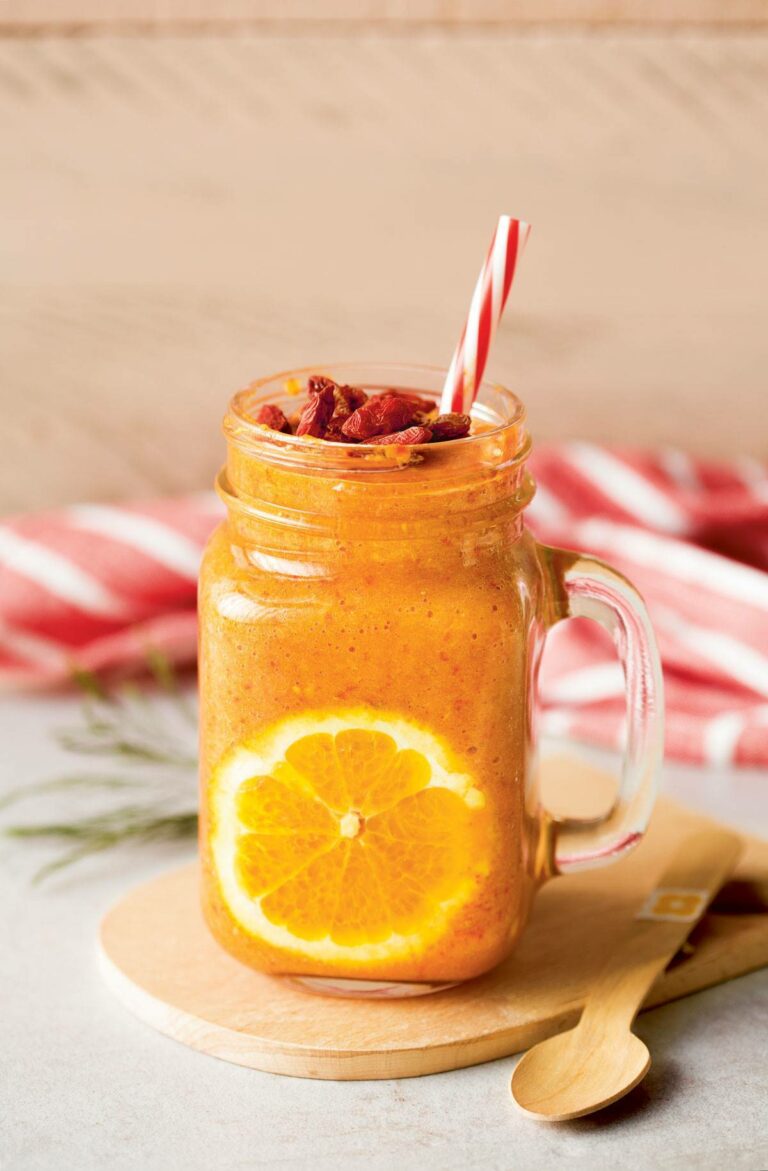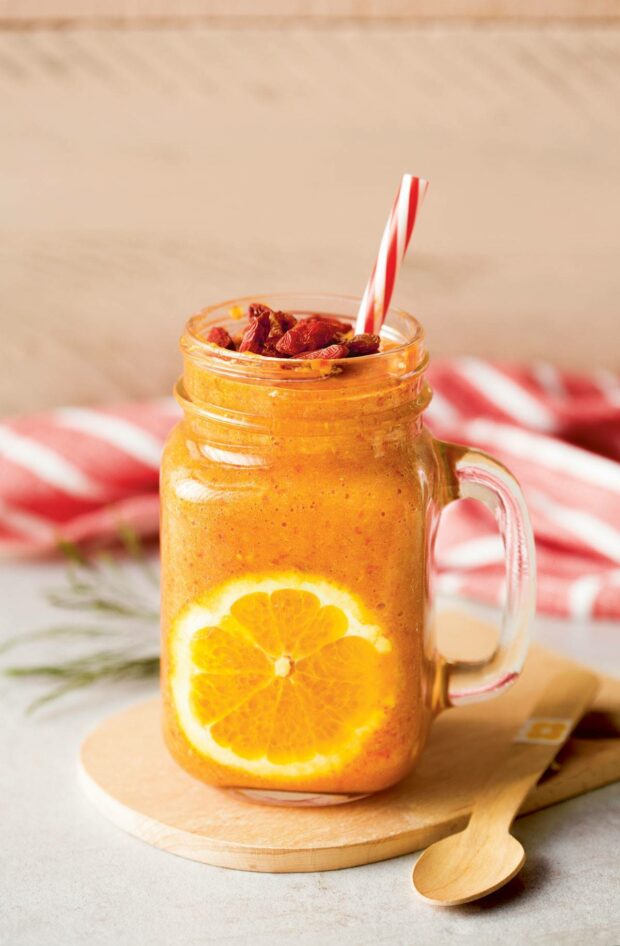 Goji berries are high in antioxidants, which help strengthen the immune system and also prevent cardiovascular disease. One of the easiest ways to consume goji berries is through smoothies or dairy products. Preparation time: 5 minutes.
Ingredients for 4 people:
2 oranges
1 small piece of turmeric root (like a thumbnail)
3 tablespoons goji berries
1 piece of ginger (a thumbnail, optional)
Half a cup of water (more, if you want it more liquid)
Preparation: First, put all the ingredients in the blender. Beat everything until you get a homogeneous texture and it is ready to consume.