Many say it is the most important meal of the day. If you want to go-to healthy breakfasts (and easy to prepare), take note of these recipes.
1. APPLE CRUMBLE WITH CORN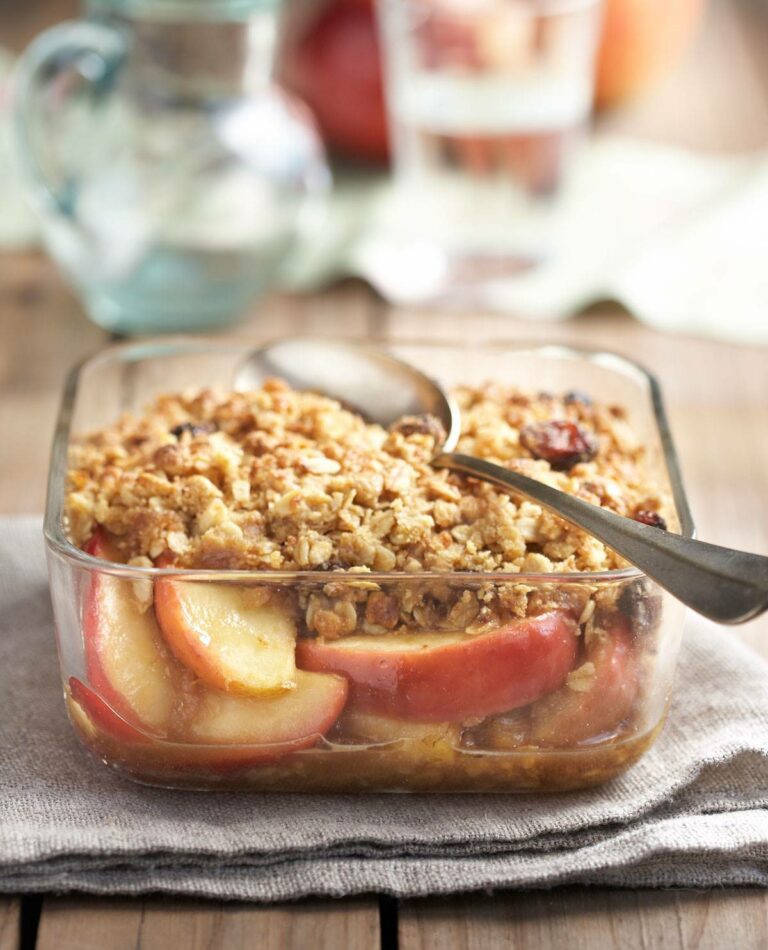 The apple crumble is a traditional English dessert that is made with fruit, flour, butter, and sugar. However, we can enjoy the crumble more healthily thanks to this version of corn. Preparation time: 35 minutes.
Ingredients for 6 people: 
4 organic apples
150 g of organic cornflour
100 g of sunflower oil
125 g of whole cane sugar
40 g oat flakes
40 g of raisins
Zest of an organic lemon
1 vanilla bean
Cinnamon powder
Sea salt
Preparation: Wash and dry one of the apples and pass it through the coarse grater. Then add a few drops of lemon to prevent the apple from browning. Next, cut the vanilla pod lengthwise and carefully remove the seeds from the inside. Heat a skillet over low heat with two tablespoons of sugar. Add a tablespoon of sunflower oil, a pinch of cinnamon, and the vanilla seeds. When the sugar begins to caramelize, add the grated apple and sauté for about 4 or 5 minutes.
Peel and chop the remaining three apples and add them to the pan along with the lemon zest. Sauté a couple more minutes, turn off the heat, and reserve. Preheat the oven to 180º in a large bowl, mix the cornflour, the rest of the sunflower oil, the oatmeal or corn flakes until you get a homogeneous mixture. Place the braised apple that you have reserved in an oven-safe container and spread the dry dough on top. To finish, bake for 30 to 40 minutes at 180º, until the surface has a golden appearance.
2. ANTIOXIDANT SMOOTHY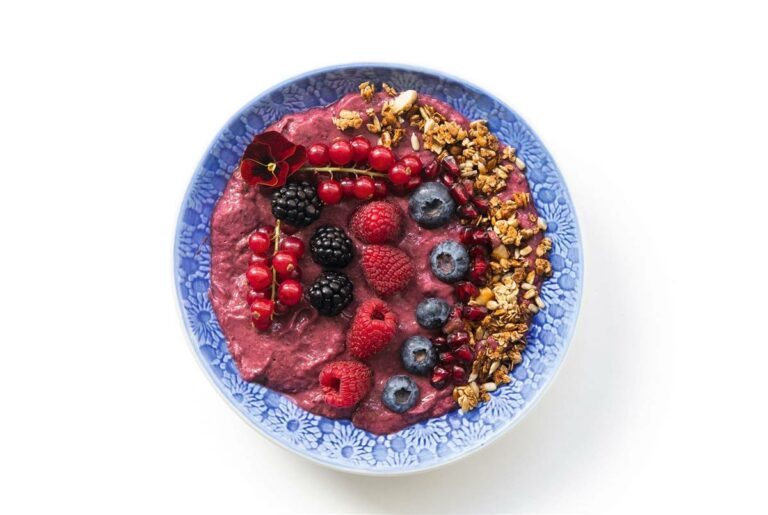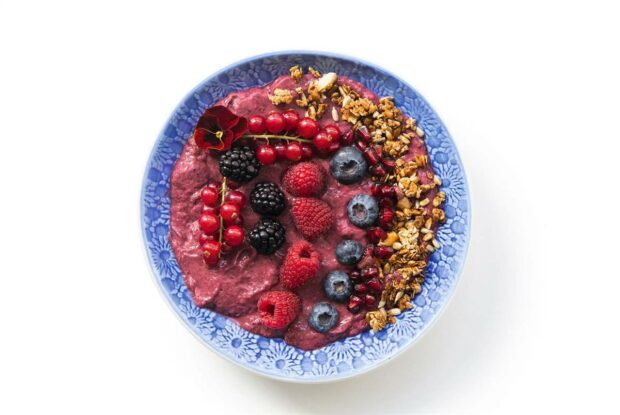 This delicious shake is a great way to start the day with a healthy breakfast full of antioxidant vitamins such as vitamin A, vitamin C, and vitamin E.
Ingredients:
1 date
100 g of berries (fresh or frozen)
1/2 banana
30 ml of water
30 ml of coconut milk
1/4 of a cup of ice
30g granola
1 teaspoon of pipes
Preparation: Put the date in a small bowl and cover with boiling water. Let it soak for 10 minutes. Drain and put it in the mixing glass. Add the berries (reserve some for the topping), the banana, the water, and the coconut milk. Bat. Add ice and beat again until smooth. Top with the granola and some berries. Sprinkle with the pipes.
3. TORTILLA AND SALMON TOAST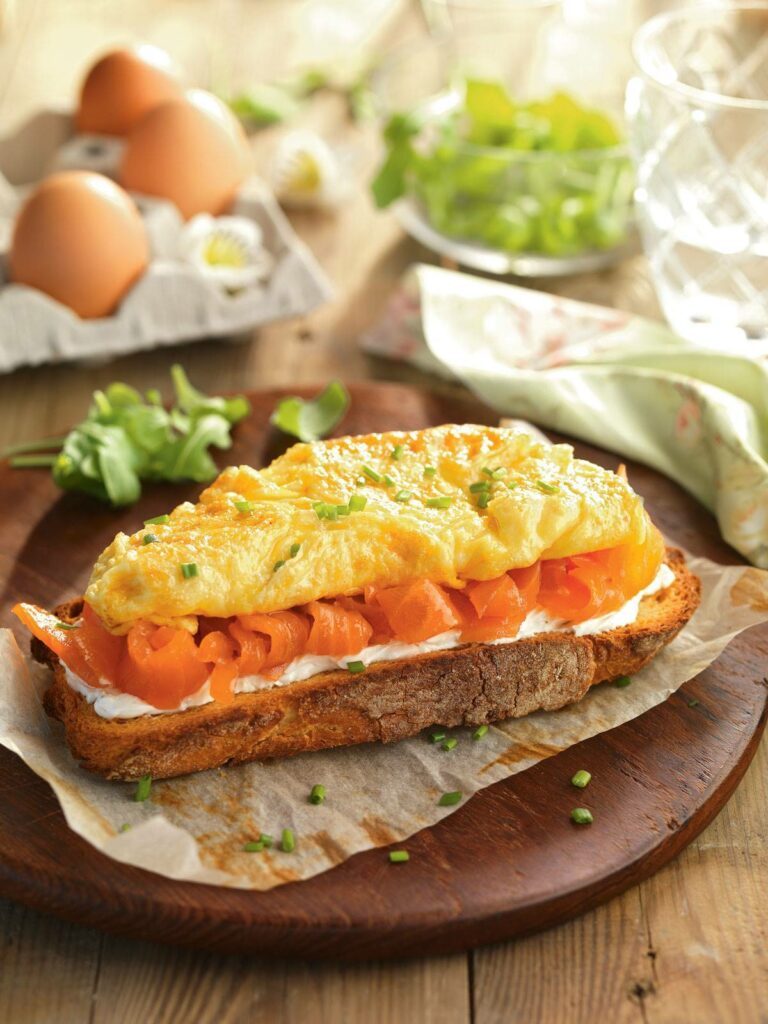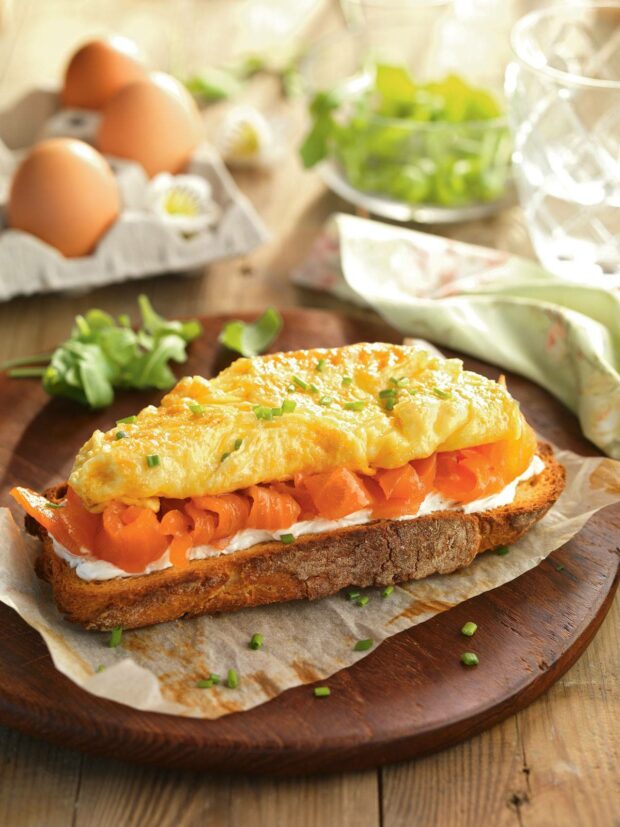 Another recipe that we can make with an egg is an omelet. It's a quick and healthy breakfast to make, even for kids. For adults, you can make a more elaborate version with toast, and salmon. Take note!
Ingredients for 4 people: 
4 slices of loaf bread
1 tub of white cheese to spread with the fine herbs
200 g of smoked trout
8 eggs
A few stalks of chives
Olive oil, salt
Preparation:  Wash, dry, and chop the chives. Cut the smoked salmon into strips. Put the slices of bread in the oven and toast a little. While the tortilla is being made, it should be brown on the outside and juicy on the inside. Repeat the operation with the rest of the eggs until you get four tortillas. Spread the toast with the cheese and the herbs, then add the smoked salmon. To finish, sprinkle with the chives and, ready for breakfast!
4. HERB TOFU SANDWICH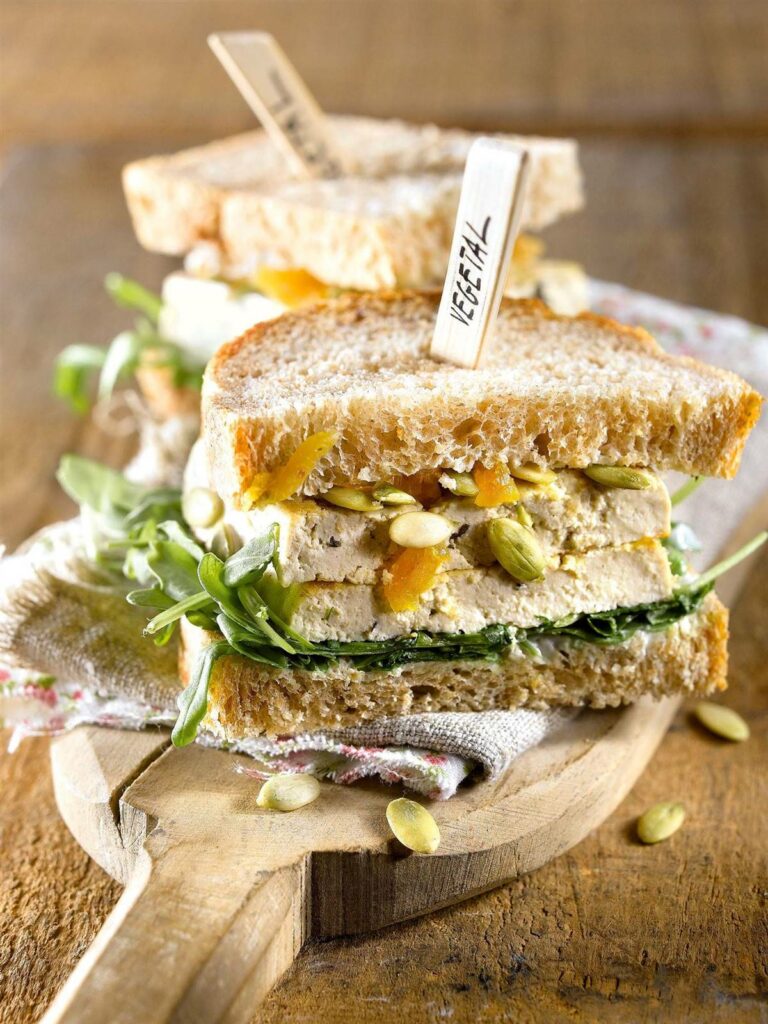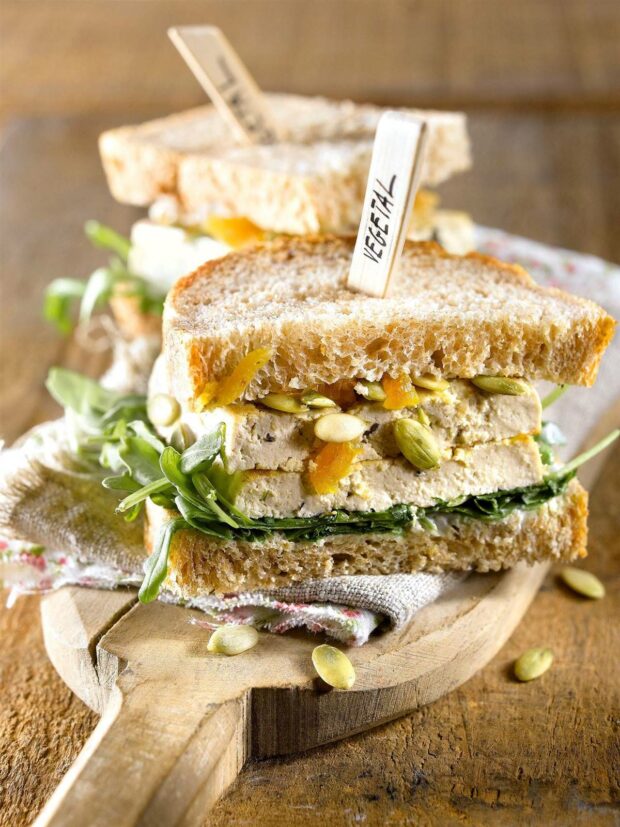 Easy, rich, and also good for your health. Spread some butter-like yogurt on two slices of spelled bread and fill the sandwich with fine herb tofu mixed with apricot dried apricots, pumpkin seeds, and arugula.
5. CITRUS FRUIT SALAD YOGURT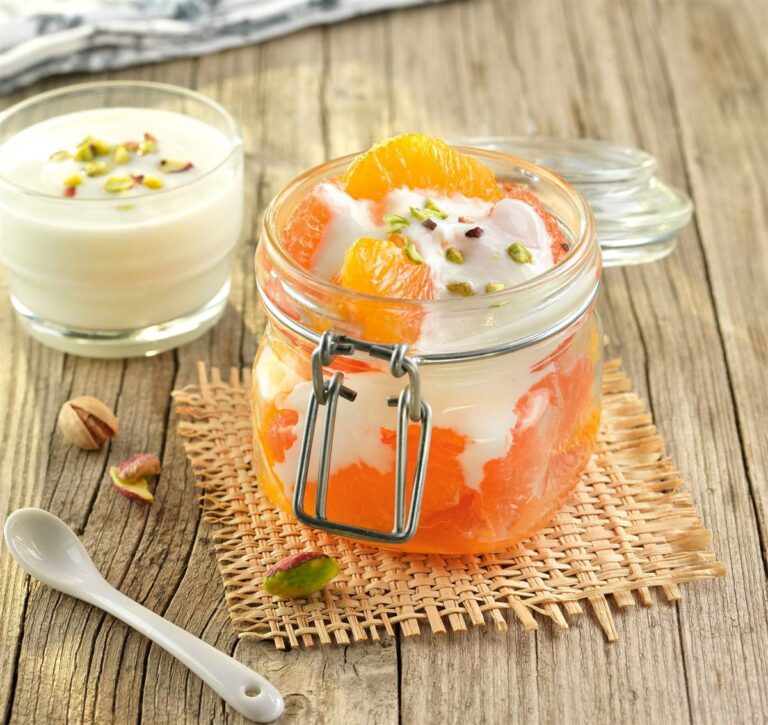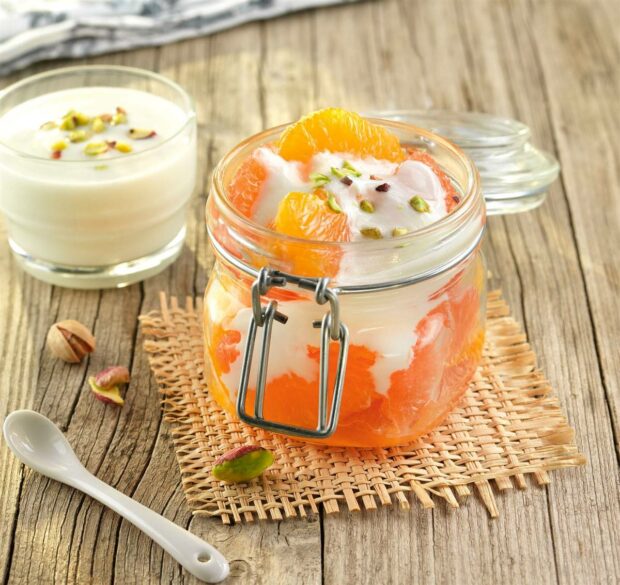 The World Health Organization recommends eating about 400 grams of fruit and vegetables. So this breakfast in addition to being fresh and light is very healthy. Mix a tablespoon of honey into the yogurt, then add orange, grapefruit, and tangerine segments to the yogurt. Give it the final touch by adding previously chopped pistachios.
6. ARUGULA AND CHEESE TOAST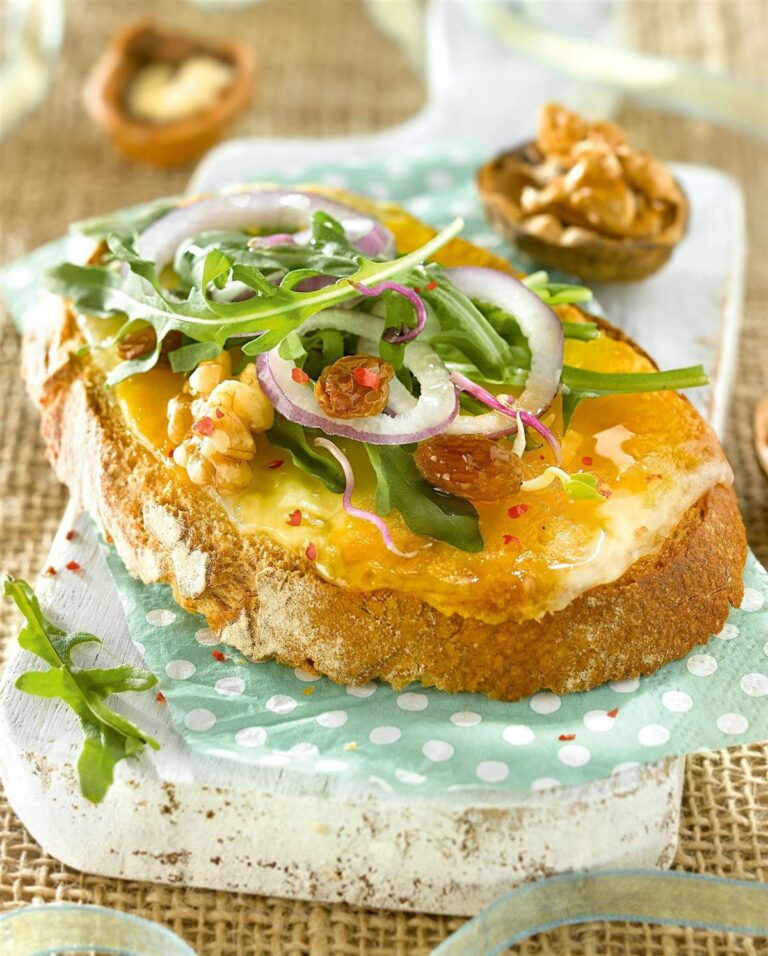 Say goodbye to cold cuts and prepare this toast for breakfast. On a slice of loaf bread, add strips of different types of cheese: tender, cheddar, and Emmental. Heat the toast for 2 minutes in the oven at 180º. If you want you can spread a little apricot or peach jam or even a little honey. Sprinkle a few leaves of arugula (already washed and dried) and add a few raisins and peeled walnuts. Finally, you can decorate with some sprouts and some thin slices of purple onion. A healthy and tasty breakfast!