The first course, second, and dessert for less than 600 calories. It's possible? With these recipes, yeah!
Eating light is not synonymous with eating boring. These recipes that we propose will show you. We have "reissued" the classic vegetable and potato dish; We have made a small, very important change to the stew to make it lighter; We have dressed the fish with vegetables and we have even made a cream that is quick to make and very low in calories, and the desserts … discover them and innovate in your daily menus!
Here you will find the best recipes to create a light and very, very tasty menu. Take advantage!
1. VEGETABLE STEW WITH MASHED POTATO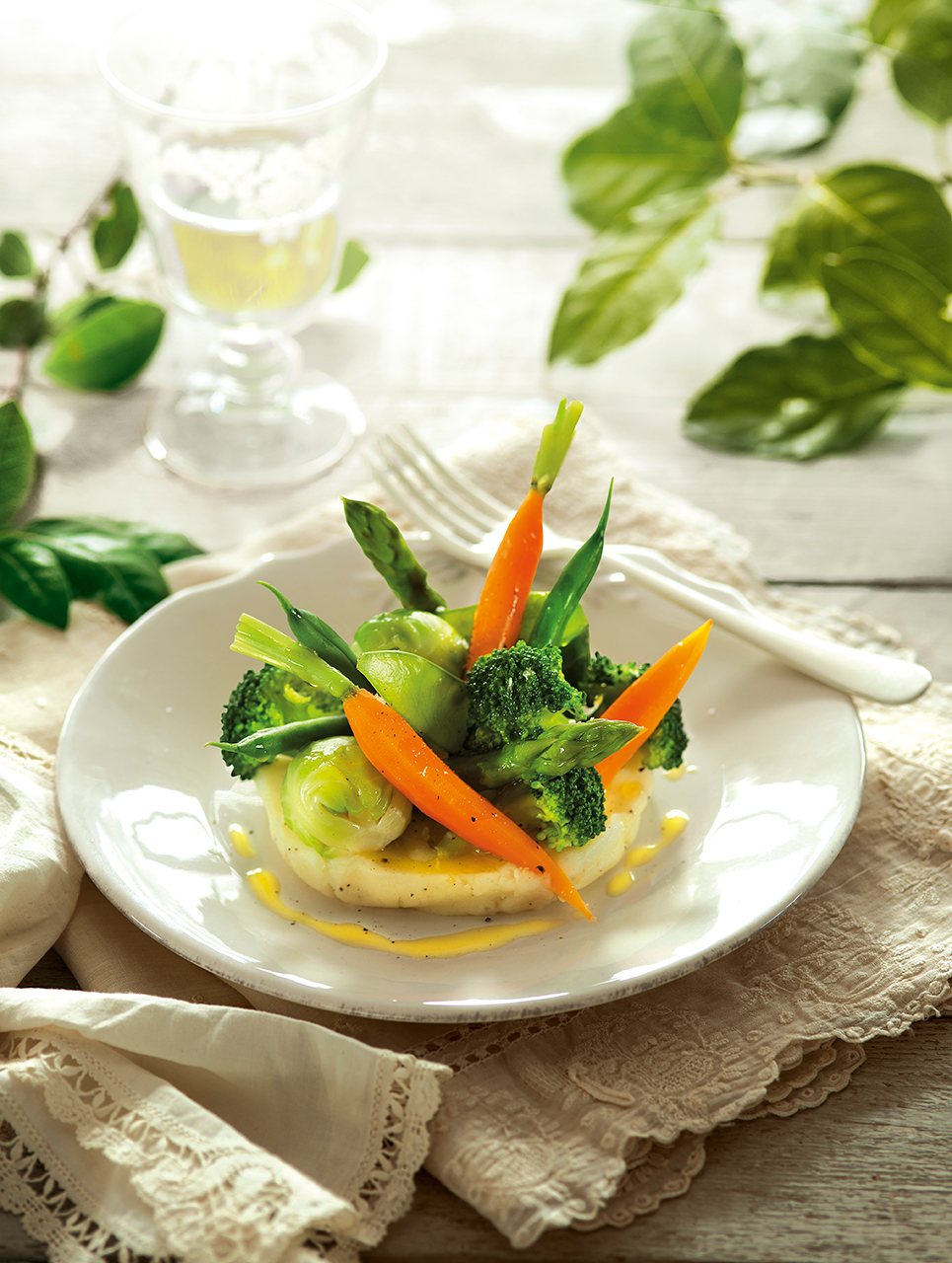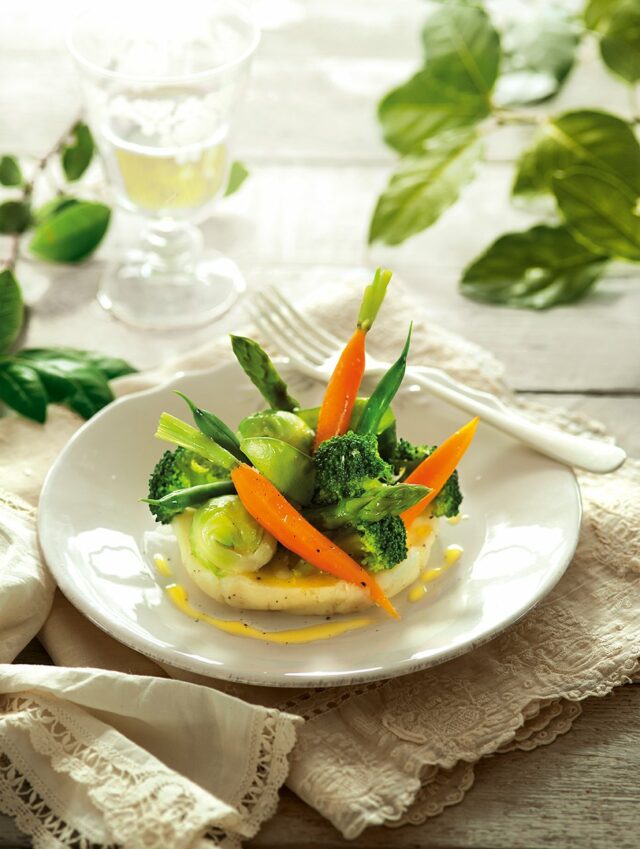 The classic of vegetables with potatoes but much more appetizing. Here comes the recipe!
A review of the typical vegetable dish with potatoes. More sophisticated and appealing and just as light. The potato, here, becomes a puree to accompany a delicious and colorful stew. Perfect! Servings: 4 people
Preparation time: 1 h
Calories: 245 kcal
INGREDIENTS
400 g of potatoes
150 g of Brussels sprouts
200 g of broccoli
100 g of green beans
1 bunch of green asparagus
50 g of snow peas
150 g of baby carrots
6 tablespoons of olive oil
Salt and pepper
ELABORATION
Boil the potatoes, with their skin, for 40 min in salted water. Drain them and when they are warm, peel them and pass them through the food processor with 2 tablespoons of oil, salt, and pepper. Wash the broccoli and cut it into florets. Clean the cabbages, snow peas, and asparagus. Wash and trim the beans. Peel the carrots.
Cook the vegetables, separately, in salted water: cabbages for 15 minutes, beans and carrots for 10 minutes, asparagus for 4 minutes, and snow peas for 2 minutes. Then drain it. Using a cylindrical mold, mount a puree disk on each plate and spread the vegetables on it. Salt and pepper it and serve it drizzled with olive oil.
TRICK
Add to the mashed potato some fresh herbs (they give more flavor than the dried ones), very minced. Chives, parsley, dill do very well…
2. COD WITH SPINACH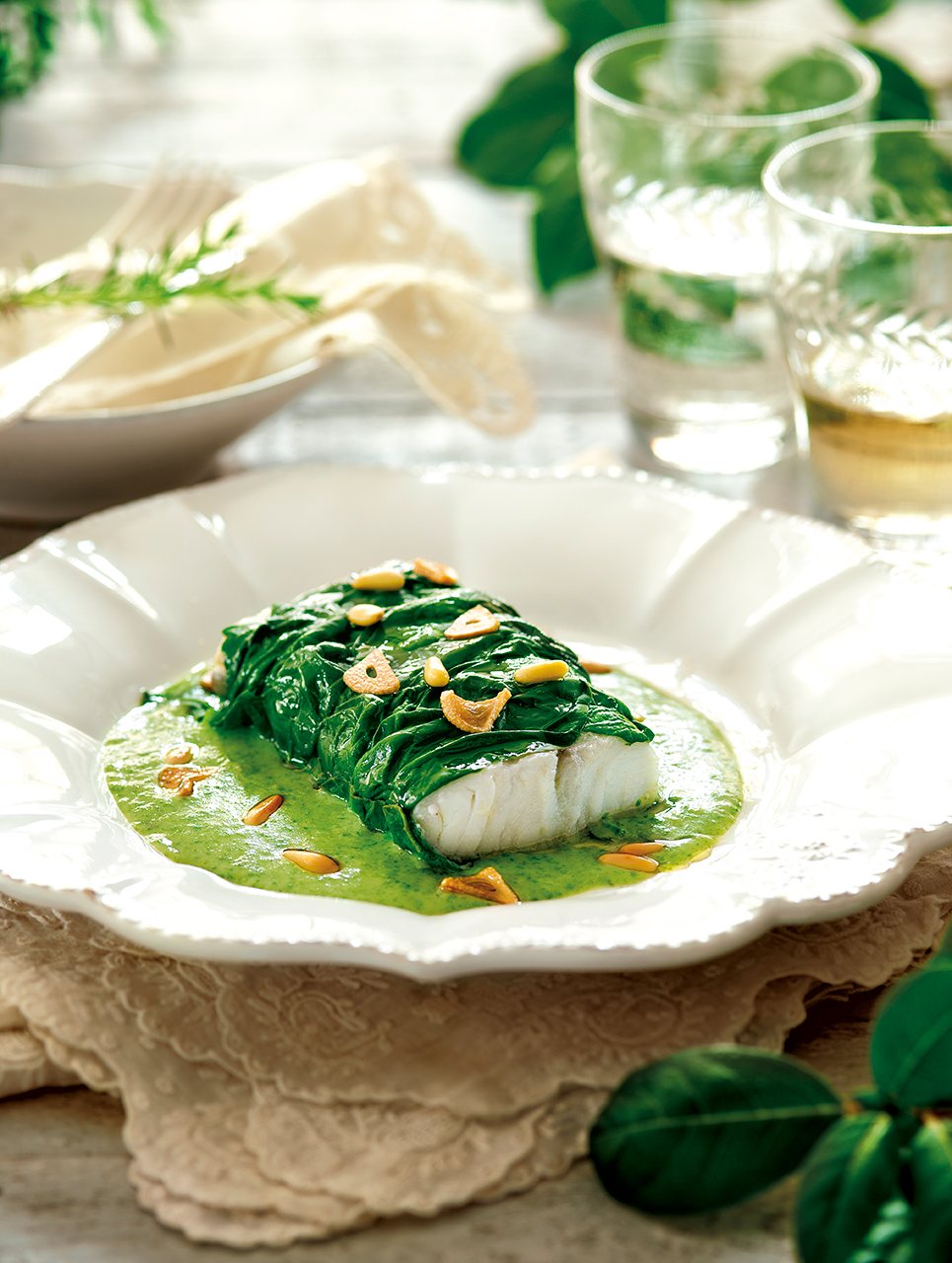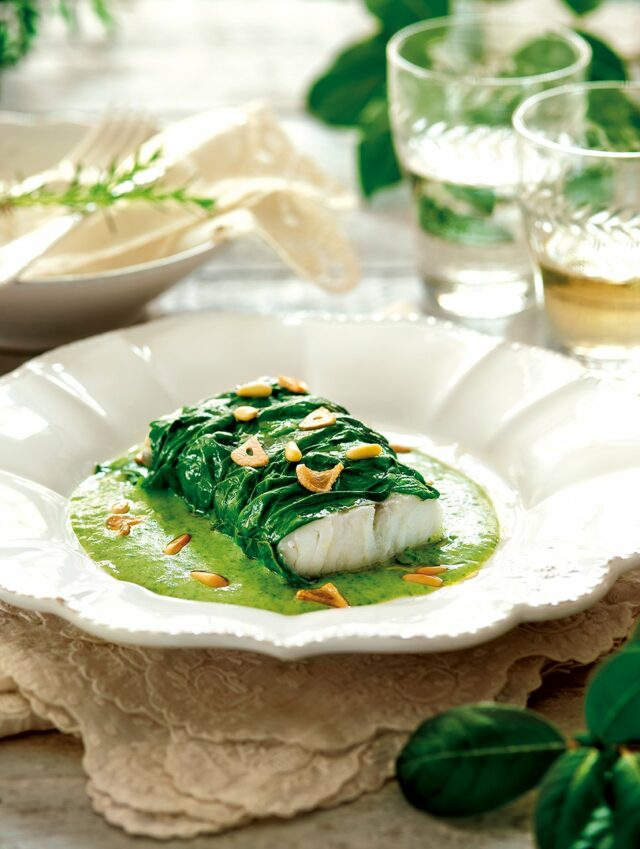 A very fine dish. Cod accompanied by soft spinach. Few calories and a lot of flavors.
Vegetables and fish. A perfect match for a diet. But this time, we have given it a special touch: a bundle of spinach and cod, on a delicious and smooth cream. Test it! Servings: 4
Preparation time: 40 min
Calories: 275 kcal
INGREDIENTS
700 g of fresh cod
1 bunch of spinach
2 potatoes
1 leek
2 cloves of garlic
1 tablespoon of pine nuts
Salt and pepper
ELABORATION
Remove the stems and wash the spinach. Peel and chop the potatoes. Clean and chop the leek. Sauté in oil 5 min. Add the potato and half of the spinach, cover with water, salt, and pepper and cook for 20 min. Then grind it up. Blanch the rest of the spinach for 10 seconds. Season the cod, wrap it with the blanched spinach, and tie it with kitchen string. Steam 10 min and remove the thread. Brown the garlic and pine nuts. Decorate with them the cod, served over the spinach cream.
3. CHEESE AND APPLE MILLEFEUILLE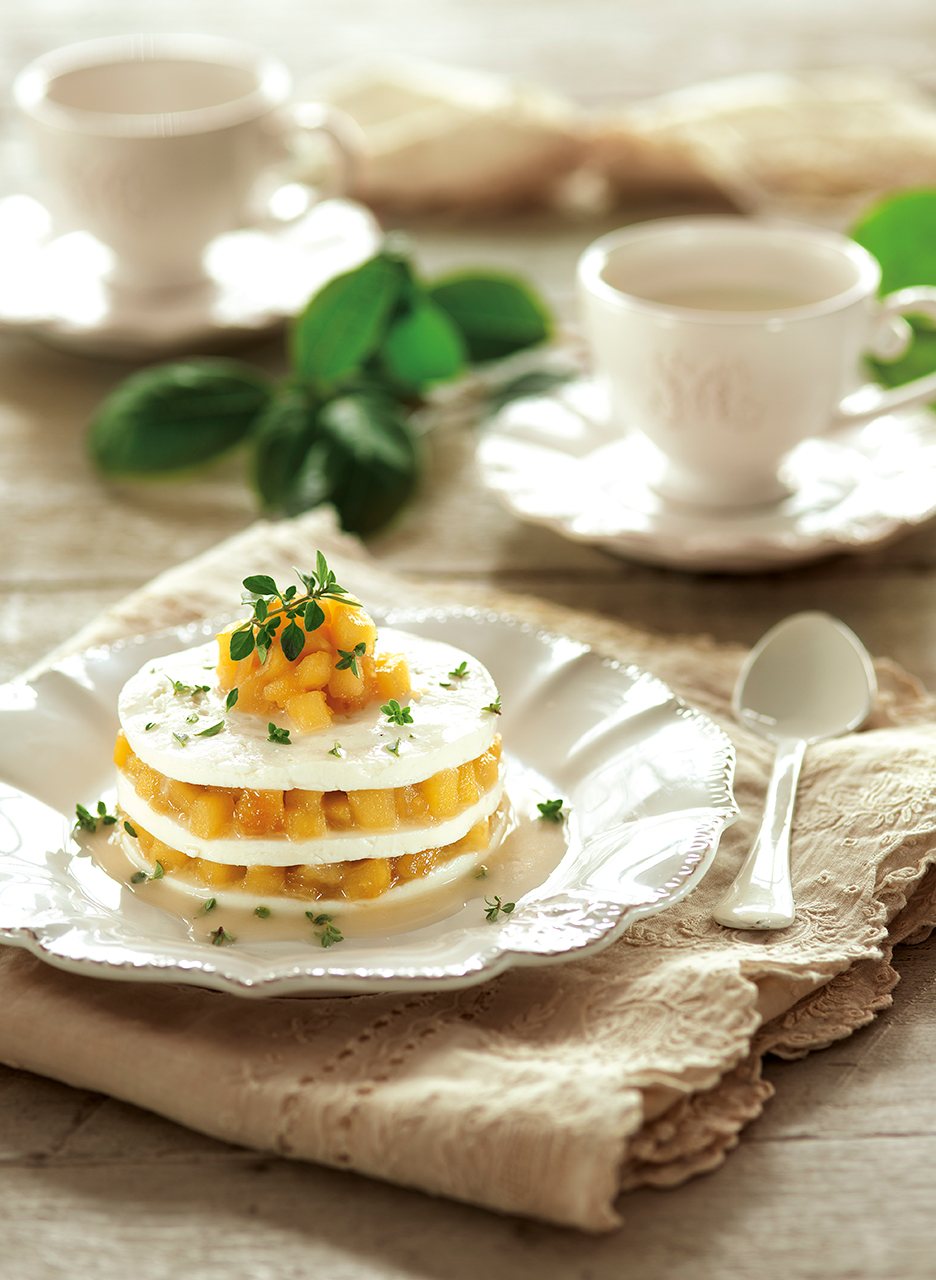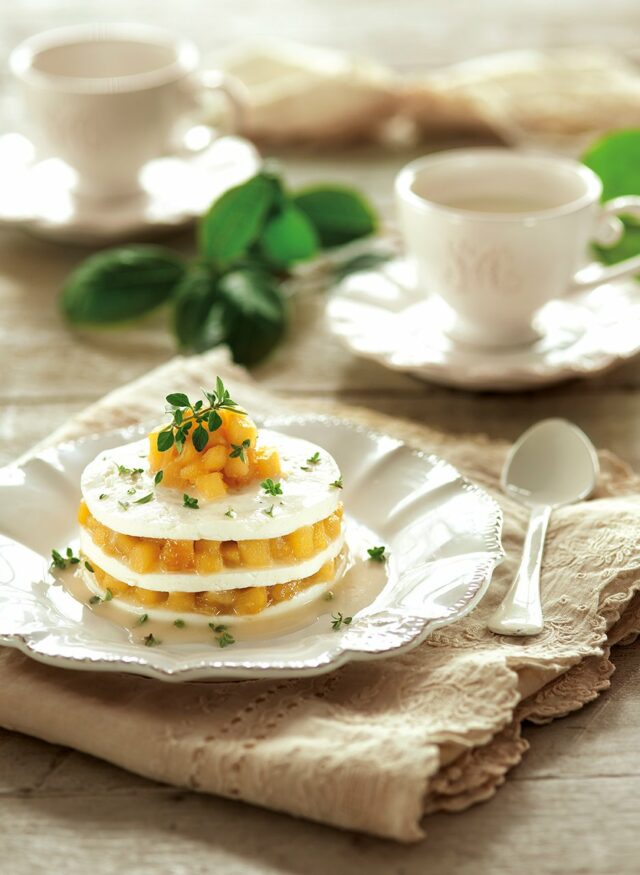 The apple is another classic of diets… but never made like this. Do you want to try it?
The apple is always present in all diets but … what if we give it a new look? This millefeuille succeeds. A delicious dessert that you will love and the best: it will have cost you very little to prepare. Servings: 4
Preparation time: 25 min
Calories: 338 kcal
INGREDIENTS
300 g of fresh cheese
4 apples
20 g of butter
4 tablespoons of brown sugar
Fresh thyme
ELABORATION
Peel and core the apples. Cut them into small cubes. Wash and dry the thyme leaves. Heat the butter in a saucepan, add the apple cubes and the brown sugar, and cook over very low heat for 15 min, stirring often. Let cool and reserve in the fridge.