Christmas soups, creams, chocolate cakes… These are some of our proposals so that you can enjoy Christmas without haste. They are delicious and they are also cheap!
1. SEAFOOD COCKTAIL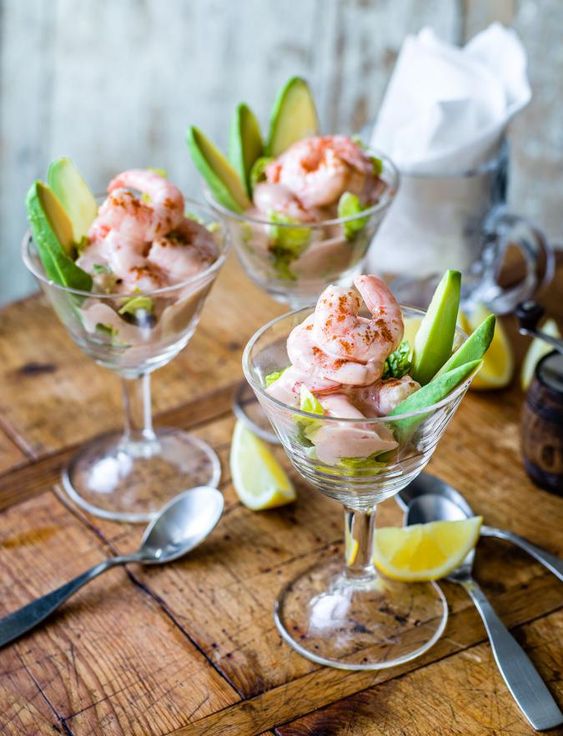 Something light and tasty for the first course could be this original seafood cocktail with salad. Because not all Christmas recipes have to be heavy, especially if desserts come later! Also, it is a very, very quick recipe to make and leave prepared in advance!
Time: 35 minutes
Ingredients for 4 people)
300 g of clean monkfish loins
300g surimi
8 shrimp tails
1 lime
100 g escarole
1 or 2 avocados
sweet paprika
1 egg
1 fried tomato
Half orange
Whisky, oil, vinegar and salt
Preparation
Step 1. Wash the monkfish and cut it into cubes. Cook them for 5 or 6 minutes in salted water. When 2 minutes are left, add the prawns and drain everything. Peel the prawns (reserve the shells and heads to make a stock) and cut them with the surimi into not very thin slices.
Step 2. Clean the endive leaves and chop them. Let them soak in water to lose the bitter aftertaste. Drain them well and dry them. Then, cut the avocado(s) in half, add the juice of the lime on top and cut the pulp into cubes.
Step 3. Mix all the ingredients in a container and distribute them in glasses. Then, squeeze the orange and filter the juice.
Step 4. To make the mayonnaise, put an egg, 150 ml of oil, oil and salt in the mixer and beat. Then add 2 tablespoons of tomato, and 1 whiskey and beat again. To finish, serve it on top of the cocktail and sprinkle a little paprika.
2. POTATO PIE WITH RATATOUILLE AND AUBERGINE