If you lack inspiration and want to innovate the Christmas menu, check out these festive and tasty recipes to prepare the day before. It will be great to take a look at them if you don't have much time to cook. This is how you divide the effort over two days!
POLVORONES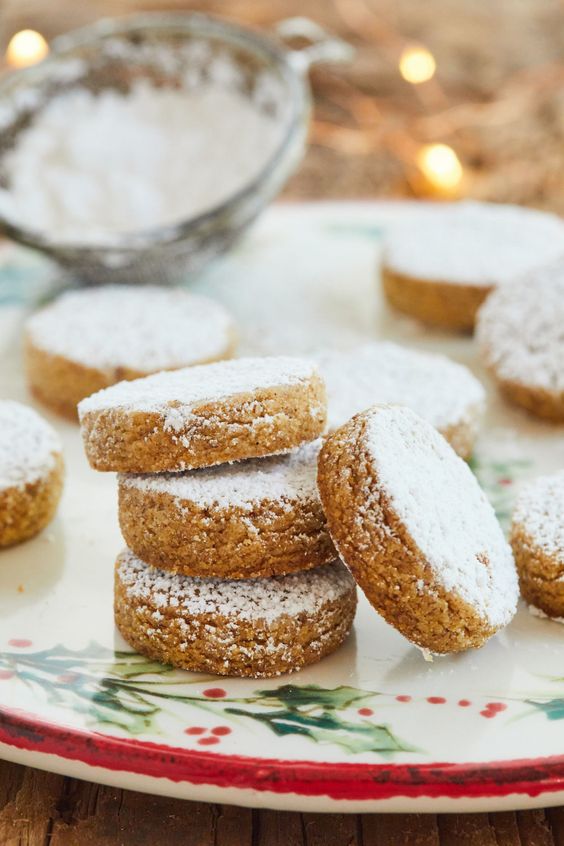 It is one of the most typical Christmas desserts. Proof of this is how supermarkets fill up with polvorones long before the start of Christmas. But if you want, you can prepare these sweets at home the day before. We give you the recipe, so take aim!
Time:  50 minutes
Ingredients (for 40-50 units)
250 g Iberian pork lard
250g icing sugar
500g of flour
125 g ground almonds
1 lemon
To decorate
2 tablespoons of icing sugar
4 tablespoons of flaked almonds
Preparation
Step 1. Preheat the oven to 130°. Line the baking tray with parchment paper and sift the flour over it, in an even layer.
Step 2. Put the tray in the oven and toast the flour for approximately 20 minutes, stirring it a couple of times. Take the tray out of the oven when you see the flour start to change colour and let it cool.
Step 3. Toast the ground almonds in the same way and let them cool. Soften the butter and knead it together with the sugar. When the mixture is homogeneous, add the flour, the almond and the lemon zest, and stir (do not work the dough too much).
Step 4. Place the dough on a lightly floured surface and roll it over until it is approximately 1.5 cm thick. Cut the polvorones with a cookie cutter and place them on the baking tray on parchment paper; it is not necessary to leave a lot of distance between them because they hardly grow.
Step 5. Sprinkle the almonds on top and bake the polvorones for 15-20 minutes at 180°. Remove them from the oven when they start to take colour, let them cool and sprinkle them with icing sugar.
CHICKEN STUFFED WITH CHEESE AND SPINACH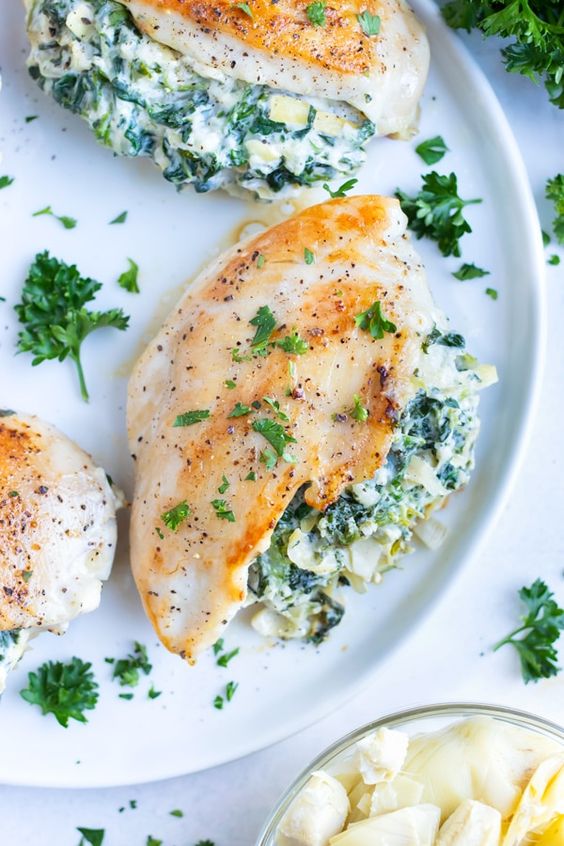 Who said that chicken recipes were boring? In this recipe, chicken has been completely turned around, turning it into a real Christmas delicacy. Take note and surprise with this recipe for chicken stuffed with cheese and spinach, so delicious!
Time: 50 minutes
Ingredients for 4 people)
4 boneless chicken breasts
300 g of fresh spinach
100 g of fresh cream cheese
1 onion
4 tablespoons of olive oil
1 tablespoon butter
fresh sage
Salt and pepper
Preparation
Step 1. Clean the spinach, wash it and cook it for 2 minutes in boiling salted water. Drain them well and reserve them. Peel the onion, chop it and fry it in a pan with a little oil. When it is tender, add the drained spinach, stir and cook everything together for a few more minutes. Let cool, mix with the cream cheese and season.
Step 2. Open the chicken breasts in a book shape and slightly overlap them. Distribute the spinach mixture in the centre and close forming a roll. Salt and pepper it and wrap it in baking paper. Place it in a dish and put it in the preheated oven at 180°.
Step 3. Cook the roll for about 20 minutes, remove it from the oven, unwrap it and place it back in the pan. Spray it with a drizzle of oil, put it in the oven and continue cooking for 6 8 minutes or until golden. Let it warm and cut it into slices about 2 cm thick.
Step 4. Just before serving, heat the butter in a skillet, add the fresh sage leaves and a pinch of salt and stir. Serve the chicken with the sauce.