You must have heard that houses look fantastic when they are fully furnished. Isn't it right? People buy so many decorative materials and pieces to increase the beauty of their place. Quite frankly, it is mandatory in so many ways.
The living room is an area where you spend most of your time in your house. It has to be up to the mark in order to get a fully furnished feel. If you really want to decorate a living room, never forget the importance of decorating the side table of a living room.
Here are 10 Alluring Ways of Decorating the Side Tables of Your Living Room.
1. Place a nice-looking vase on top of your side table
It is not hectic at all to find a decent and reasonable vase these days. You will easily find one at your nearest store. Vase is a must-have for your bedside table.
Source: Freepik
When you choose a vase for your side-table, always look for the one that matches the color of your room. It would be better if you pick one that suits your pillow and couch. Cutout vase should be preferred if you have a lamp on your bed side-table.
One of the best things about a cutout vase is that it will create soothing shadows on top of your side table. It is alluring as well as cost-friendly at the same moment.
2. Place decorative pieces on it
A bedside table will always look incomplete without enough decorative pieces. No matter what kind of living room you have, there is always a space for these pieces.
The first option is lamps. They come in gold designs and different cutout patterns. There are so many unique decorative pieces available these days, which will not only be a source of decoration but useful too.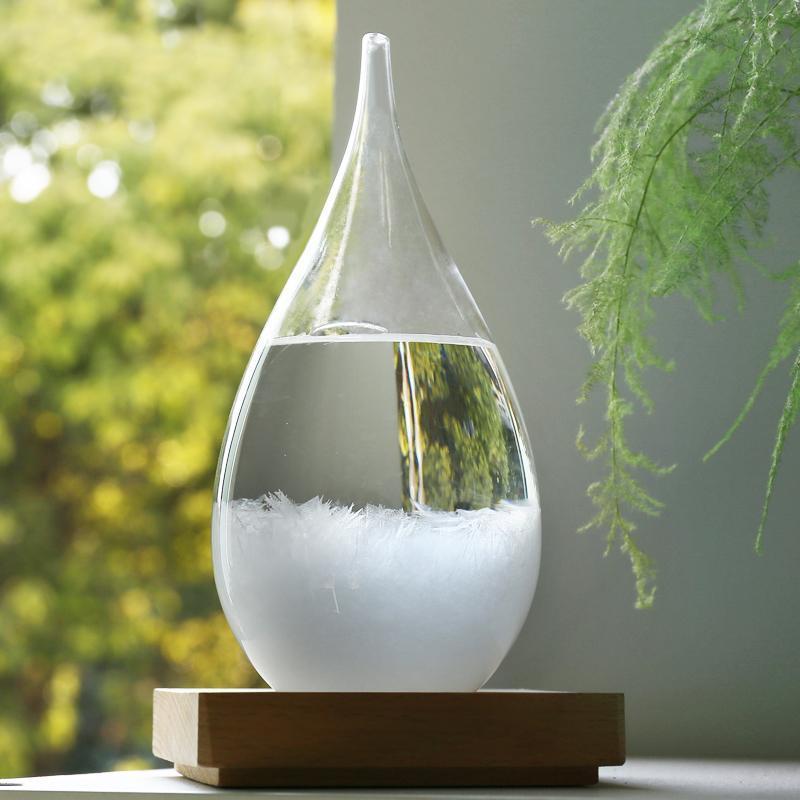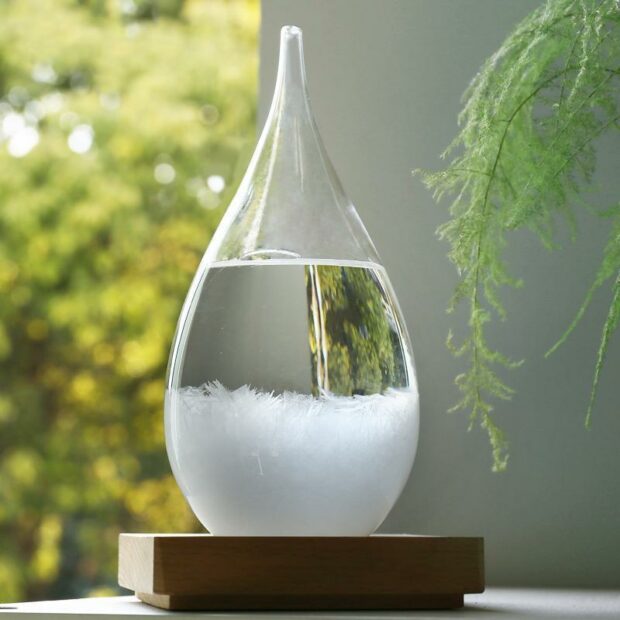 Then, there are ceramic incense holders and accessories. They are simplified, elegant and cheap.
Also, how about a decorative glass that can forecast weather as a decorative piece for your living room? It can be a great choice as a decorative material, as you will be able to know about the weather situation by looking into it. This astonishing glass changes color according to weather. How cool will it look when a color changes on an upcoming storm or a sudden rain shower?
3. Create an artsy aesthetic by arranging a trio of glass
The glass comes in various forms like opaque and clear. Both these forms of glass can be used on a side table of a living room. What matters the most for picking a glass is the color combination of your room. You can decorate the side of your bed with the help of glass bottles.
All the glass bottles must follow a symmetrical pattern. Colors should not be identical, but you have to pick those colors that can work together (like mint green and ocean blue, violet, and pink). If you want to spruce up your bedside, place flowers on it. These flowers can provide an extra touch, and sometimes it's all you need to create an artsy aesthetic.
4. Arrange ornamental jars on your side table
Decorative glass is necessary for your side table to make an impression. You can use plain as well as adorning glass; the choice is all yours. These days, jars are available having stunning etchings, and such jars are perfect for any kind of side table.
Source: Freepik
The arrangement is what makes an ordinary-looking jar look fantastic. You cannot only use it for decoration purposes, but you can fill them with candies of your choice. Jars can also be filled with glass beads.
5. Stack books on your side table – get a designer or an intellectual look
What's better than some of your favorite books to be on your side table, so you can access them easily? We recommend you to go for books of different thicknesses to place on your side table. This will not only make you read your preferred books readily, but it will leave a good impression on your side table too.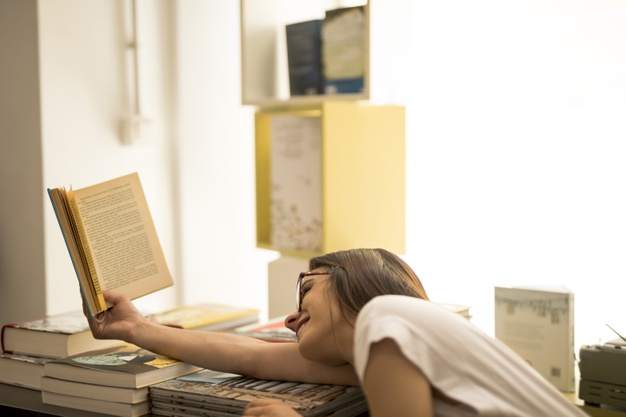 Source: Freepik
Visually attractive books are always recommended to be on your side table to give a vibrant feel. If you can pick books having interesting lettering and color scheme, it would be a huge plus. So, what are you waiting for? Bring your books to your side table and arrange them based on their thickness and color combination.
6. Create contrast by arranging metallic decorations
Are you looking to grab the eye of every visitor and guest that sits in your lounge? Well, there's nothing more impressive than metallic accents. Select a small sculpture based on the nature of your living room. These sculptures come in gold, silver, and brass.
There is always a need for a family photo or a couple photo on a side table. How about a metallic photo frame to leave an everlasting impression? Place your best-loved photo inside that metallic frame to make it look enchanting.
7. Place scented candles to get an elegant feel
Scented candles cannot only give you a pleasant feel, but their smell will make you feel in love with your living room as well. Candles come in various scents, and you have the luxury to pick the scent of your own choice.
Source: Freepik
Alternatively, if you are not a big fan of scented candles, you can use regular candles too. Almost every side table of a living room have some jars on it. You can set out your regular candles in round jars. The decorative tea candle holder is another way of sprucing up the side table of a living room.
8. Set potted plants on top of your side table
What's more satisfying than using potted plants to get a natural feel? Houseplants are one of the classiest home décor items one can use on the side table. Definitely, your table will have decorative jars and books on it.
Make sure to place potted plants right between them to group them with other items. Plants like cacti and aloe are among the best plants to place on top of your side table. These plants are not only beautiful, but they are easy to take care of.
Source: Freepik
Many people don't know how to take care of a natural plant. Such individuals can purchase fake flowers and plants to place them on the bedside table. Although natural plants are more attractive than fake ones, but fake plants can also make your side table striking.
9. Set a beautiful basket beneath your side table
Have you figured out how to fill the empty space underneath your side table? You can fill it with a stunning basket. Now comes the basic question, what to place in the basket, right?
You can place books on it, or you can have other accessories like flowers for a romantic touch. A basket can be used as a storage option for things like A.C remote, T.V remote, sunglasses, etc. How can one forget the concept of placing nuts in it? Have wallnuts, pistachio, cashew in that basket and get rid of going outside, again and again, to get some edible for you. Isn't it cool?
10. Place a mirror to amplify the surrounding space
One of the best ways to make your living room look bigger than actual is to place a beautiful mirror on it. Mirrors are readily available in the market, and they come in all sizes and shapes. You can choose a small mirror for your side table or a large one at an angle that half of the mirror sits on the side table and the other half against the wall.
Source: Freepik
Mirrors of square and rectangular shapes are preferred over other shapes because these shapes lend more support. Look at yourself while having a discussion to make sure the make-up is spot on or have a picture with your cute kids looking at the mirror.
Conclusion
No matter how furnished your living room is, if the side table is not properly maintained, your living room won't be able to give a satisfactory feel. There is nothing "a lot" you have to do to décor your living room's side table.
You have to be creative in your design sense, and a little budget can do the job for you. One can place decorative accessories, jars, mirrors, basket, and many more on top of a side table in order to enhance the overall look of a living room.
Apply the aforementioned ideas in your place, and you'll be delighted to see the results.
Biography
Lydia is a home décor article writer. She has been writing articles and blogs for the last 4-5 years. She really likes to do adventures like hiking and skydiving. Writing blogs on home décor and DIY is one of her specialties.