Natural stone fireplaces are the perfect way to add elegance to a home. Builders and homeowners love the statement a stone fireplace makes. It draws people into the room and creates a warm atmosphere that's inviting to family and guests. They're a great centerpiece of any part of the house. Luckily, there are several different choices of stone material that can fit any style of building or décor. Let's take a look at some of the options available and compare their benefits.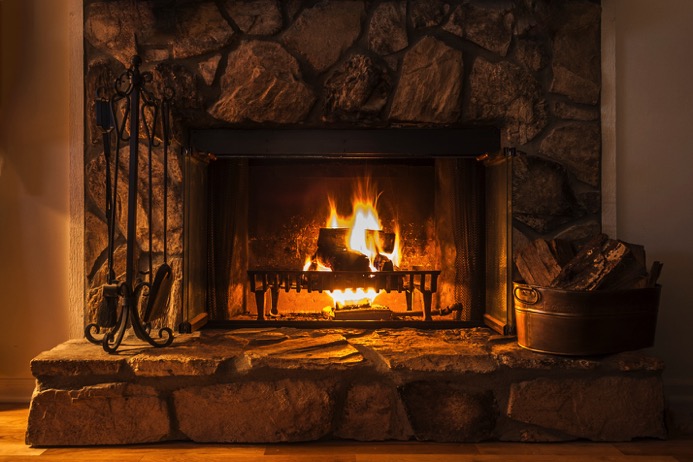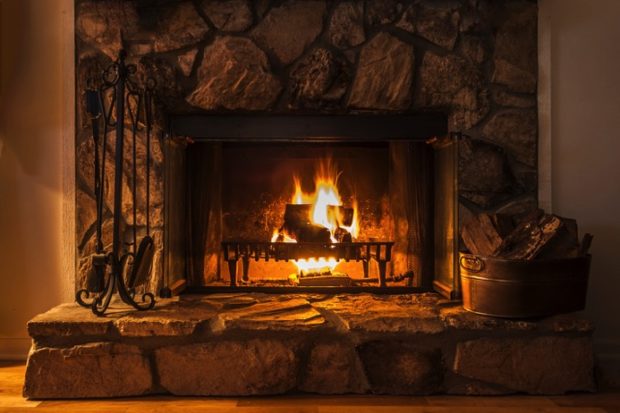 Granite
Granite is a very common type of stone used in countertops, fireplaces, and other stone finishes. People love it because it's low maintenance and is very resistant to liquid and stains. Granite works terrific in fireplaces because it's resistant to heat and is easy to clean, so taking care of all that ash in a working fireplace will be a breeze. Because it is formed by cooling magma, no amount of heat is going to damage a granite fireplace. They're durable and come in a wide variety of striking colors and patterns. Anything from dark green to red and gold is possible to find, so it's easy to get some unique looking stone to make your fireplace stand out. The shade you'll want to install will depend on the mood you're going for with your interior design. Soothing colors like blue and green are great to relax things, and cream, white and red can heat things up.
Slate
Slate stone is great for homeowners going for something that looks more rustic. It's got great clean lines and gives a classic stacked stone look that evokes weekends in a mountain cabin. Essentially, slate fireplaces involved stacking slabs of slate on top of each other in the build. Slate is a very durable stone but will stain overtime. It requires regular basic maintenance. Deep cleaning is also necessary every once in a while.
Marble
People love marble because it has a classic refined look. Marble represents good taste and luxury. Having a marble fireplace shows that the homeowner is discerning when it comes to finer materials and isn't afraid to spend on something when it will make a big impact. Though marble isn't as durable as granite, it's heat-resistant so there shouldn't be much concern about damaging the stone. The smooth, clean look of marble is the result of long periods of pressure and heat on limestone. The glossy look isn't as easy to clean as granite, so marble fireplaces go best with gas-powered fireplaces. It'll save you from having to worry about protecting your investment from soot and grime.
The variation in marble comes in both the color and the size of the veining in marble slabs. White and grey with black streaking veins are the most common colors of marble. They've been in style for decades and are still all over design publications. The look is truly timeless.
Travertine
Travertine is another stone that is durable and heat resistant, so it goes perfectly on a nice fireplace. Travertine works best in tiles laid out across the fireplace in an assortment of colors and sizes. It's a great option because homeowners can choose from styles that fit the aesthetic of the home. Builders love travertine because they can go with neutral colors that look high end but don't turn off potential buyers. The tiles are fairly easy to install, so homeowners can also switch things up if they feel like something new.
Quartz
Quartz fireplaces have really caught on in recent years because of their durability. They essentially require no maintenance; they never need resealing or conditioning. All you have to do to clean quartz is use soapy water and a cloth. Quartz is a very versatile material because it comes in warm and cool tones. You can find natural gold hues that elevate a fireplace and the entire room it's in. It will look like something that belongs in a luxury hotel. Darker quartzes also give a striking look that draws attention to the fireplace and whatever is on the mantle. You'll often see flecks of copper or gold in darker quartz for some subtle flair. They'll look fantastic as they catch the light of flame from inside the fireplace.
Quartz is made from almost all-natural quartz mixed with a small amount of resin. The end product is harder than marble and granite, so cracking is extremely rare. It's very resistant to heat and works well in natural or gas fireplaces.
Limestone
Limestone's been used for centuries in buildings. It's often referred to as marble's mother stone. It can appear more basic than a higher stone like quartz, but the affordability of limestone makes it very popular. Limestone is a great way to make a new home or a remodel maintain some feel for times gone by. It's also very durable and easy to clean. It strikes a good balance of price versus quality. Without the striking veins or patterns of the other stone materials, limestone can blend in more to the room's design and the overall feel of a house. That doesn't mean that some wonderful limestone samples don't exist. Limestone comes in varieties like Rainbow Sandstone and Fossil Maroon. With names like that you know there's limestone out there with enormous flair. They're just harder to find. It's less of a statement fireplace, but that just means it's an option for more people. Like other stones, it's low maintenance and easy to clean.
It's a great time for developers and homeowners looking for good stone fireplaces. Whether you choose synthetic or natural stone, there are more options than ever. They come in so many different colors, and some of the patterned stones are so striking that you can be sure yours is one of a kind. There's a big difference in cost and quality with stone fireplaces, so make sure you consider several options before making a final decision. Whichever way you go, stone fireplaces are a functional way to add beauty to your home.