For a few years now, many phones have been fast charging compatible. This means that they can charge faster using a specific charging technology.  Many Android phones on the market are compatible with Qualcomm Quick Charge, and for good reasons, as Qualcomm is responsible for creating the Snapdragon Processor that goes into nearly all Android phones. Another very popular fast charging technology that is not just limited to phones is known as Power Delivery.
You've also phones like OnePlus that have their very own proprietary fast charging that is known as Dash Charge, which is super fast but is only used by the OnePlus lineup.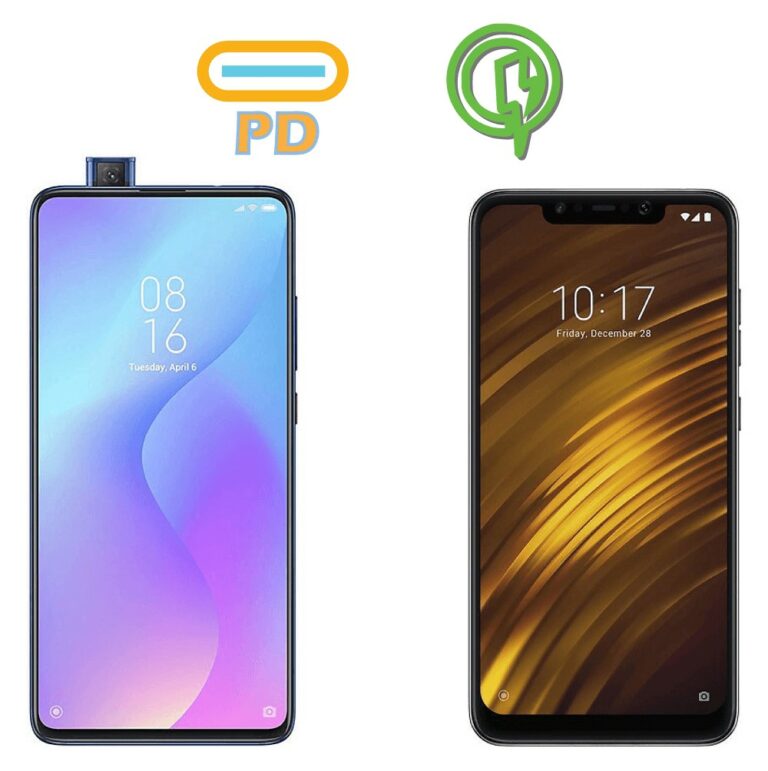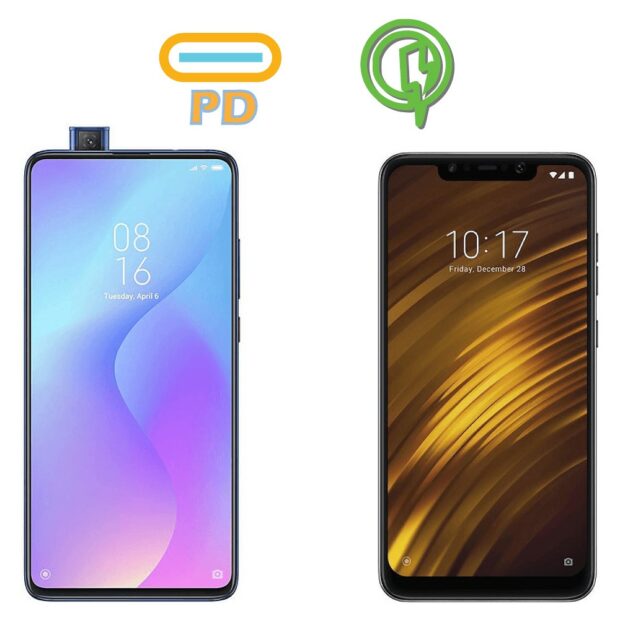 Xiaomi Has has the Best of Both Worlds
So let's go back to Power Delivery, and Quick Charge, both of these fast charging technologies are used quite a lot, and one of the best smartphones on the market that makes use of them are Xiaomi phones. At least, newer Xiaomi phones are making use of PD and Quick Charge, so if you're using either a Qualcomm Quick Charge charger or a Power Delivery charger, you're able to fast charge your Xiaomi phone. The more recent Samsung Galaxy phones are able to do the same, too.
Even the Pocophone F1, a budget phone that was still checking all the boxes for its specifications still managed to fit in fast charging. Then there are higher tier phones like the Mi 9T Pro that can charge faster at 27W with a Power Delivery charger, or you can opt to use a Quick Charge charger to fast charge it. Since you have the option to fast charge from two useful technologies, we're going to go over a few chargers that can be used to fast charge your Xiaomi phone with either Power Delivery or Quick Charge.
We're going to mostly be steering towards Power Delivery chargers in this case, because most phones can fast charge using PD because of it following the USB-C standard.
Anker PowerPort II 49.5W PD Wall Charger
This Anker wall charger has two ports, and the best part is that either of them can be used to fast to charge your Xiaomi phone. The top port is a USB-C PD port that has a 30W charging rate and the bottom port is an 18W port that features Quick Charge 3.0.
So, if you do have a higher-end Xiaomi phone, then you can use the PD port to recharge your phone faster. Even while fast charging your phone, you can fast-charge another phone with the Type-A port.
The sizing of this charger is still very small despite its powering capabilities, with a length and width of 2.7 inches and a thickness of 1.1 inches. To make it easier to take places, the charger also has a retractable AC plug that can make it easily portable.
Satechi Power Delivery & Quick Charge Desktop Charging Station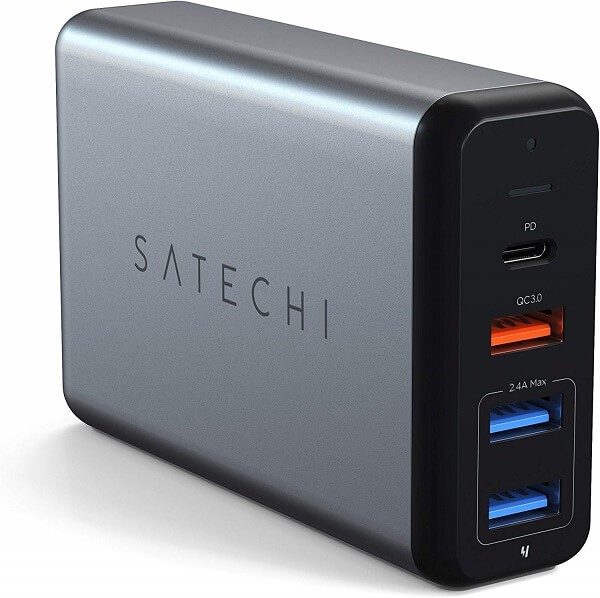 A desktop charging station can also prove to be a useful charging electronic. These types of chargers are similar to wall chargers, with the only difference being that they have more charging ports and they use a power cord, rather than an AC adapter. That said, having a power cord can prove to be more useful as you have more control over where you want to place the charger.
This Satechi charger is one of the best desktop charging stations to get because there's a USB-C PD port, a Quick Charge port, and two standard ports. The Power Delivery port is super powerful with an output of 60W, and the QC port has an 18W charging rate. The two USB-A port share a 12W output. With a Power Delivery port this powerful, being able to charge laptops and tablets with it will be easy.
You can easily fast-charge your Xiaomi phone, have another phone faster charging with the QC port and charge another two phones with the standard ports. This can all be done because of the higher max output of this charger, which is 75W.
Not power related, but a great design choice for this charger is the use of an auto-dimming light when you have it powered, so it's not a disturbance to you while you're sleeping.
Aukey 10,000mAh PD 18W Power Bank with Quick Charge 3.0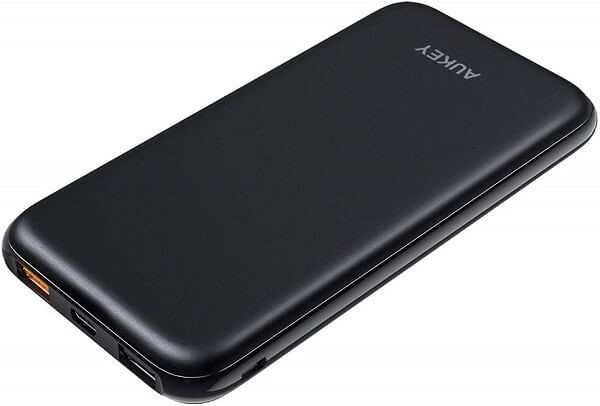 A power bank can be the most useful charging device that you own, mostly because it allows you to charge your phone wherever you are. With charging smartphones with a power bank, you should choose one that can charge your phone to max power about two times or more. Purchasing a low capacity 3,000mAh power bank isn't the standard anymore, as most phones, especially Xiaomi phones now have 4,000mAh batteries or larger.
This Aukey power bank can prove to be useful for its charging power and portability. Its got a 10,000mAh power capacity that can charge most Xiaomi phones to full power once or twice.
The more impressive part is that this charger has a Power Delivery port and a Quick Charge port. The other port is a standard port with a 12W charging speed. All of this charging power comes in a form factor that is 5 inches in length and 0.6 inches in thickness. It's almost like carrying around a second smartphone.
Anker PowerCore+ 26800 PD Power Bank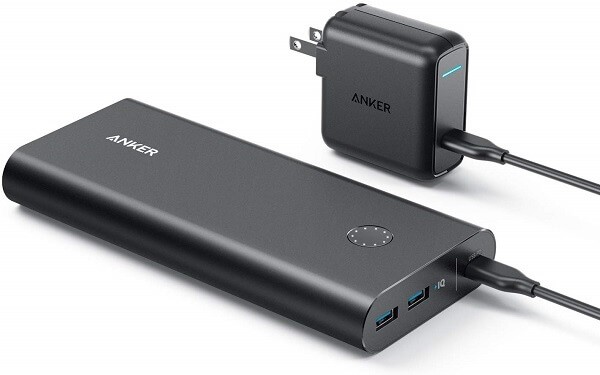 This Anker power bank has a large capacity to use, and on top of that, there is a great amount of charging power with its ports. So this Anker PowerCore+ has a 26,800mAh power capacity, which is more than enough to charge any Xiaomi phone with a 4,000mAh battery to max power about five times. Charging other devices to full power at the same time is also possible because of how much power there is. A power bank like can also be used to charge larger devices, like laptops and a Nintendo Switch that can be recharged using a power bank.
Additionally, the 30W Power Delivery port ensures that you'll be able to fast charge your phone and charge another two phones with the two USB-A ports. To make this charger worth getting, even more, the charger comes with a 30W wall charger which can be used to recharge the power bank. You may also use the included wall charger to fast charge your Xiaomi phone directly. There is also an included USB-C to USB-C charging cable.
The build quality of this charger is great because with its Aluminum casing and uses a ten LED indicator light with its power wheel.
Aukey Dual 36W Power Delivery USB-C Car Charger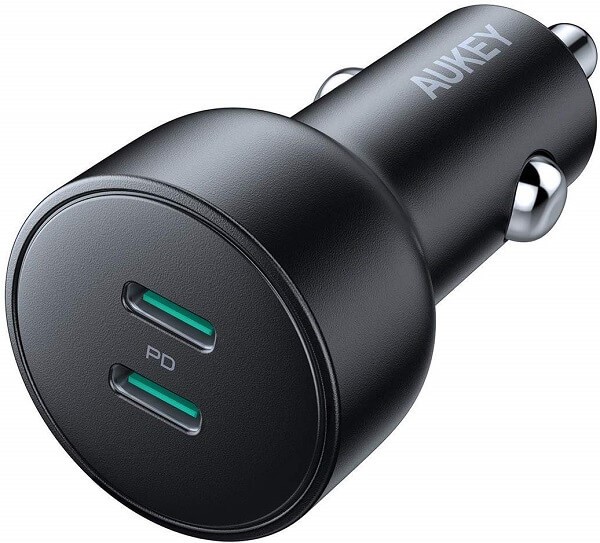 The best part of having a fast charging smartphone is it can practically use any charger with your fast charging tech. Using a car charger can be one of the best ways to take advantage of fast charging because while you're commuting, your phone is charging quickly and by the time you reach your destination, you have a charged up phone.
Purchasing the Aukey Dual USB-C PD car charger can be one of the best options to get, as there are two Power Delivery ports. Both ports has an 18Watt charging speed, which is the minimum to get fast charging for your Xiaomi phone. The better part is that the max charge output of this charger is 36W, and so you can potentially charge two phones at their max power.
Anker PowerDrive+ 3 48W Power Delivery Car Charger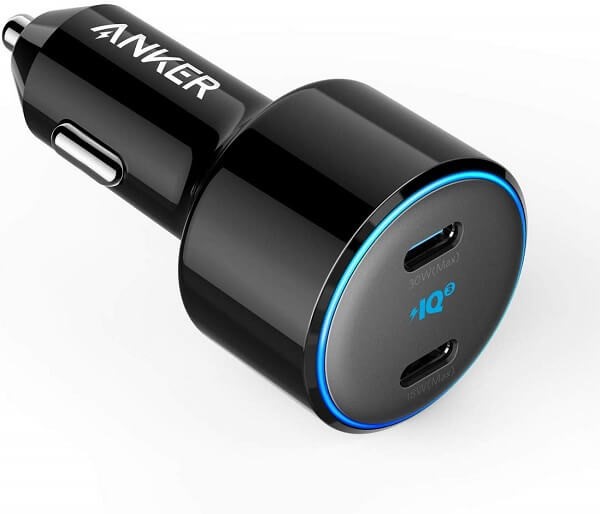 A step up from the Aukey car charger is this Anker PowerDrive+ 3 car charger. This is possibly one of the most car chargers on the market, and this is due to its one 30W PD port and another PD port with 18W of charging power. As a result, you can fast charge higher tier Xiaomi phones at max power and charge lower-tier ones, too. This can all be done at the same time because this charger has a 48W max output.
Charging larger devices that require more charging power such as Power Delivery laptops like a MacBook can also be done with the higher 30W PD port.