If your kitchen feels outdated and needs a refresh, don't worry – you don't have to do a complete overhaul to achieve a stunning transformation. You can implement several quick wins that will significantly impact with minimal effort. You can get creative by upgrading your containers with Tupperware fridge storage or as transformative as painting your cabinets a new color..
Paint Your Kitchen Cabinets A Bright, Cheerful Color
One of the quickest and most impactful ways to change the look of your kitchen is by painting your cabinets. If you're thinking about going white, consider a fun, bright color instead – it will make your kitchen feel fresh and new. Not sure what color to choose? Find some Pinterest inspiration boards or paint samples at your local hardware store.
Once you've decided on a color, you only need a few cans of paint and some painter's tape. To save yourself time, hire a professional or ask a friend who's good at painting for help.
The type of paint you use is also essential. Make sure to use paint that is specifically for cabinets and trim, as it will be more effective and easier to clean than regular wall paint. On the one hand, you want to make everything quick and affordable, but your kitchen is the gateway to a healthy house and a healthy body. Going for cheap paints could lead to fumes and other issues in the long run. .
Install New Cabinet Hardware Or Knobs
Another quick and easy way to change up your kitchen cabinets is by installing new hardware or knobs. This is a relatively inexpensive project that you can do in an afternoon, and it makes a big difference in the overall look of your kitchen. Cabinet hardware comes in all sorts of styles, from modern and sleek to vintage and antique. Pick something that fits with the overall style of your kitchen, or go for something completely different to make a statement.
If you're unsure how to install cabinet hardware, there are plenty of tutorial videos online, or you can ask a handy friend for help. Once you've chosen your new hardware, you need a screwdriver and a few minutes to get the job done.
Replace Your Kitchen Countertops With A Beautiful, New Material
Another way to quickly transform your kitchen is by replacing your countertops. This is a more involved project than painting or installing new hardware, but it's well worth the effort. There are many materials to choose from, including granite, quartz, marble, and even recycled glass.
If you're unsure which material suits you, do some research or ask a professional for help. Once you've selected your new countertop material, find a reputable company to install it. This is definitely a job best left to the experts!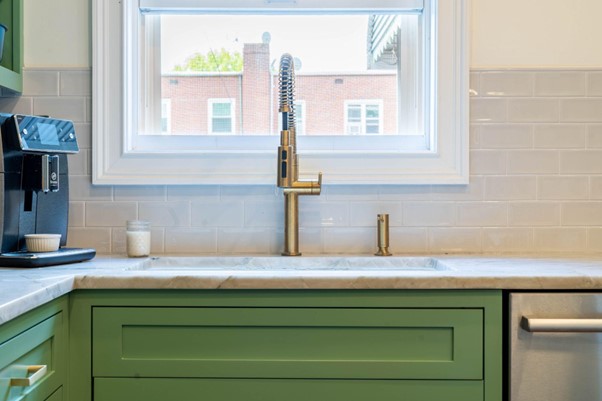 Your kitchen will look brand new with beautiful, new countertops – and it will be much easier to keep clean too.
Add A Backsplash To Give Your Kitchen Some Personality
Installing a backsplash is one of the best ways to add personality to your kitchen. There are so many different materials, colors, and patterns to choose from, so you can really make it your own. Backsplashes are also relatively easy to install so you can do it yourself on the weekend.
If you're unsure where to start, browse some inspiration boards on Pinterest or check out local home improvement stores for ideas. Once you've found a style you love, gather the supplies and get to work!
Adding a backsplash is a great way to give your kitchen an instant facelift. It's an affordable project that can be done relatively quickly, making your kitchen look brand new. You can also easily change it up in the future if you get tired of the same old look.
Upgrade Your Appliances For A Modern Look And Feel
If your kitchen is looking a little outdated, one of the best ways to transform it is by upgrading your appliances. This can be a costly project, but it's worth it if you're planning on staying in your home for a while.
When choosing new appliances, it's essential to pick ones that fit the overall style of your kitchen. If you have a modern kitchen, opt for stainless steel appliances. If you have a more traditional space, white or black appliances would be a better choice. It would help if you also considered how energy-efficient your new appliances would be.
Once you've picked the perfect kitchen appliances, it's time to install them. If you're not comfortable doing this yourself, hire a professional to do it for you.
Add Plants Or Flowers To Make Your Kitchen Feel More Welcoming
One of the best ways to make your kitchen feel more inviting is by adding plants or flowers. This is a simple, inexpensive way to brighten up the space and add some life to your kitchen.
Once you've picked out your favorites, find some cute pots or vases to put them in. Then, enjoy your new kitchen oasis! If you're unsure which plants or flowers to choose, ask a local nursery for recommendations.
Adding plants or flowers to your kitchen is a great way to make it feel more welcoming and inviting. Plus, plants can help purify the air and make your kitchen smell amazing! It's also easy to add a pop of color without having to paint the walls.