Decorating a 1-bedroom apartment can be difficult due to space limitations and rental agreements that prohibit permanent changes. However, the extra challenge certainly doesn't mean that you can't create a wow-worthy design. And it may be easier than you think with this simple photo trick.
Below you will find 4 trendy 1-bedroom apartment designs, along with tips on how you can get the same aesthetic. You'll not only learn how to achieve these sleek looks but also understand how to apply the same method to any interior photograph that inspires you!
1. Contrasting Contemporary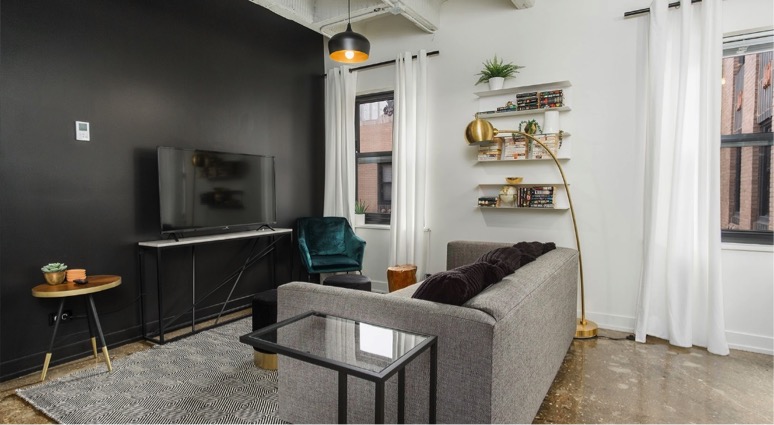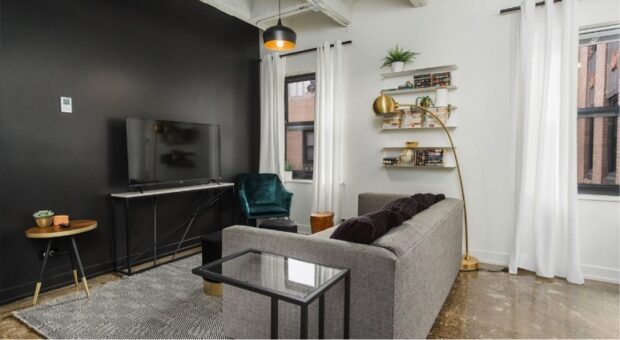 Photo Courtesy of Lawrence House
The 1-bedroom pictured above is an uptown apartment in Chicago and it is the perfect example of a contemporary design that uses neutral shades to great effect. The black accent wall in this living room provides a huge punch of contrast against the fresh white walls and curtains while also blending the TV into the decor effortlessly—not an easy feat!
Design Tips for a Contrasting Contemporary Apartment
Create Contrast: An accent wall is the easiest way to do this. If you can't paint the walls in your apartment, look for a removable wallpaper to change up the color without causing damage. The next best thing to create a bold contrast is a large area rug, curtains, or furniture if you don't want to change the walls.
Layer Lighting: Dark walls can absolutely work in small spaces—they can even make them appear larger by adding the illusion of depth. However, for these dark shades to work on walls, the room needs to be adequately lit. Notice how the design above uses 3 sources of light to illuminate every corner: a pendant light, a floor lamp, and natural light. Discover expert tips on selecting the perfect floor lamps for your home here.
Add Luxe Accents: The gold accents sprinkled throughout give this bold neutral look a touch of warmth, while the velvet chair in the corner incorporates a splash of subtle color—both of which ensure the design doesn't feel sterile. Combined, they tie together the living room's layout and give it a luxe aesthetic.
2. Tranquil Coastal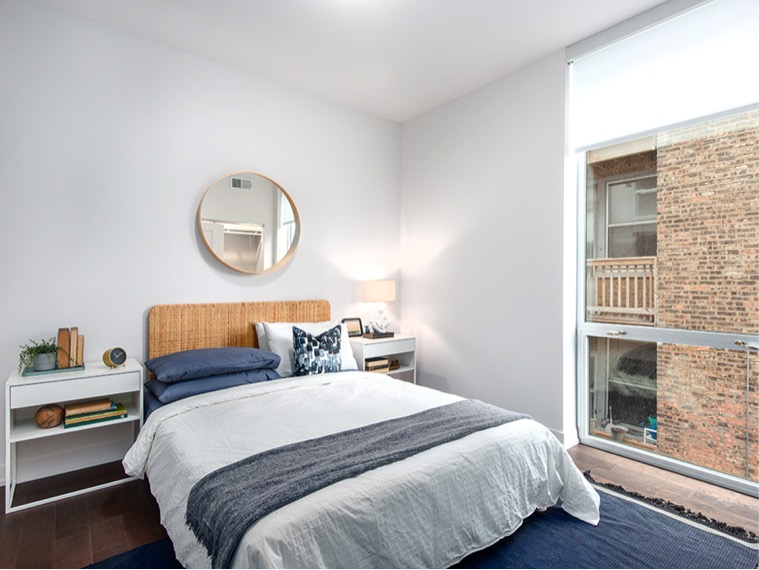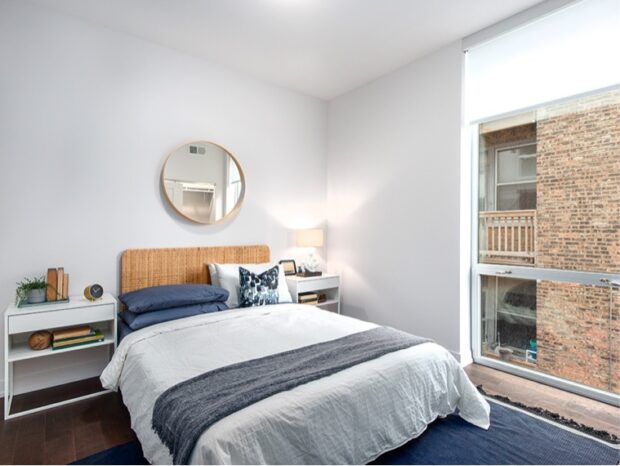 Photo Courtesy of The Henry
Even if you don't live anywhere near the beach, you can still bring some coastal vibes into your apartment just like this Chicago 1-bedroom. In particular, the bedroom is an excellent place to embrace coastal decor since it naturally offers a tranquil vibe that can instantly transform any space into a relaxation haven.
Design Tips for a Tranquil Coastal Apartment
Use Blue: It's hard to get a beachy feel without embracing blue hues found in the sky and water. Go for bright blues if you want something that feels vibrant and youthful. Or, follow in the footsteps of the apartment above and go for more muted tones for a chic and sophisticated look.
Add Texture: Rattan, wicker, and jute are all ideal for incorporating soft, sandy tones and some texture into your design. This bedroom does so by using a woven headboard, but other options include a jute throw rug, a wicker chair, or a rattan lamp. Woven wall hangings are also a go-to if you need decor that doesn't damage the walls.
Accent with Plants: Whether it is a small potted plant on an end table or a large tree, a houseplant can take your coastal vibe to the next level. If you are opting for a tropical feel, try a dracaena or orchids.
3. Wow-Worthy Minimalist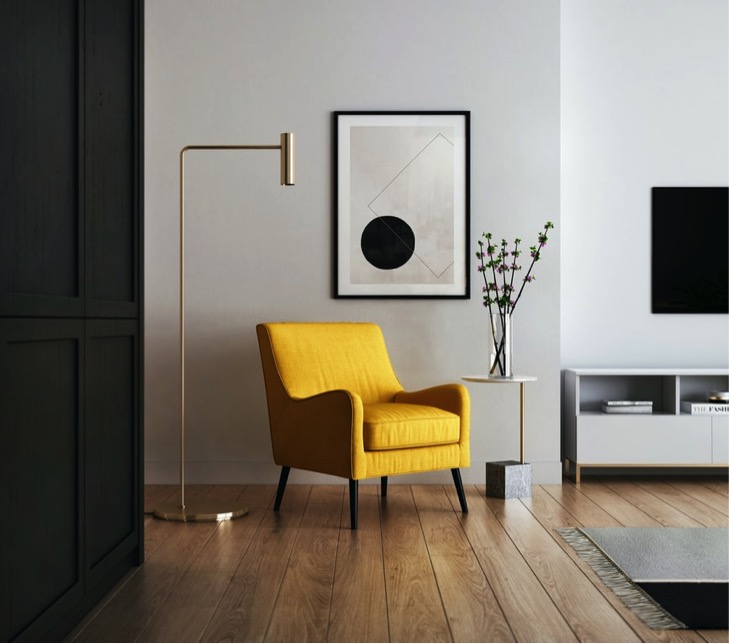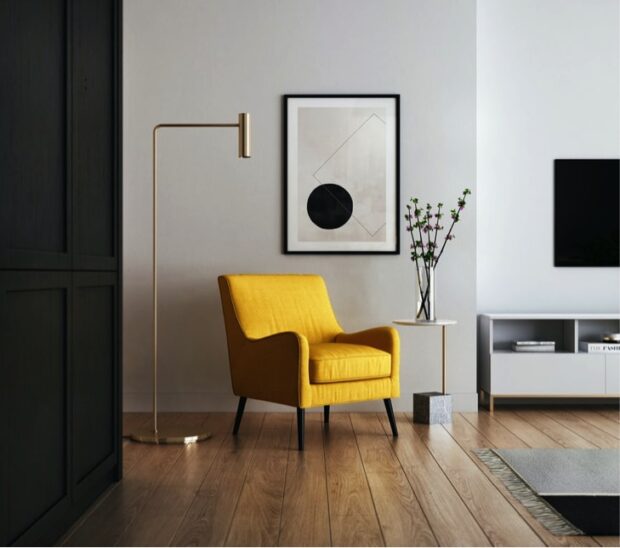 Photo Courtesy of Kam Idris
Minimalist apartments are excellent if you want to avoid a cluttered aesthetic. However, not all minimalist designs are as trendy and eye-catching as the 1-bedroom apartment above. It uses a bold yellow chair with a simple silhouette to add a pop of color, while its angular accents and geometric art also play into how it draws the eye.
Design Tips for a Wow-Worthy Minimalist Apartment
Embrace Geometric Elements: Sometimes all it takes to add a bit of a flair to a minimalist space is a good piece of geometric art. Prints are often best for this as they are widely available and affordable on almost any budget. However, geometric wall decals are also something to consider. You can also add some geometric goodness through lamps, end tables, textiles, and accessories.
Make a Statement: A well-placed accent is often the difference between a mediocre minimalist apartment and a wow-worthy one. While the apartment above uses a sunny yellow chair, a vintage piece with an intriguing texture, an oversized piece of wall art, or a colored accent wall can all achieve a similar effect.
Use Hidden Storage: With a minimalist design, you want to create the illusion that you don't have a lot of stuff—even if that isn't true. Therefore, hidden storage is a must. Ottomans, cabinets, storage baskets, or a lift top coffee table are all great options to stash everything from charging cords to remotes.
4. Sophisticated Luxury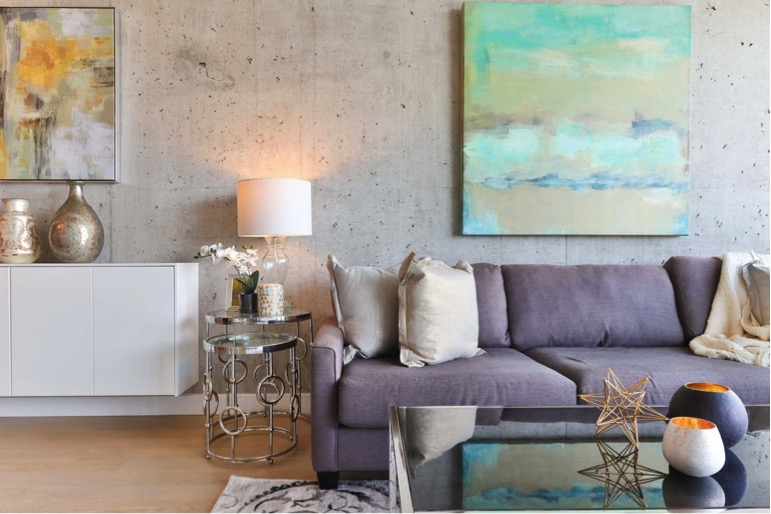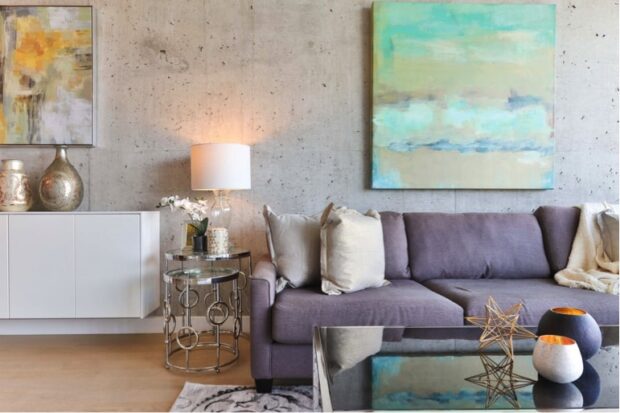 Photo Courtesy of Sidekix Media
Great for impressing guests and adding a bit of artistic flair, a sophisticated luxury apartment design doesn't have to be expensive or complicated. The trick often lies in using a mix of metallic and matte finishes to create a subtle contrast that goes beyond color. A few pieces of abstract art also never hurts to give a feel similar to a posh gallery.
Design Tips for a Sophisticated Luxury Apartment
Make it Comfortable: A luxurious aesthetic starts with comfort. To make your apartment feel comfortable and welcoming, try adding over plump accent pillows, a plush throw rug, or an oversized accent chair.
Use Metallics: Both silver and gold have an undeniable rich feel to them. You can see that the apartment above uses a mix of both, but incorporating just one will also suffice. Great ways to integrate metallic accents include lamps, picture frames, tables, mirrors, and vases.
Go Abstract: Abstract wall art has an expensive and luxurious feel, especially if it is on gallery canvas or framed. However, if you don't want to dish out for original abstract artwork, you can always make your own abstract painting or get an art print on canvas.
Designing the 1-bedroom apartment of your dreams doesn't have to be complicated. As shown above, finding photos with a look that inspires you can guide your design and give you the push you need to get started on your decorating journey. We aren't saying you need to copy everything in a photo piece for piece. Instead, try pulling elements from the design and incorporate them in your own way. That way, you can achieve the style you desire while creating a 1-bedroom apartment design that is entirely unique to you!