Bora Bora is every traveler's dream. Here are some tips to make it a reality.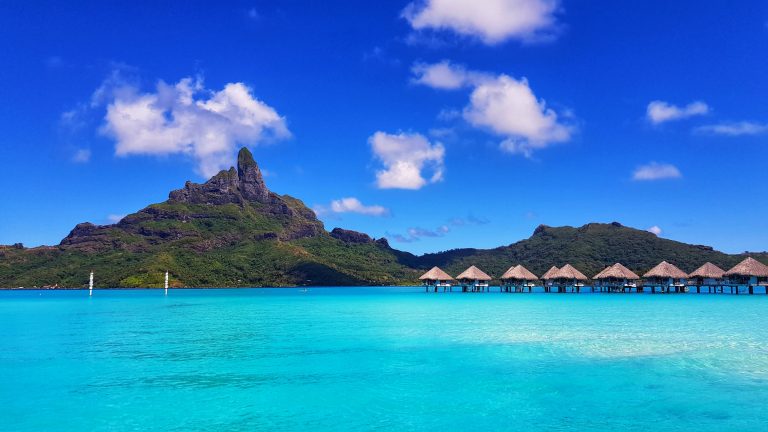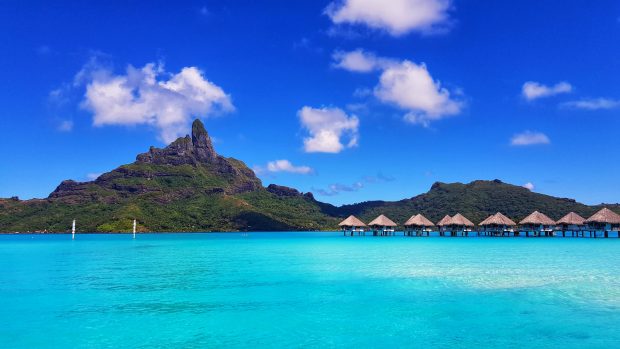 Have you dreamed of visiting Bora Bora? It is one of the most beautiful places on earth. Its inactive volcano, white sand beaches, turquoise waters, lush vegetation, coral reefs, and more make Bora Bora an attractive destination. For most travelers, planning a trip there is more challenging than other destinations. Before you travel to Bora Bora, here are a few things you should know.
Your Budget
Bora Bora is one of the most expensive places on earth. Your research may have stopped you because you realized it was beyond your means. A few considerations in planning your trip can help you manage the Bora Bora trip cost. For example, make travel arrangements more than three months in advance or choose cheaper hotel accommodations during a lean season.
Entry and Exit Requirements
All visitors to the Tahiti islands must obtain all required and valid documents, visas, and permits in order to enter. However, this is not true for all nationalities. Take a moment to check with the official French visa website to see if a visa is necessary for French Polynesia.
As of 27 July 2021, all visitors' eligibility to enter French Polynesia depends on vaccination status and country of departure. Additionally, all travelers over age six must pay a 'health surveillance fee.'
Going to Bora Bora
There are several flight hubs (Los Angeles, Honolulu, Tokyo, and Auckland) offering direct flights to Papeete International Airport in Tahiti. Bora Bora is located 30 minutes by air from Tahiti. To find the cost of your flight, you need to take into account both the international airfare to Tahiti through the hub as well as the domestic airfare. You can save money on flights by obtaining an island-hopping pass from the domestic airline, buying tickets 3-4 months in advance, or using your mileage points.
You can travel to Bora Bora if you arrive at Papeete airport in the earlier part of the day. Tahiti's interisland flights stop around 7 pm, so you will have to stay the night there. Arrive at the airport early, and be among the first to board the plane for Bora Bora. Take a left-hand side seat and enjoy the amazing views.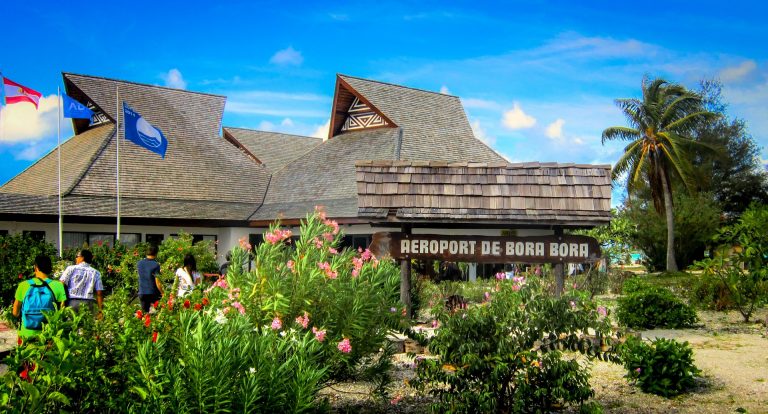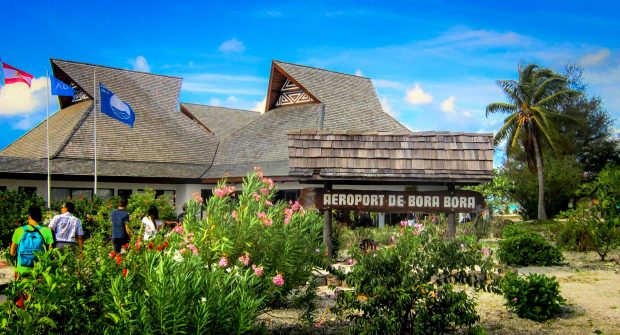 Bora Bora's airport can only be reached by ferry. That means you will need to take a boat to get to the hotel or your destination.
Time to Visit and Length of Stay
May to October is the peak season when rain showers are rare and tourism is high. In the peak season, prices are higher for everything. The low season lasts from December to March. Even though it is wet and unpredictable, there are still periods of good weather, and it's not too crowded. The cost of your trip can be further reduced if you visit in April or November. You should stay in Bora Bora for at least for 4-5 days to get the full effect of the island.
Currency
The local currency is the French Pacific Franc (CFP) or XPF. Euro and US dollar banknotes are generally accepted as cash, however at lower conversion rates than at banks. Taking money out of an ATM at the airport is a good idea.
Places to Stay
Among the options for accommodations in Bora Bora are luxury hotels, resorts, and spas with overwater bungalows, 3 & 2 star hotels, and vacation rentals. Budget guest houses and Airbnbs are also available. Hostels in Bora Bora offer backpackers the most affordable accommodations. You can also camp (book through website) if you want to go really low.
It is a good idea to split your stay between the main island and on one of the motus (islets). You can stay at a vacation rental on the main island, followed by a resort on one of the motus. Additionally, you should consider the options offered by the resorts (all-inclusive, partially-inclusive, or non-inclusive) for a cheaper stay.
Eating and Dining
Unless you eat at luxury restaurants or sample gourmet cuisine, food prices are not that high. A food stand might be a good choice. These stands offer wholesome meals at much lower prices. There are also food trucks serving delicious seafood and fish. Additionally, they provide tables and chairs for their customers, so you can enjoy your meal.
There are few supermarkets that sell food items at reasonable prices. Additionally, you can find private stands selling their own products at a lower price, usually fruits or fresh fish. Pack a few snacks for the afternoon, and enjoy a good dinner afterward. The gym is the only place in your resort where you can get fresh water straight from the tap.
Activities and Transport
Most people spend their time relaxing on the beach and taking part in water sports like jet skiing, snorkeling, and diving, but Bora Bora also offers a wide variety of activities to enhance your vacation. While hiking tours and 4×4 excursions allow visitors to explore the interior of the island, snorkeling and scuba tours allow participants to gain a glimpse of the vibrant underwater world. A helicopter tour offers panoramic views of the extinct peaks of Mount Pahia and Mount Otemanu, as well as the surrounding islands, while history buffs can learn more about French Polynesian culture and US history in Bora Bora during World War II.
You can get around the island by bus, bicycle, taxi, ferry, boat, or water taxi. There are few taxis on Bora Bora, and traveling by bus can be confusing. You can take a water taxi almost anywhere around Bora Bora. Additionally, you can rent a car, electric fun car, scooter, or bike. All types of transportation are expensive. Biking around Bora Bora is the cheapest way to get around if cost is prohibitive.
Few Other Things to Know
Here are a few other things to know to plan your trip:
The official language is French, but English is widely spoken.
Avoid mosquito bites by using repellant.
Take an underwater camera and a book reader with you.
A good pair of water shoes is essential. Corals make the sand and water bed very rough.
Final Thoughts…
Bora Bora is a special destination, and it is expensive to travel there. With a little effort, you can find some great ways to save money and stay on budget. Our tips will help you and inspire you to make the most of your trip, regardless of whether you are on a budget or not.