The easiest way to improve your property value (and brand value) at the same time? A decor revamp.
But if your fear of an inflated decor budget is holding you back from a higher selling price, we've got just the solutions for you.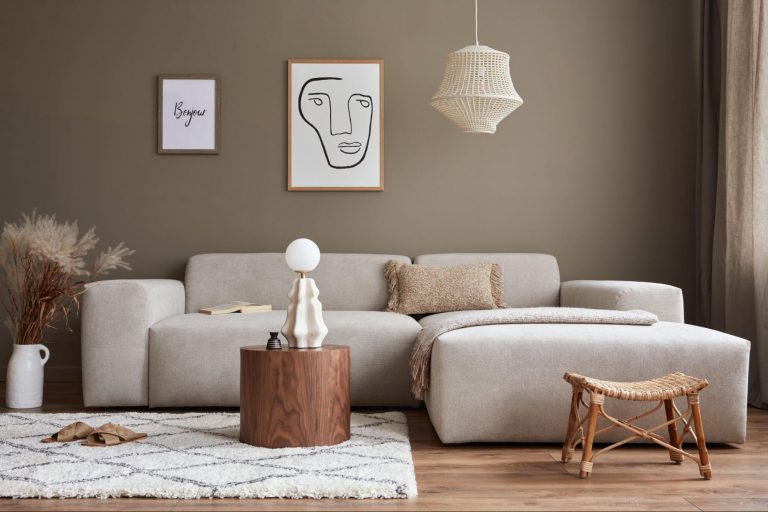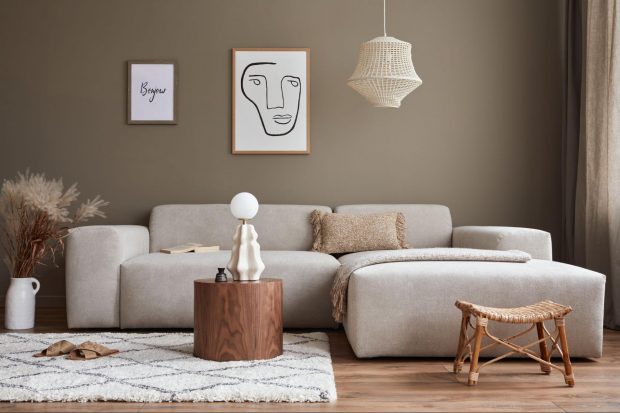 Here are the 7 simplest ways to enhance the decor of any space under $500.
1. Start with the obvious decor enhancers: Wall paints, colors, and textures
Set the theme for your space with the right colors. Paint is easy to find, affordable, quick, and can transform the ambiance instantly.
Often spaces can look outdated or boring, simply because the paint colors are no longer in fashion, or don't fit the theme of the space.
Make the room appear brighter and bolder with clean whites and pop-out accent walls in strong colors like emerald, deep blue, bold black. Or go for a calmer vibe with trendy pastels and light off-white shades.
If you really want to up the game, then opt for textured wall paint instead.
No, we don't mean a tacky popcorn textured wall.
Think concrete texture, spladder knockdown texture, slab brush texture, or geometric patterns carved into the wall.
If you want a pop of print, you could even go for wallpapers and install them yourselves.
Without the installation cost, even the most high-end wallpapers should cost you only around $100.
2. Upgrade your carpets and shades on a budget
Replacing entire furniture sets is an expensive affair.
And unlike common belief, your furniture doesn't need to be changed every few years to look fresh and trendy.
So let all those classic or minimal sofas, tables, and chairs stay. Instead, freshen up the look by focusing on the window shades and carpets.
Window shades (or blinds) are much cheaper and make a bigger impact on the decor. Choose shades that fit your theme, and are similar in shade to the wall color.
Only opt for boldly printed blinds when you are sure they won't stand out awkwardly or overwhelm the space.
Coming to carpets… Yes, we know carpets and rugs can be expensive.
But that is only when you choose massive rugs or fluffy carpets across the entire floor.
Instead use smaller rugs to just highlight certain sections of the space, like under the center table, in front of a console, or only near the lounge chairs.
Or even better, opt for even more affordable modular carpet tiles. Once placed, they look virtually seamless and make long-term maintenance easy too.
Pro tip: If you're using bold colors for the walls, shades, or carpets, follow the rule of three. Ensure that the space has at least three elements of that contrasting color (or similar shades of it) so it doesn't look out of place.
3. Retile the walls and floors for budget decor
Again, replacing sinks, toilets and other fixtures can be expensive. So is replacing kitchen cabinets and counters. But tiles, not so much.
Now if you're wondering how even this fits into an extreme budget makeover… Remember, you don't have to retire all the walls and floor to make an impact.
Even adding eye-catching tiles to one wall or just the floor will enhance your decor for under $500.
Just be sure to follow the rule of three, and repeat the color in at least two other elements of the room. This could be through accessories, window shades, rugs, or even printed art hung on the walls.
This brings us to our next "decor on a budget" suggestion…
4. Add some art to elevate the space
You don't have to go out and buy a Picasso on a $500 budget.
Even printed and framed digital art can make an incredible difference to a bland room.
(Plus, it's far more affordable than designer decor elements and accessories.)
Also remember, art doesn't have to mean a massive 6′ x 4′ painting or print on the wall.
You can create an entire "gallery wall" made up of many complementary pieces of art you find online. It will light up the room as much as a statement piece of art would.
5. Liven up the space with affordable, lush plants
The simplest (and cheapest) method of covering up a messy corner, or elevating a basic room is with plants.
Spruce up the dull corners, bare counters, and mundane corridors with some low maintenance indoor plants. Depending on the ambiance you're trying to create, choose from flowering plants, succulents, spiky leaved plants, or lush evergreens.
If you don't have any experience with using plants for decor and don't know where to start, talk to an expert. Plant design consultants will be able to guide to on which plants work best for your space, where to place them, and how to maintain them.
Not to mention, they would probably be able to guide you on where to buy these plants at more affordable rates than your regular retail stores.
6. Pay attention to the lighting
Harsh white overhead lights or dull gloomy lamps can make even the most well-decorated room look washed out and bland.
So if you're on a budget, choose to upgrade your lighting, and layer the room with multiple sources of light.
From bright floor-mounted lamps, to warm overhead spotlights, be sure to layer the lighting across the room. This is also an easy way to change the entire mood of a room, at the flick of a switch.
You can go from focused workspace lighting to relaxed, evening cocktail time just by using strategic lighting.
Pro tip: While choosing lights, focus on the color, the placement, and the brightness of the light. These three together make up the entire lighting experience of a room.
7. Don't ignore the "knick-knacks"
Finally, it's down to the numerous small accessories in the room. From the clocks to the ashtrays, and every other trinket in between.
Every element in the room might not be transformational. But put together they will make a massive difference.
So curate a collection of affordable accessories to enhance your decor on a budget.