From the easy to the extravagant, the options for decorating a summer birthday party are endless. When the weather is good, there's no beating an outside event to enjoy the long evenings and balmy temperatures. Whether it's your garden, the park or even the outdoor area at your favorite restaurant, there's no shortage of venues at which to hold your party. With the date set, the weather forecast looking good and your friends invited, the only thing left to do is decorate!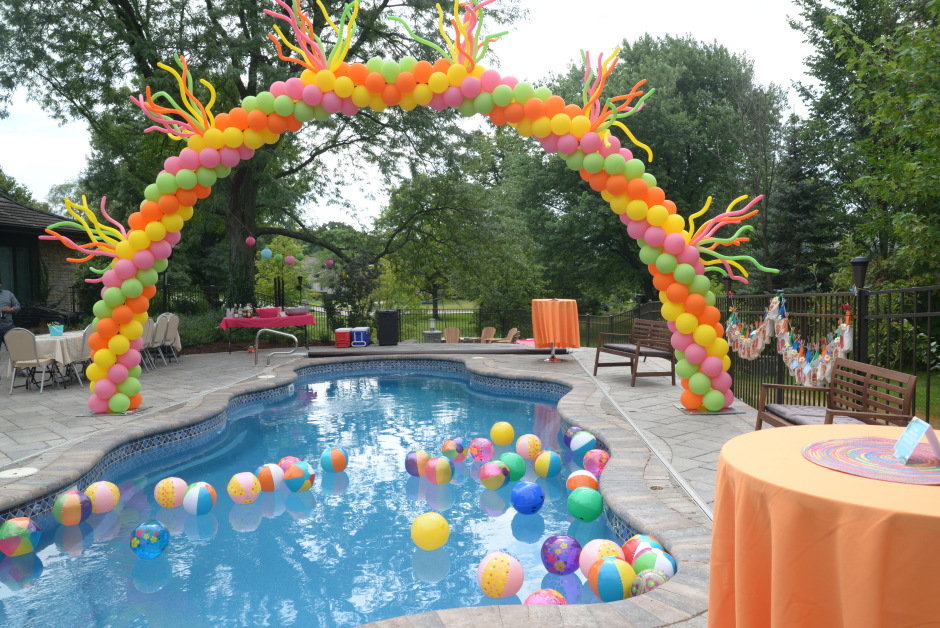 No-stress decorating with amazing results
Choosing a theme or tone for your party should be your first concern as this will help instruct the kind of decorations you choose. You can keep it demure and mature or channel your inner kid and go wild. No matter which option you choose, there are a number of low-cost and easy ways to create the precise atmosphere you want with minimal fuss. Read on to discover more about ten of our favorite decorating ideas that will give your party's look a high impact.
Balloon decorating
Balloons have to be the ultimate party symbol. No matter what you do with them, they inspire in us a child-like glee which just cannot be replicated by anything else. Buying a bumper pack of 50 balloons and enlisting the help of some friends is a good start, but there are a few ways to take your balloon decorating to the next level. You can also:
Add glitter or confetti to the balloons before blowing them up for added sparkle
Put a glowstick in the balloon to give them a lantern-like luminescence at night
Twist them into shapes or animals for child-friendly fun
Decorate with personalized inflatables
If you choose to have a themed party, make sure that all the decorations match each other. If you decide to have a cool pinky party with your besties you can fill your pool with all-time favorite flamingos, cute heart-shaped floaties, and inflatable drink holders with the shape of your favorite fruit. Despite decorating your pool, make sure that the surrounding is integrated with the theme as well. For more fun activities for your party, you can add inflatables with original designs that will match your theme and give good summer vibes to your guests.
Illuminate everything
Fairly lights are every party host's best friend. Hang them in the trees, paperclip them to the hem of your table cloths, or stuff short strings of them into jars for a quirky take on table lighting. The soft, warm light they offer is perfect for summer evenings and the various range of hues available ensure they will always match your color scheme.
Personalized tableware
Paper or cardboard tableware is perfect at outdoor parties because of the risk of breakage, however, this doesn't mean it can still be made a little special. Use non-toxic ink to stamp names, images or patterns onto paper plates or splash out on a set of printed and personalized paper cups.
Light up the ice
Parties are all about bringing the weird and wonderful to life, and what could be better than making your drinks glow vibrantly? LED ice cubes are fantastic because they can be turned on or off to save battery and are reusable; find them cheaply at numerous online stores. Alternatively, have a go at making some yourself!
Design your own tablecloths
Keep costs down and instead of buying fancy table coverings simply use plain white paper. Buy a couple of packs of colored crayons and leave them out on the table for people to draw with. This way guests can draw pictures and make a design themselves or write birthday messages you can keep forever! This option is also a sure winner with kids.
Use a chalk board for instructions
Sometimes it really does help to have a sign do the talking for you. Offering help with directions on where to find you, information about what the food and drink is and any dietary notes people make want to know – signage makes everyone's life a little bit easier. Rather than simply printing something off on your computer, why not use a chalk board? This way people can add little drawings or annotations and you can easily change the information on it should you need to.
Bunting
No party is complete without bunting! Use leftover old colorful party napkins strung up on a string or go all-out and sew your own design together using grosgrain ribbon. The most important thing about any bunting is that it has the delightfully jaunty pointed edges and is available in ample quantities.