As winter draws in it's most likely your thoughts are beginning to turn to organizing warmer clothing for outdoors and creating a much cozier atmosphere indoors. This is especially true as temperatures drop and your home grows colder. In winter 2016 there are many choices you can make, especially when it comes to making the most of soft furnishings. Here are a few ideas to help you warm up your winter interiors.
Woolly solutions
Not only will you want to refresh your collection of sweaters, woolly hats, mufflers and mittens, you may also find that your home is craving a woolly makeover. Footstools and scatter cushions are going cable knit crazy this year with giant, chunky creations to keep your feet happy and soft snuggly pillows to provide back support and cuddle-up comfort.
The lovely folks who brought you Ugg boots have ventured into interior design territory to create sheepskin rugs, throws, blankets and floor cushions that will indulge you and embellish your home to great effect. As you might expect, textures are velvety and you may be tempted to stroke them repeatedly.Where blankets are concerned, adding a traditional tartan covering here and there, whether on a throw or table linen, can really improve a room's look and atmosphere.
Divide and conquer
If you want to win through this winter think about great ways in which to divide internal spaces in your home to create smaller, cozier areas. Wide open plan rooms are great in summer as they deliver light and air, however, in winter they can result in gloomy expanses that feel empty and let in currents of much cooler air. The remedy is to consider solutions that divide larger spaces, such as freestanding screens or shutters.
Freestanding screens will give you a visual divide and they come in a wide range of attractive designs and materials. They help to break up larger spaces and can create more intimate surroundings.
Full height shutters supplied by a reputable firm are perhaps best known for the wonderful job they do when used as window treatments. Shutters create a streamlined and simple look that is sensational no matter what the age or character of your home. It may surprise you to know that shutters can also be used as room dividers and the solid variety provide draft proofing as well as privacy. Overall, they can really create an effective 'room within a room' with a warm, homey feel.
Fireside tales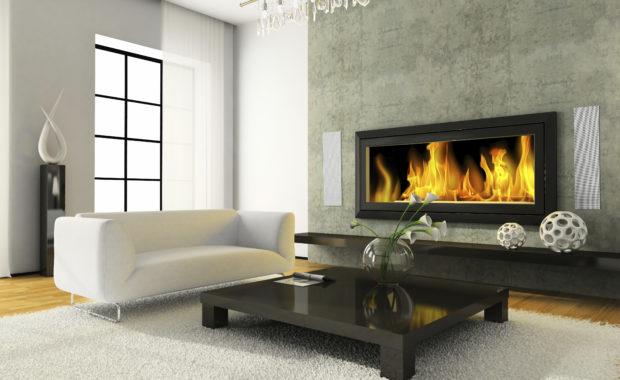 Fires and fireplaces are at the very core of winter bliss. After all, at this time of year you will need to use the heating more and there's a reason why the phrase 'hearth and home' has come to symbolize the importance of the home itself. There is something about family and friends, gathering around a fireplace as a focal point in a family room, that definitely beats staring up at a wall mounted TV, no matter how centrally located that is. The message istherefore; treat your fireplace with respect if you want it to help you make the best of the winter months.
Log baskets (with logs) look good beside a warm hearth and stylish fireguards will make a real feature of your fireplace. If you can't or don't have an open fire, there are a number of solutions that will still bring you some winter cheer, whether you use gas or electricity as a source. Why not shop around for the best deals online?
Décor
Despite its apparently stark nature, white is not a cold color, and it is certainly not bereft of any sense of welcome or warmth. During wintry weather it can brighten up your days by reflecting what little light there is, and when used in rugs, throws and cushions it can be positively inspirational. Fabrics really do make a difference when it comes to winter warming. From faux fur throws to plush pillows, you can physically feel the difference they make to your skin and their effect on your overall sense of wellbeing.
Finally, take the time out before winter lands properly to get to grips with organizing your warmer clothing – a very necessary preparation. Focus also on the ways in which you want to create a cozy atmosphere in your home. Spending a little time on planning and preparation can reap huge rewards on both counts. Have a very warm and cozy winter!