The fundamental structure of a house is its foundation, walls, and finally the roofing. Even the old age mud and grass houses had roofs. Either straw, grass, or banana leaves. Therefore,  we conclude that the roofing system of a home is very crucial. Owing to that fact, home roofing has experienced a significant improvement into the innovation of better stylish variety of roofing systems. And in this article, we shall discuss some of the most modern roofing types available in the market.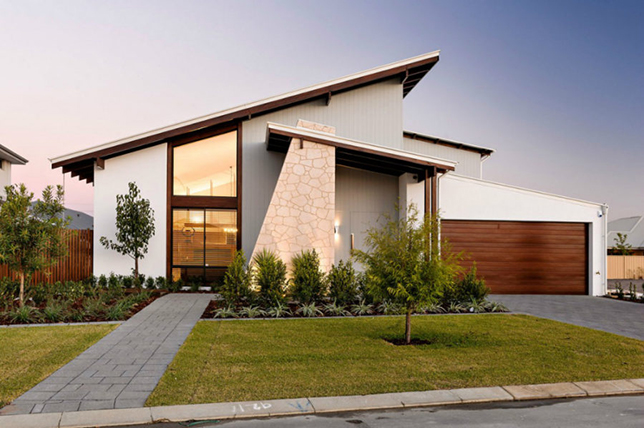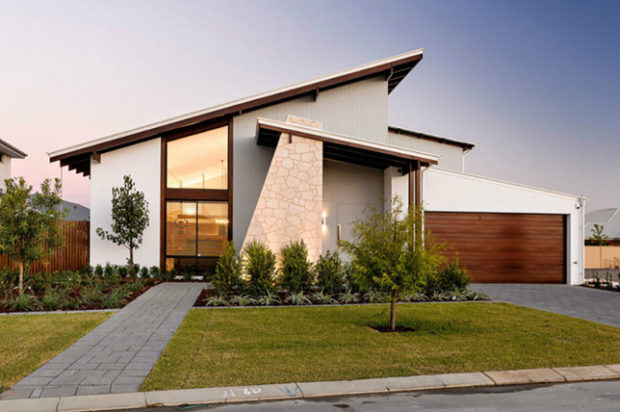 1. Flat Roof
Just as the name suggests, this type of roof is flat like a plateau, with no visible raised ridges. Although, for drainage purposes, they are built at a slightly inclined angle to allow the natural flow of rainwater. If a roofer makes a bad judgement call and built this roof completely flat, it would then result into water lodging problems in future, which would lead to the deterioration of the house at a faster rate, in addition to providing a breeding ground for mosquitoes.
The flat roof is very beneficial as it provides more space that could be used as a flower garden or a patio. It may also serve as a space for installing hanging lines for laundry. This style of roofing is also very convenient in the installation of solar panels for efficient energy supply for an independent household. In addition to that, the overall cost of building such a roof is on the lower side because it uses little materials and requires little expertise to make it.
2. Mansard Roof
A mansard roofing style is a four-sided roof with a double slope on both sides that meet to form a low pitched roof. It is also known as the French roof style. The sides may be flat or curved as per the liking of the owner. This variety of roof provides extra space that can be used as an attic or a tower. Mansard roofs are convenient for people who have plans to expand their living quarters as this kind of roof allows for future home additions. One is at liberty to add a window or two to add on to the natural light penetration, which makes your home more stylish to the eyes and reducing the use of electrical lighting during the day. Because of its sophisticated embellishments and detailing, this type of roofing tends to be a bit costly. But if you can foot the bill, why not?
3. Saltbox Roof
This style is asymmetrical with one side being of a lean-to style and the other slightly sloping flat roof with gables at each end. This design came up as a result of the need for more space without the factor of adding more building materials to the budget. The saltbox roofing is practical on houses built in areas that receive high rainfall owing to its design of the sloping side. The aesthetic of the saltbox is better compared to its simple gable design with the added advantage of an extra floor of space that can be used as a study room or attic.
4. Butterfly Roof
This modern roofing style assumes the shape of a butterfly consisting of two tandem pieces angles on the outside and inclined in the middle, making up a v-shape.  The overall style takes up the shape of butterfly wings in flight. This style is standard in the latest models of eco-friendly smart and tropical houses. The upward design of the roof from the middle enables the construction of larger windows that give the home more natural lighting which aids in the reduction of the use of secondary lighting methods and brings an open feel to the design. The central valley section allows the collection of water during rains making this type of roofing ideal for low rainfall areas. The slanting angle of the roof also makes it convenient for the installation of  PV solar panels for energy collection. And considering the roof slants on both sides, solar energy is absorbed all day long.
5. Sawtooth Roof
A sawtooth roof overall design takes up the side-view shape of the teeth of a saw. It consists of two or more parallel pitches roofs of which the sloping and vertical side alternate. The vertical sides allow for the installation of more windows, which increases the exposure of the home to natural lighting. The high peaked pitched enables the installation of a vaulted ceiling or extra loft spaces. This design makes it practical for the installation of eco-friendly systems such as a PV solar system as well as radiant and geothermal house heating systems.
6. Solar Tiles
Solar tiles make up modern homes and benefit from energy-efficiency. It means more savings for homeowners when it comes to electricity bills. Advanced solar collectors can be integrated seamlessly into your home's existing shingles. This type of roof can generate up to one kilowatt of energy per hundred square feet. Solar roofs help offset energy costs because of solar power.
How to Choose a Roofer to Install Your Modern Roof
When choosing a qualified roofer, it's essential to ask the prospect for proof of work or portfolio. Check the roofing company's website and look at the photos of previous and recent work. A roofer's reputation is reflected in how the clients perceive their products and services, too. So, it pays off reading testimonials and comments not only on their website but also in review sites and social media.
Here are the other tips when selecting a roofer to install your modern roof:
Ask Questions: Asking relevant questions about the roof design aspects of the modern roofing system is a good practice. Once you've narrowed down your options, you can start interviewing prospective roofers. It's also one way to gauge if a roofing company is experienced, expert, and dependable.
Obtain Estimate: One way to narrow down your options is to get estimates from roofers in your area ahead of time and compare. It's also a good idea to check if the roofing company is partnered with top roofing material manufacturers who can provide you better deals or discounts.
Determine Available Modern Roof Products: Not all roofers have the same products and services. While some still offer traditional shingles, others offer sophisticated roof materials, including solar tiles and green roofs. Also, it pays to know if the roofer is knowledgeable about the latest roofing techniques.
Conclusion
By reading this article, you're now more knowledgeable about modern roofing styles, including sawtooth roofs, solar tiles, saltbox roofs, butterfly roofs, mansard roofs, and flat roofs. To make your home more appealing, you can choose from any of these modern roof styles.