Installing a fireplace is one of the best investments you can make to increase the value of your home. In fact, the resale value of homes with built-in fireplaces is 12% greater than those without them! Plus, having an outdoor fireplace is a wonderful way to keep warm on winter evenings while entertaining outdoors.
When it's too chilly to walk outdoors without a thick layer of clothing, you can enjoy the fresh air comfortably thanks to your outdoor fireplace. If you're interested in finding the best fireplace for your patio, the following are a few suggestions that might help you narrow down your options:
1.  Find the Perfect Spot to Install the Fireplace
To bring your ideal fireplace to life, you must first find a space for it. To do this, you'll need to figure out what sort of design will suit the overall vibe of your outdoor space.
Choose a design that not only complements the outdoor space but also looks fantastic in it so that you can get the most out of it. The shape of any natural gas-powered or propane-powered heater will be heavily influenced by the quantity of available space, whether you decide to put it in your patio area or back deck.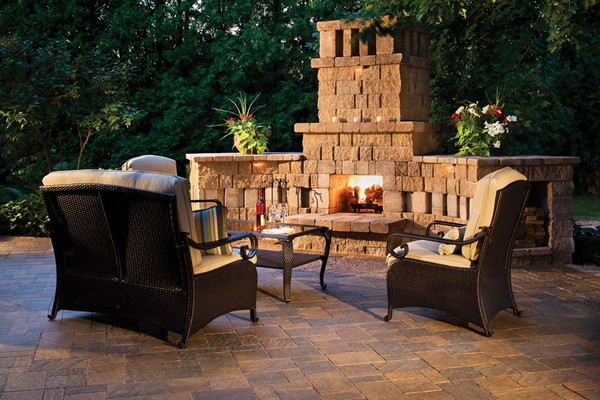 2.  Electric Alternatives
Recent years have seen an explosion in the popularity of electric fireplaces. These fireplaces have a very aesthetically pleasing design that makes brick or stone seem like actual burning wood. While they can be quite hot, there is no danger of their catching fire and they need a very low amount of upkeep.
It's important to keep in mind that while it may be appealing to use your electric fireplace as an alternative to the central heating system in your home, this is not the most cost-effective solution. If you need budget-friendly heat on rainy days or while moving house, you should think about getting an all-natural wood-burning choice instead. Nevertheless, installing an outdoor LED fireplace is a fairly simple and inexpensive process.
3.  Size and Shape
Because a fireplace serves as the primary focal point of any room, it's essential to choose one that is compatible with the available area. Before you purchase a new fixture, be sure to take accurate measurements and thoroughly plan!
Taking the time to ensure that your fireplace has the perfect form is an essential component of giving it the ideal dimensions. There are even lengthier variations available, even though the majority of people choose the more conventional square or small rectangular fireplaces. A strip of warmth will be provided by linear outdoor fireplaces that extend out over the full surface of your space and these will give you a spot to gather around.
4.  Style
Any room's fireplace has the potential to become the space's center point; nevertheless, the form of the fireplace itself will be determined by the other components in the area. For example, you may go for an angular-shaped fireplace if your patio has long, horizontal floors or walls made of square stone slabs. You should also choose your teak outdoor sectional based on whether or not it's compatible with the style of fireplace that you have chosen for your space.
5.  Material
Now that you've decided what kind of fire pit you want, it's time to choose the material that will fulfill your requirements and satisfy your preferences the most. There are several well-known choices, and you should think about the benefits and drawbacks of each one carefully before making your decision.
You have the choice between mineral or metal fire. Metal fire pits are available in a dizzying array of forms, designs, and aesthetic features.
Stone, concrete, and clay are among the most common materials used in the construction of such structures. Aluminum, copper, cast iron, and steel are just a few of the other common materials used in the construction of fireplaces, as is glass.
6.  Budgetary
The amount of money that you're willing to spend will most definitely have an impact on the options that you have. Is money limited, or can you spend as much as you want? Small portable fire bowls may be purchased for a few hundred dollars, however constructing a big fireplace in which food can be cooked can cost ten thousand dollars or more.