Kitchen remodeling is a significant investment. It can also be a lot of fun. You get to create a perfect space for you and your family, one that's both beautiful and functional. But with so many options out there, it can be hard to know where to start.
When planning to work with a luxury kitchen design firm, consider a few things: first and foremost, think about how you will use the space. What kind of appliances do you want? What kind of layout would be best for your needs? How much storage do you need? This guide will compare two trendy types of kitchen remodeling: high-end luxury and German kitchen remodeling..
Luxury High-End Kitchen Remodeling
Luxury high-end kitchen remodeling is a great way to add value to your home and increase your quality of life. A luxury kitchen is a great way to add value to your home while making it more functional. This type of remodeling typically includes marble countertops, custom cabinets, and top-of-the-line appliances. Here are some other features:
●     Kitchen Islands
Kitchen islands can be as simple or as elaborate as you want. They have the primary function of providing extra counter space. You can choose between several luxurious island designs depending on your needs: fully functional islands with a countertop with electrical, sink, and drainage functionalities or others with base cabinets and plain countertop. Some designs also come as double-tiered spaces combining features of those mentioned above.
Altogether, these islands give your kitchen an added level of functionality. Whether it's sleek and modern or rustic and comforting, it will add to the luxurious feel of your kitchen and make it more functional at the same time.
●     Marble Countertops
Marble countertops are always a good idea for the kitchen. They're easy to clean and maintain, and they look more expensive– an elegant option for a luxurious kitchen. Many modern kitchens also use granite, refined quartz, top-quality wood, and copper to give the kitchen an executive feel. Soapstone and slate are excellent options for getting a subtle and calm elegance for the kitchen.
●     Custom Cabinetry
Built-in cabinetry makes efficient use of space and maximizes storage and display areas. It also gives your kitchen a streamlined look and can conceal appliances such as refrigerators or dishwashers. You can choose from a wide range of materials for your custom cabinetry, including wood, laminate, veneer, and metal. Whatever material you choose should be built to last and match the style of the rest of your home's kitchen design plan.
●     Pendant Lighting
Pendant lights are the most decorative of kitchen lighting and add a unique point of interest. They provide ambient light through general illumination—which can be dimmed—and task lighting. They may even be used to highlight a unique feature, such as an artistic tile backsplash.
●     Refrigerator Drawers and Wine Fridge
Suppose you want to increase the luxury factor in your kitchen. In that case, a few key features separate luxury kitchens from standard ones. For example, refrigerator drawers are typical in luxury kitchens. When choosing your refrigerator drawers, be sure to consider the depth of the drawers and how they will fit into your overall kitchen layout.
Tips for Choosing a Luxury Kitchen Modeling Design
If you're considering a high-end luxury kitchen remodel, it's essential to plan carefully and choose the right design company. Here are a few tips to help you get started:
Define your kitchen goal and properties. Understand your kitchen needs and must-haves.
Determine how much you are willing to spend and highlight features you will be ready to forgo to stay within budget.
Check out the inspiration from various other online kitchen models.
Please select your choice materials and kitchen design to ensure it suits your taste.
If you want an elegant, luxury, high-end remodel may be the way to go. A well-executed kitchen can make your home more functional and stylish and even increase its resale value. You also get lots of options with design and layout, although it can be expensive.
A German kitchen typically sports a feature-packed kitchen and spacious layouts. It features quality worktop materials and modern technology incorporated seamlessly into the design, producing elegant aesthetics. Though an excellent option, it may not be suitable for small kitchens.
German Kitchen Remodeling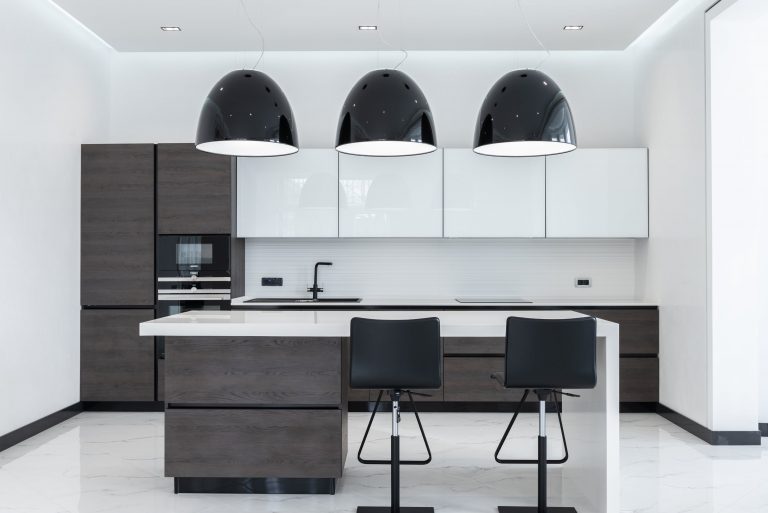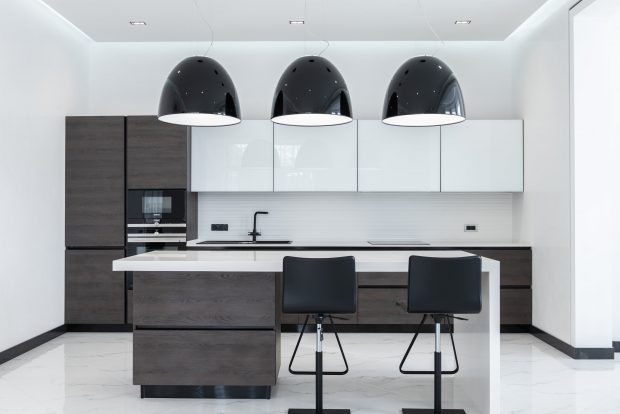 Alt-text: A German kitchen with an island, lightening, chairs, cabinets, and a refrigerator
Caption: German kitchen brands like Nobilia and SieMatic craft products come with much precision, sleekness, and detailing, making them a premium buy.
German kitchens are famous for their designer features, sleek lines, and bright colors, presenting an attractive and highly functional kitchen. Bulthaup has become popular as a standard for quality kitchens worldwide. Below are some must-haves when remodeling a German Kitchen.
●     Extra-Large Refrigerators
The built-in look is typical in German kitchens. German fridges are often almost flush with the countertops or cabinets, making for a sleek and modern look. You may want to consider this type of fridge if you entertain frequently or have a large family.
●     Warming Drawers
Warming drawers are used to keep food at serving temperature. These drawers can also be used to slow cook dishes, helping you prepare multiple recipes at once. You can also use them to warm plates, speed up the process of thawing foods, and even dry dishes.
●     Natural Stone Countertops
You'll want to take both longevity and aesthetics into account when selecting a material for your kitchen worktops. Natural stone is a typical choice for German kitchens. It's long-lasting, durable, easy to maintain, temperature resistant, and abrasion-resistant.
Depending on your preference, you can opt for a monogram, hamptons, purista, or a signature design. You may also combine the stone worktop design with glass, metal, or wood and apply excellent detailing in the features and aesthetics.
●     Butcher Block Countertops
If you like the look of wood in a kitchen, butcher block countertops are a great fit. They're not just for chefs — they're for anyone who enjoys cooking. And contrary to popular belief, butcher blocks are easy to clean and maintain. You can keep it looking new by oiling it regularly, using quality mineral oil that won't go rancid. Butcher block also has its advantages over granite or marble. It's much easier on your knives when chopping. Plus, it is heat resistant.
●     Corner Kitchen Sinks
The corner sink is a practical choice for modern, traditional, and small kitchens. They are great for maximizing counter space and depending on the size of your kitchen. You may be able to install a double corner sink. There are so many different styles to choose from that it can be challenging to narrow down your options!
●     Coffee Makers Built Into Cabinets
Coffee makers built right into the kitchen cabinetry are common in German kitchens. This saves space on countertops and keeps your kitchen looking clean, sleek, and clutter-free.
Wrapping Up
Kitchens have become the heart of the home, as the center for both cooking and gathering. They also represent one of the most important rooms for resale value, making a luxurious, high-end kitchen remodel a wise investment.
Remember, a kitchen can be expensive, so getting the design right the first time is essential. A well-designed kitchen should consider the needs of all members of the family. The remodeling should also be cost-effective and meet the basic features you require in a kitchen.