As temperatures drop and the weather begins to shift, the fashion staples in your wardrobe will start to take on a new look and feel. But that doesn't mean style needs to be compromised for function.
The colder months bring a new life to fashion; everything from fall sweaters to womens winter boots NZ can be mixed and matched to create the ultimate lookbook.

Fall Fashion Staples
When it comes to fall fashion, transitional pieces are essential. Having items that can move you through to the end of the warmer months into fall will expand your wardrobe and give you more options to match and pair together.
Jackets
You should be looking for light and versatile when it comes to fall jackets. Ranging from button-ups to zip-ups and coming in many colors, a light fall jacket is a perfect item to grab on the way out of the house to throw on when the sun begins to set.
After reaching peak popularity in the 90s, the bomber jacket is making its way back into our wardrobes and can be paired with a simple tank, your favorite trousers, or a mini skirt for a simple yet on-style casual look.
Shoes
Warm one day, rainy and cold the next. The perfect shoe for fall takes on a variety of shapes. Incorporating everything from loafers to fashion sneakers will add a functional yet stylish addition to any outfit.
Combine your favorite loafers with fitted jeans and a floral button-up for a brunch date look. Or elevate a pair of simple sneakers with a calf-length dress and denim jacket.
Accessories
The best addition to fall fashion is the perfect accessory. Adding your favorite pair of sunglasses, brimmed hat, or seasonal scarf to any outfit gives endless possibilities and fits any taste.
Add a pop of color through statement jewelry, an attention-grabbing handbag, or seasonally-inspired nail polish to complete any look. Consider swapping a hat for a sporty baseball cap if you want a casual flair.
Dresses
Carrying dresses into fall is simple, with warmer days on the cards. Keeping in mind that many more style options are available, finding the right sleeve and hem length combination has never been easier. Add your favorite accessories, combat boots, and a light jacket for a morning out to the farmers market, or team heels with a statement clutch and sheer stockings for a flattering evening look.
Winter Fashion Staples
Winter fashion does not need to mean bulky and unflattering. On the contrary, a winter wardrobe can keep you warm during the cold months and help you stand out from the crowd through layered looks and chic statement pieces.
Jackets
You don't have to live in the middle of the Arctic to own a good winter coat. Splurging on a well-made coat will give you years of stylish and practical fashion. With so many cuts and lengths to choose from, there will be something to suit everyone's specific taste.
For winter, you can't go wrong with a simple thigh-length coat. In comparison, a parka is perfect for keeping the chill away for the rest of the year.
Shoes
When it comes to winter shoe staples, boots are a no-brainer. Both practical and functional, adding a pair of boots to any winter outfit continues to deliver fashion to fit any style. Pick from heeled, knee-length, or lace-ups to find the perfect one.
For a night out with friends, grab some Timberland boots and combine them with a pair of your favorite boyfriend jeans, knit sweater, and winter coat.
Accessories
When winter comes around, accessories are the best way to put your stamp on any outfit that does not need to be dampened by the bad weather. So, for their newer alternatives, forget the simple scarf and wool-knit mittens from your childhood.
Slip on a pair of sleek, faux leather gloves with any outfit, or add a bold oversized scarf to add some color to an otherwise neutral pallet.
Dresses
It may not feel like the best season for dresses but paired correctly, winter is a great time to incorporate them into your wardrobe. With knit and thick cotton options, longer hems, and long sleeves, dresses can be a staple all year round.
Pair a black or navy blue knit dress with an evening coat, thermal stockings, and heeled boots for a flirty date-night look, or switch to a trenchcoat and ankle boots for an effortless daytime look.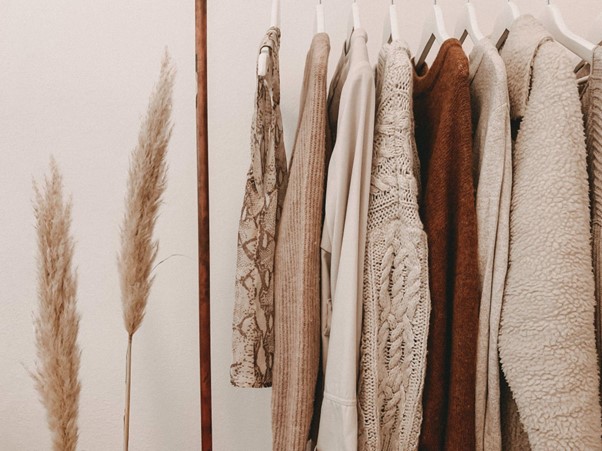 Fall Fashion Tips
As mentioned before, dressing for fall can be much easier when you have versatile pieces. Finding the right light jacket, fitted jeans, and footwear is the best way to expand your wardrobe without expanding your budget.
Keep in mind the traditional color palette commonly paired with this time of year, which never goes out of style. Shades of browns, reds, and oranges will suit all tastes. But never shy away from adding color to this reasonably neutral backdrop with statement pieces.
Winter Fashion Tips
Cold and grim weather does not have to equal a gloomy wardrobe. With the right combinations and quality pieces, you can extend clothing items throughout the year without compromising function and warmth.
Like fall fashion, look for ways to incorporate color into any outfit and look for warmer alternatives to your favorite dresses and sweaters.