Planning to remodel the old kitchen or want to build a new one? In either case, choosing the right material and colour for the countertop is necessary. As it's an investment for the long-term, it's necessary to thoroughly check out all available options to make a wise decision.
These days the homeowners are inclined towards having dark brown quartz countertops and fancy kitchen island lighting. Good lighting makes the kitchen look elegant.
To know more about different kitchen island lighting, check out this site. For folks who want to know more about why quartz is considered the best material, keep reading further: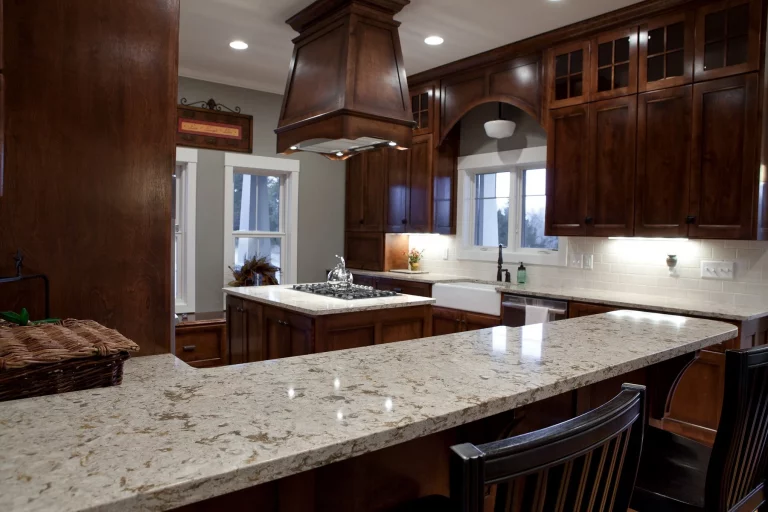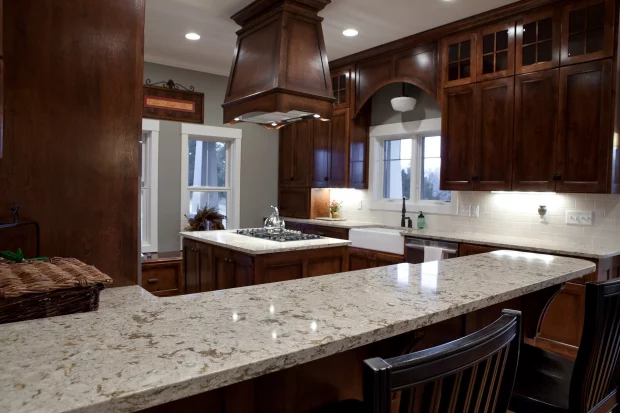 What is quartz and why is it popular amongst homeowners?
Quartz is an engineered stone. Its heat and stain-resistance properties make it a perfect material for being used in the kitchen. During the manufacturing of Caesarstone quartz, 93-95% quartz and polymer resins are used to convert it into a material that can be used for the home.
As it is not a natural stone, one can easily mould it into different shapes and colours. In addition, engineered stone does not require sealing, thus, making it easy for homeowners to maintain it. Due to these reasons, quartz material has become the top choice of homeowners.
Being an engineered stone, quartz counters can be created in different shapes and colours. One colour that has gained huge popularity is brown.
Let's see why people prefer brown colour for their countertops:
Why are brown colour countertops popular nowadays?
Quartz countertops are available in various colours. But these days, brown has become the most sought after counter colour amongst the homeowners. There are plenty of shades of brown available that one can choose from. All these shades give a striking look to the kitchen and make the space appear elegant.
For homeowners who are looking to introduce brown countertops into their kitchen, here are some of the designs ideas that one can go for:
Dark brown quartz countertop designs:
For those who are skeptical about what countertop design one should choose, here are some of the ideas homeowners can choose from:
Brown countertop with white cabinetry:
Trying to build a contemporary kitchen? If so, the combination of brown and white is something that homeowners should try to introduce into their kitchen. Brown is a rich colour that makes the kitchen's appearance quite surreal. By adding on some white cabinetry to it, the whole kitchen will start glowing up. Add on some white coloured hanging lights on the top of the countertop to match it with the cabinets.
Multi-tonal kitchen:
Why set eyes on one tone? There are a variety of tones available in dark brown colour that one can use on their kitchen countertops. Instead of opting for just one single tone, one can fill their kitchen space with different dark brown quartz countertops. A countertop is used in more than one place in a kitchen.
The homeowner can make use of the darkest tone for the kitchen island. The rest of the kitchen shelves can use a little less dark tone. This way, a multi-tonal effect will be created that will look spectacular.
Brown countertop with black cabinetry:
Black is one colour that can fit into the houses without overpowering other features. Installing black cabinets with dark brown quartz kitchen countertops will create a unique look that will make the kitchen space stand out from the rest of the areas in the house. The warm tones of brown and black can be countered by adding on some light-coloured chairs in the kitchen. It will break the monotony and will make the countertops pop.
Coffee brown countertop with the open brown floor:
For homeowners who are going after a specific tone, coffee brown is the one for them. This regal-toned colour works extremely well in the kitchen, which is filled with sunshine. For those who can't get enough of dark brown coffee brown quartz countertops are a great option because they have a smooth texture that looks extremely luxurious. Adding some brown coffee-coloured chairs to the kitchen island creates a perfect eating area for themselves.
Wood textured brown quartz countertop:
Instead of plain countertops, why not go for dark brown quartz countertops with textured wooden surfaces? The wooden texture has a close resemblance to the real wood. One can also add beautiful pastel paint to the walls of the kitchen. Finally, make sure to add a beautiful antique lantern on the top of the kitchen island. The combination of wood texture and antique countertop give the kitchen a country kitchen-like vibes.
Light and dark combination:
If brown is the only colour one wants to see all around the kitchen, then playing with light and dark brown tones is ideal. One can have dark brown quartz countertops and use a lighter tone for the cabinet section. The light brown colour will bring a different vibe to the kitchen. It will create a uniform look and also make sure that it does not look like a brownie.
Play with designs:
Why have only plain dark brown quartz kitchen countertops in the kitchen? As quartz countertop can be moulded into different shapes and colours, one can also get it in a different design.
There are numerous designs available from which one can choose a quartz countertop of their choice. To ensure that the countertop works well with the kitchen's interior, make sure to add some furniture that has a similar texture as the countertop.
Dark brown quartz kitchen countertops — Conclusion
The brown colour looks extremely rich and has royal vibes. By adding dark brown quartz countertops into the kitchen, one can create a warm and cozy environment. Quartz is a durable material amongst the others in the lot.
The non-porous nature of quartz is the biggest perk for homeowners as it prevents bacteria from entering the surface. Also, it ensures that the homeowners enjoy more time performing other tasks like cooking rather than continuously worrying about the countertop.
Ready to have dark brown counters in your kitchen? Use the ideas shared above and turn the kitchen into the most adorable yet functional space of the house.