Indulge in a symphony of flavors and textures with raspberry and vanilla mousse, a dessert that effortlessly combines the sweet tartness of raspberries with the delicate richness of vanilla. This heavenly treat is a perfect blend of sophistication and indulgence, making it an ideal choice for any special occasion or a delightful way to treat yourself.
The Perfect Marriage of Flavors
Raspberry and vanilla mousse is a culinary masterpiece that balances the bold and vibrant essence of raspberries with the timeless elegance of vanilla. The intense, tangy notes of fresh raspberries create a harmonious contrast against the smooth and velvety vanilla mousse, resulting in a taste sensation that dances on your palate.
While the flavors and presentation of raspberry and vanilla mousse may exude luxury, its preparation can be surprisingly simple. With a few key ingredients and a little patience, you can recreate this decadent dessert dream in your own kitchen. The magic lies in the meticulous combination of flavors and textures, which elevates this dessert to a level of sophistication that belies its straightforward recipe.
And we have the recipe!
Raspberry and vanilla mousse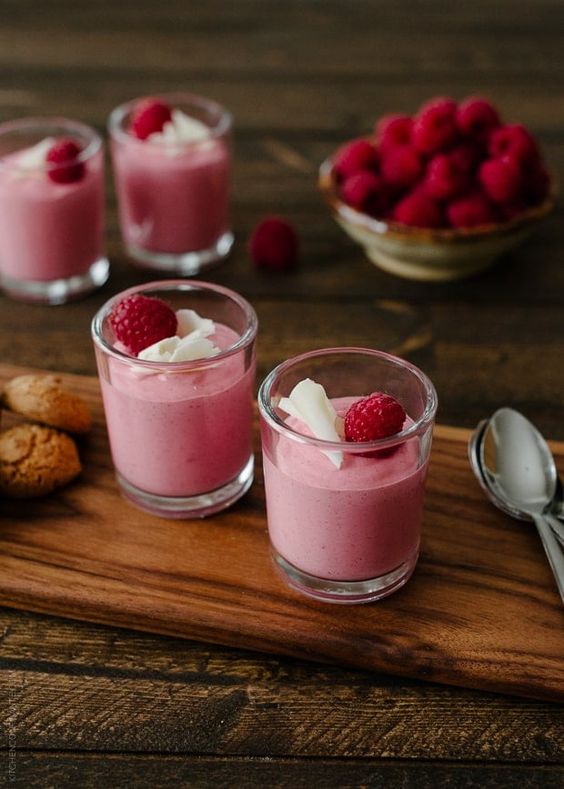 You need:
5 dl raspberries
1 dl Jelly Sugar Multi
1/2 tbsp Vanilla sugar
3 dl whipping cream
Preparation:
1. Cook the raspberries to a puree in a saucepan. Strain out the kernels.
2. Bring the raspberry puree and jelly sugar to a boil. Add the vanilla sugar.
3. Whip the cream. Be sure to whip it lightly as the mousse will curdle if the cream is whipped too hard.
4. When the raspberry-gelatin mixture starts to harden, just fold in the whipped cream and refrigerate for at least 2 hours.
Scoop up the mousse in glasses or on plates. Garnish with the rest of the raspberries and icing sugar. And voila! Enjoy the delicious dessert and tell us what are your thoughts!