Spring wedding attire is known for lightweight fabrics and soft pops of color. At the same time, outdoor venues and nice weather make clothing feel more casual. You probably have an idea of what to wear, but it's helpful to consider the items in this men's style guide.
Going through each section will help you decide if you can exchange your suit for something more relaxed like a crew neck or a men's pocket tee with a blazer. The right clothing choices are sure to make you look great and feel comfortable, even if you're more dressed up than usual. You'll also look fresh and stylish in pictures as you celebrate the special couple.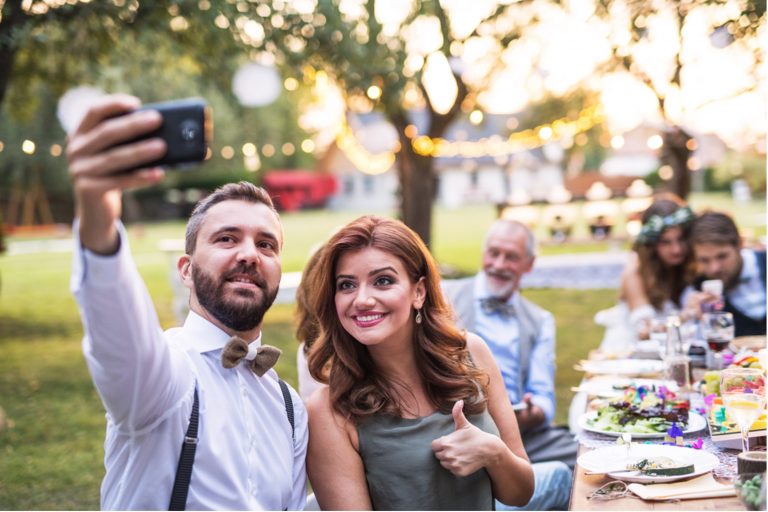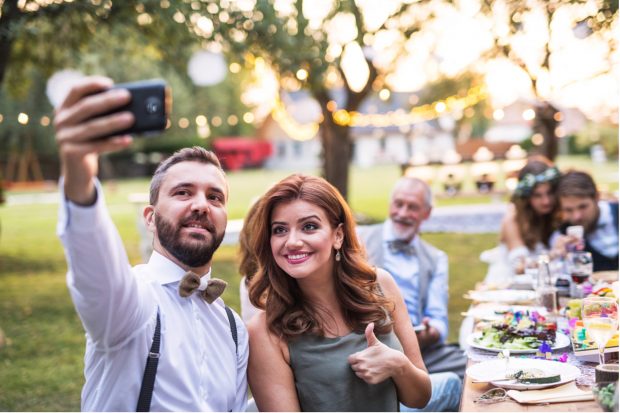 Source: Halfpoint/Shutterstock.com
Review the Dress Code
When it comes to wedding attire, assume you'll need dress pants and a blazer. You'll also need a dress shirt and matching shoes. There are exceptions to the rule, especially during spring. A smart idea is to check the bride and groom's dress code.
Most wedding invitations will tell you whether it's a cocktail party or a black-tie affair. You'll know whether you can wear something traditional like a crisp white shirt under your coat or if you can wear something more casual like a lightweight jacket with a navy crew neck. Look for clues about the venue. Beachside ceremonies may let you skip the necktie, while garden parties welcome patterns and bright colors. When in doubt, ask the groom or groom's party.
Check the Weather
Some dress codes (like a white-tie wedding) will spell out the details of your outfit. When the attire seems more open-ended, research the weather. The time of day and the climate at the venue both impact what you wear. You may not have time to wait on the forecast to shop, but you can still search the internet for typical spring weather patterns.
If it's the rainy season, the right attire will help you stay dry. Bring an umbrella large enough to fit you and other guests under it. Attending a destination wedding? You may have to dress in layers. For this reason, be sure that your button-down shirt or dress shirt is just as fresh and fashionable as your coat or jacket.
Pick a Spring Color Combination
Spring is a time to celebrate color. There will be plenty of seasonal hues in the floral arrangements and bridal party attire, which means you can add some vibrancy to your men's outfit. There are plenty of spring color combinations that will help your outfit to stand out without looking inappropriate for the occasion or "hogging the spotlight."
The right color combination for your men's outfit will help you to look classic while fitting in with the party. Some of the best springtime combos include: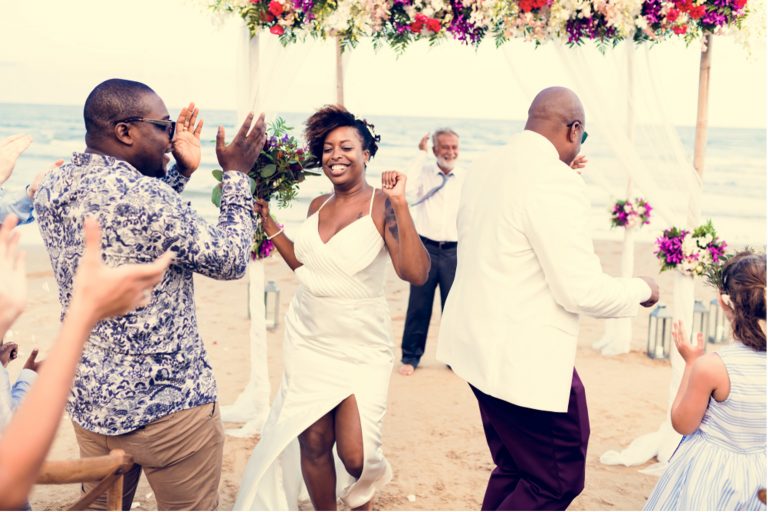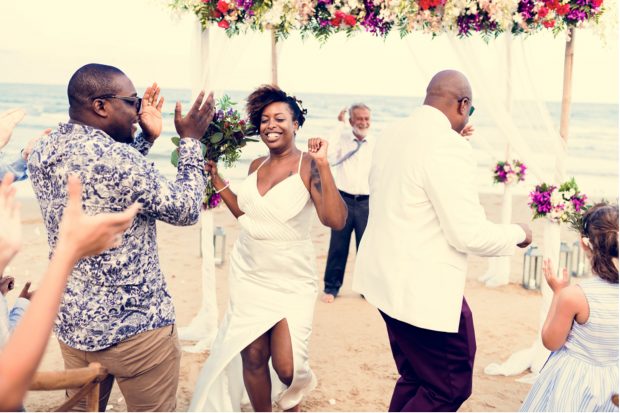 Source: Rawpixel.com/Shutterstock.com
Blue and White
Blue is a traditional color for spring that looks great as part of a men's suit outfit. You can also grab a casual pair of pants and a sport coat. Match a light blue jacket with a white dress shirt and a floral tie with a white pocket square. Brown dress shoes and a matching watch will keep the outfit looking stylish and seasonal. If you prefer, choose a traditional men's springtime color like navy. On-trend shades of blue include cobalt and blue-grey.
Pastel Purple and Grey
Add a touch of high fashion and sophistication to your spring wedding attire with a combination of seasonal purple and timeless grey. A light grey suit along with a white or grey dress shirt and a pastel tie is a sharp look that will oftentimes complement the wedding décor. For a more casual option, put together a purple button-down shirt with a grey jacket and a pair of khakis or tan-colored pants. You can also wear the button-down alone with the khakis and a dark-colored belt.
Dark Blue and Yellow
One of the best ways to look and feel stylish at a wedding is to choose a unique color combination. Some guys will wear basic neutrals or choose a predictable color scheme, but dark blue and yellow are anything but ordinary.
Navy and mustard are complementary, which means they look good together no matter what items you wear. This bold look is very attractive in a men's style while also helping to hide stains. Some of the best outfit ideas include a navy blue jacket and pants with a yellow shirt underneath. Choose a solid canary yellow color or go with a spring pattern like dots or flowers.
Other Stylish Spring Color Combinations
More popular choices for the season include pastel pink with grey and orange with blue. Another option is to combine green with khaki or beige with light blue. If you're having trouble choosing a combo, choose white as your base and match it with one of your favorite spring colors. Terracotta and clay are warm and mature shades often underused at weddings. Red and aqua can help breathe life into your outfit (and the party).
Choose Lightweight Fabrics
If possible, pick airy and breathable fabrics for your clothing. Summer weddings are much hotter, but spring temperatures can still cause sweating. The right materials help safeguard against staining while wicking moisture. When you feel fresher for longer, you'll be able to spend more time celebrating the happy couple. Men's modal t-shirts are popular for spring weddings right now because they're breathable and lightweight. When worn under a jacket or a button-down shirt, they help wick moisture while adding to your stylish layers.
When you're done with the wedding, or if the festivities become more casual, you can take off your coat and show off your soft and vibrant shirt. Pick an unstructured jacket like a cotton or linen blazer. Your outfit will look more relaxed for spring while you stay cooler in crowds of people. Khaki chinos and light-colored linen pants will keep you moving and celebrating comfortably. If you're looking for spring shoes, Oxfords and penny loafers will make you feel lighter without making the outfit feel too casual for a wedding.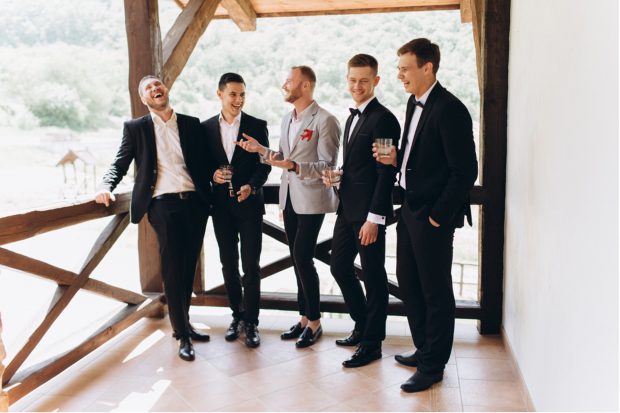 Source: Pichukova Ekaterina/Shutterstock.com
Creating a Stylish Spring Outfit
Dressing for a wedding is all about style. If you take the time to create a spring outfit, you'll feel more confident during each part of the celebration. Consider where the bride and groom are having their nuptials, along with the fabrics and colors that are most fashionable for spring. With a fresh and classic approach to your men's wedding attire, you'll have stylish threads to help you socialize all season long.