When it comes to fashion, accessories make dressing up even more fun. There are so many ways we can add character, style and personality to everything we wear. The real challenge isn't what to wear, it's more about having the ability to edit so that our outfits don't become too loud and less stylish. You really could choose to wear "all the things", stacking bangles and bracelets, big earrings and wearing layers and layers of neck jewelry. But if you don't do it right, it won't look good at all. In fact, you might end up looking more like a walking jewelry stand which is the last thing you want. Ultimately, you want the accessories you wear to enhance your outfit, without completely overpowering the look. This is especially true if you're going to be wearing more than one piece of jewelry at a time. This is something we've seen on runways, celebrities and even on Instagram influencer timelines. But the thing about wearing multiple pieces of jewelry is that there's a thin line between stylish and tacky, and it can be hard to know where the line is. In this quick guide, we'll show you how you can accessorize with stacks of jewelry without feeling like you're back in the 1980s.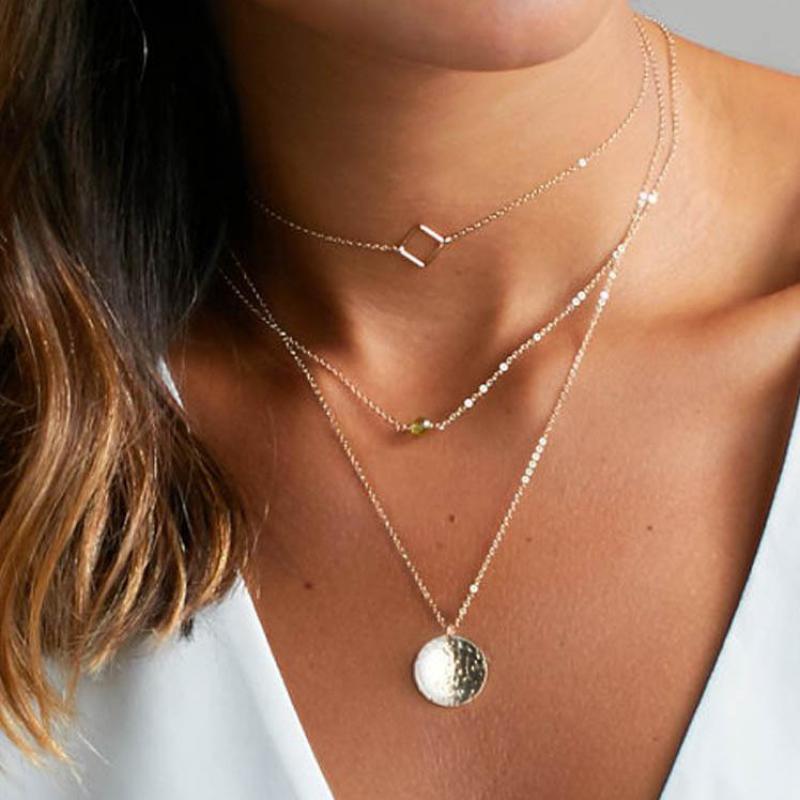 How to Layer Necklaces
Layering multiple necklaces has become quite a trend of late, but it intimidates a lot of people because the last thing you want it to do is look tacky or extremely over the top. So the question is, how can you layer a whole lot of neck jewelry in a tasteful way. To do it well, the first thing is to stay true to the idea of layering, which is to choose necklaces of multiple lengths. If they are all the same length, it won't look fashionable. The next point is to mix up the types of necklaces, different thicknesses, some plain and some with pendants. This will make the jewelry look a lot more interesting and less like a stack of chains. It's all about putting a lot of thought into the necklaces that you buy to make sure they can all fit together. If you do it well enough, you can even stack and layer basic everyday necklaces. It's not just women who can wear multiple pieces of neck jewelry. If you pick the right style of gold chain for men, layering can also suit masculine styles.
How to Wear Multiple Rings
Stackable rings have become extremely popular lately, and they are a fun way to add some character to your fingers. But you also don't want it to look you're getting kitted up for a street fight. If you want to make stacked rings look tasteful, remember that you should avoid
Stick to one metal and color so that there's a theme that ties it all together. Also try stacking jewelry that has a minimal look to it. If the rings are too big, have big stones and settings, it takes away from the balance of the whole look. You want the rings you use to be delicate so that your whole outfit won't be upstaged by the rings you wear. Try stacking delicate birthstone rings for an original look. Another way to achieve the stackable look is to wear very thin midi rings on 3 fingers with one bigger ring on one of those fingers. You can also buy rings that come stacked already to save you from all the guesswork of what goes with what.
Earrings
Who says your ears should only be adorned with one pair of earrings? Anyone with multiple ear piercings will tell you this. Not only can you dress up multiple ear piercings, you don't necessarily have to only do so with studs. One simple way to have some fun with your earrings is to wear small cuffs along with a standard pair. It's great because you don't have to have a piercing if you buy cuffs that wraps around your ear. You can also buy a cuff that spans the whole length of the ear lobe, which looks really fashionable.
We've often been told that one rule of fashion isn't to over-accessorize and wear too much jewelry, but we all know that rules are meant to be broken! Layering jewelry doesn't have to look tacky, especially if you're clever about what the styles you choose and the outfit you wear with the jewelry. You can achieve a very stylish and tasteful look and make a great visual impact in the process.