Last March, few people expected that working from home would last longer than a few weeks. Most of us set up a makeshift work area at the dining room table or in the corner of a bedroom, expecting to make do with a temporary arrangement.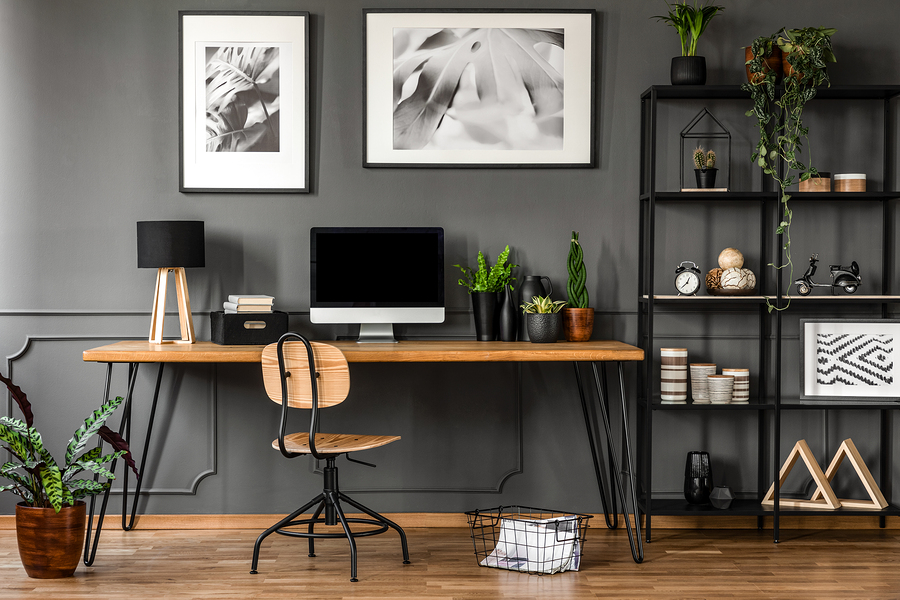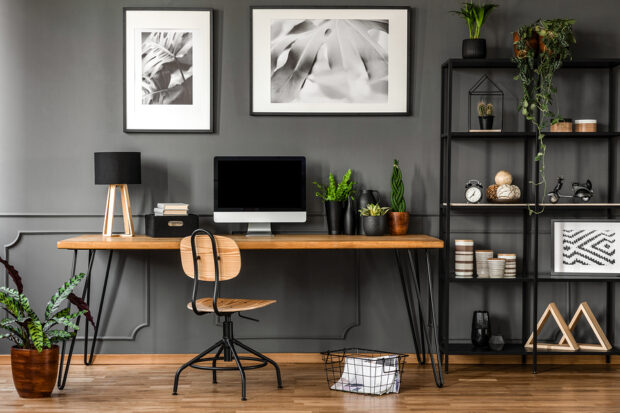 A year into the COVID-19 pandemic, though, a fair number of people are still working from home, and expect to continue doing so for the foreseeable future. One study by Harvard Business School revealed that at least 16 percent of employees will be working from home permanently even after the pandemic ends.
For those who plan to keep working from home, even if it's not a permanent arrangement, setting up a functional home office is a priority. Everything from productivity to ergonomics is influenced by your work area. Not to mention, getting work done is somewhat less of a chore when you have a pleasant work environment.
With that in mind, here are a few ideas and tips on how to make your home office, no matter where it's located in your home, a space that's welcoming, conducive to productivity, and somewhere you actually want to work.
How to Design the Perfect Home Office
1. Bring in the Light
Ideally, your home office needs some natural light. Natural daylight helps boost energy levels and improves your mood, while also giving you a boost of much needed vitamin D. If you work during off hours, or in a space that doesn't have much natural light, use full-spectrum light bulbs in fixtures to mimic daylight. Keep the space as light and bright as possible, and incorporate different types of lighting (overhead, task, accent) to support all of your needs. A ceiling fan with lights, for instance, will add much needed illumination while helping maintain airflow and a comfortable temperature.
2. Incorporate Color
Color can have a significant impact on your mood and productivity. In general, lighter shades are best for home offices, especially in neutrals, earth tones, and blue and green hues. These colors support feelings of calm and well-being. That said, choose a color that you love for the walls. If you are going to spend eight hours a day or longer in the space, it should be painted a color that makes you happy and gets you excited.
3. Personalize the Space
The beauty of a home office is that you can accessorize and personalize the space to your preferences. You aren't bound by your employers restrictions, so create a work area that is a reflection of your personality and unique preferences. Hang artwork that inspires you, add pops of color with accessories, bring in some greenery with houseplants, and add a soft, cozy rug for a homey and warm feeling. Be careful of clutter, though. You don't want to bring in so many details that the space becomes overwhelming, and you don't have anywhere to work.
4. Invest in Good Furniture
Since you have control over the furniture, choose the highest-quality, most comfortable pieces you can afford. A good quality, ergonomic desk chair can prevent back pain and discomfort. Choose a desk or work surface that accommodates your computer and other materials you need to do your work. A too-small space that requires constant rearranging — or worse, relying on the floor or other surfaces — is only going to cause frustration and reduce productivity.
5. Incorporate Storage
Keeping your home office neat and tidy can help reduce frustration — and prevents lost files, misplaced reference materials, and time spent searching for them. Incorporating plenty of storage also helps maintain separation between your office and other areas of your home if you don't have a separate room to work in. Being able to put all of your work materials away at the end of the day both prevents them from getting lost and keeps you from working extra hours or experiencing unnecessary stress because your work materials are in plain sight. Look for storage pieces that can do double duty, such as tables with extra shelves or drawers, or attractive cupboards that convert into a work surface.
Your home office can be a reflection of you and your tastes, so don't be afraid to make it a place you want to hang out in. You'll be more productive, and more satisfied with your work — without the distractions, commute stress, and noise that come with working in an office.