If you are a homeowner or a renter, you are probably always looking for ways to save money around your home. Thanks to innovative technology, there are now ways to monitor everything in your home, do some of your household chores and maintain household security without lifting a finger.
Inventors have targeted the most everyday chores as tech problems to be solved for the average homeowner. There is so much to do in a short day with work and family, why not let some of these clever gadgets help you out with the rest of the load?
You may not need the lifesaving technology of a set of heavy lift air bags in your home, or the need for a sophisticated security, but these things are out there if you need them. If you are looking to save a bit of time and money around your home everyday you should check out some of these hi-tech gadgets that you won't believe you have ever lived without.
Motion Sensor Powerstrip
With all of today's technologies and devices, you probably have a series of things plugged in around your house all the time. With a motion sensor power strip, you can save yourself some money on energy costs. The strip has up to eight outlets to give you a lot of space for your devices.
The great thing is that if you walk away or leave a room for 30 minutes or more, your strip will automatically cut the power to a few of your chosen outlets. This means you won't spend the extra money to endlessly charge your phone or leave your computer on for hours at a time.
Robot Vacuum
You might be one of the very few people who actually get a kick out of vacuuming a room, but it's more likely that you would love a way to avoid that chore altogether. For anyone that wants to save money while still keeping their floors clean, a robotic vacuum is perfect for you.
These technological marvels work using smart tech that teaches them to avoid obstacles while vacuuming up your floors in any room. Set the floor material setting and the timer for how long you want the cycle to last and just let it go.
Smart Faucet
Homeowners waste thousands of gallons of water every day. When you are washing or brushing your teeth you probably leave the water running like most people. The wasted water just goes down the drain.
With a smart faucet, you can save up to 15,000 gallons of water a year. This small device attached right to your faucet mouth to allow you to set your water temperature and then stay hands-free until you are done. Simply pull the lever on and off to use the water.
Doorbell Camera
If you want to keep an eye on who is visiting your home or making a delivery, a doorbell camera is a perfect security addition for your home. This device can be easily controlled with a convenient phone app. Anytime there is motion around your front door or someone rings the bell, a camera will be activated and a live video will be sent right to your phone.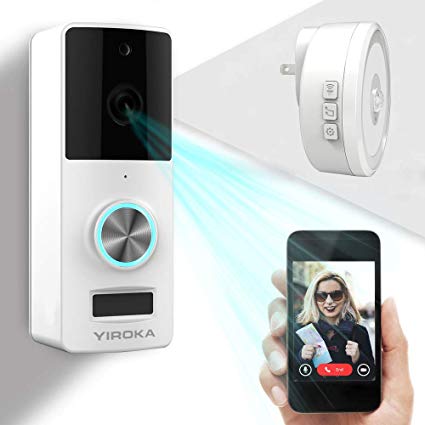 Conclusion
The technology that has built these amazing gadgets for your home is designed to make your life easier. In many cases, you can even save money and reduce your carbon footprint by investing in tech gadgets around your home.