Eating well is possible. These healthy recipes prove it. Without too many complications and with ingredients that you surely have.
1. SIMPLE AND HEALTHY SALAD WITH AVOCADO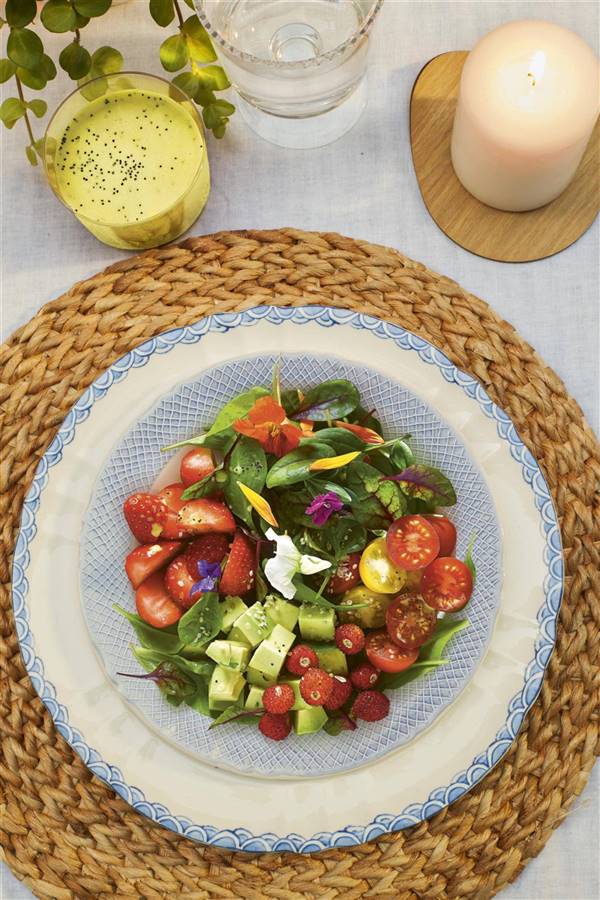 Strawberries and avocados are the star ingredients of this dish that improves health because the former provides vitamin C, among others, and the latter is known as "green gold". Its potassium helps lower blood pressure.
INGREDIENTS: 4 PEOPLE / 35 MIN
1 bag of baby sprouts
8 strawberries
32 strawberries
16 cherry tomatoes
1 avocado
1 date
1/2 lemon
1 orange
1 tablespoon olive oil
1 tablespoon poppy seeds
Freshly ground black pepper
PREPARATION:
1. Squeeze the orange and mix its juice, the olive oil, the seedless date, and a pinch of freshly ground black pepper in the blender. Beat until smooth and add the poppy seeds last.
2. Peel the avocado, remove the bone, and cut its pulp into cubes of about 2 cm. Sprinkle them with lemon juice so they don't brown.
3. Cut the cherry tomatoes in halves and the strawberries in halves or quarters, depending on their size.
4. Assemble the plates. Mentally divide the plate into 4 parts, as if it were a clock face, and put the tender salad shoots in one, the tomatoes in another, the strawberries in another, and the avocado in another. Decorate the salad with the strawberries and accompany it with the orange vinaigrette with poppy seeds.
2. CHICKPEA SALAD WITH TUNA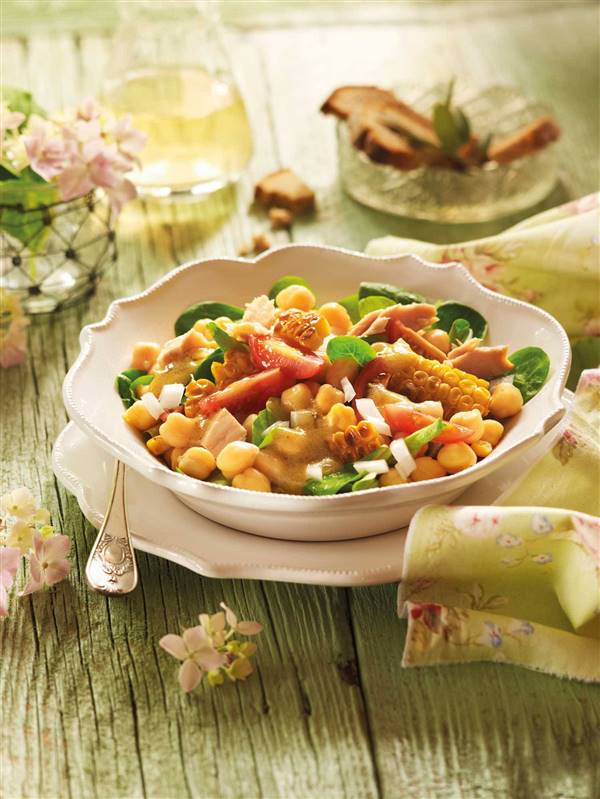 Legumes always bring benefits to your health. And preserved, they are perfect to consume without spending too much time cooking them. Chickpeas are a source of B vitamins, above all, they provide folic acid and vitamin A, and a little vitamin C. They also have many nucleic acids.
INGREDIENTS: 4 PEOPLE / 15 MINUTES
300 g of cooked chickpeas
12 cherry tomatoes
1/2 spring onion
1 ear of cooked corn
1 bag of lamb's lettuce
1 can of tuna in olive oil
Oregano
4 tablespoons olive oil
Pepper
2 tablespoons sherry vinegar
mustard
salt
PREPARATION:
1. Clean the spring onion and chop it.
2. Wash the tomatoes and cut them into wedges.
3. Toast the whole cob on the griddle, turning it as it browns. Extract the grains with the help of a knife.
4. Rinse the chickpeas and mix them with corn, tomatoes, onion, washed lamb's lettuce, and drained tuna.
5. Cover this mixture and let it rest in the refrigerator for about 30 minutes.
6. Meanwhile, prepare a vinaigrette: beat 1 teaspoon of mustard with vinegar, salt, and pepper. Add the oil and a pinch of oregano and beat again until you get an emulsified sauce.
7. Serve the chickpea salad dressed with the vinaigrette.
3. MONKFISH WITH ALMOND SAUCE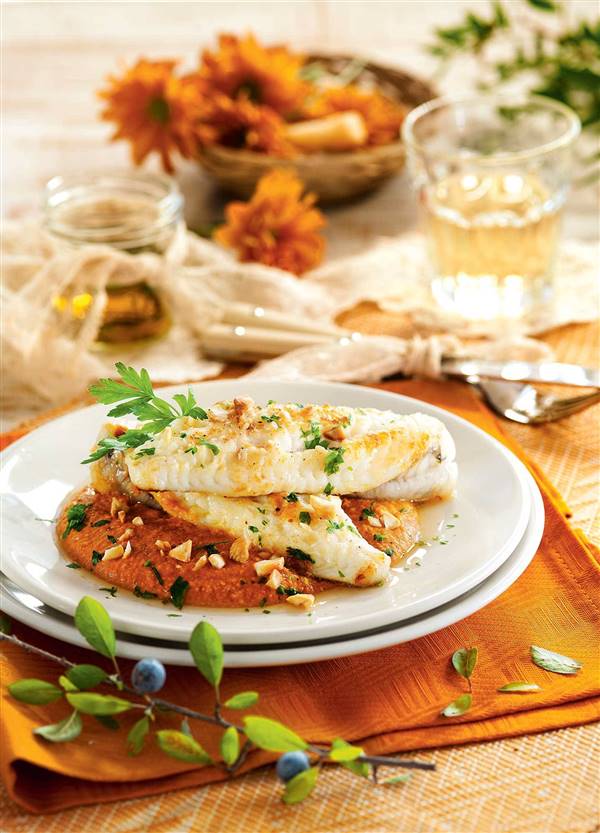 A recipe that improves health and takes care of you with fish, in this case, monkfish, but that you can make with any variety of white fish you have at home. Whitefish is a source of omega 3 and receives this name due to the whitish color of its meat. It has a low amount of fat (less than 2%).
INGREDIENTS: 4 PEOPLE / 50 MINUTES
4 monkfish fillets
5 tomatoes
1 head of garlic
2 slices of toasted bread
Salt and pepper
100 g of toasted almonds
Parsley
Virgin olive oil
2 tablespoons of red wine vinegar
PREPARATION:
1. Wash the tomatoes and put them on a baking tray with the head of garlic. Bake at 200oC for 30 min. Remove them and let them cool.
2. Wash the monkfish and dry it.
3. Peel the almonds and reserve some.
4. Wash the parsley, drain, and chop finely.
5. Chop the bread and mix it with vinegar.
6. Next, peel the tomatoes and garlic. Blend these with the bread mixture, the rest of the almonds, 5 tablespoons of oil, salt, and pepper.
7. Brown the monkfish, on all sides, in 1 tablespoon of oil, 10 min.
8. Divide the almond sauce among 4 plates, add the fish and serve seasoned with salt, pepper, parsley, and the reserved chopped almonds.