The French are renowned for their good taste, so it should come as no surprise that French Country style is still a desirable look for many home interiors. The look to go for is warm, welcoming, and a touch romantic, with plenty of stylish accessories and gorgeous accent pieces. French country style is less Marie Antoinette's boudoir and more rustic gite in Provence. To help you transform your bedroom into a beautiful French country haven of relaxation, here are some top style tips.
Colour Palette
To create the right look, you need the right colour palette. The bedroom should be calm and relaxing, so pastel colours are perfect. Warm yellows, creamy whites, sage green and duck egg blues are the muted shades we are looking for. Colours should reflect the shades found outdoors – pale, warm and welcoming. For a little extra punch, use black, burgundy or forest green to create the 'wow' factor.
Flooring
Scrubbed oak floorboards are perfect for a rustic French country look, but if your floorboards are not up to scratch, you can replicate the look with good quality oak flooring or laminate.
Furniture
Choosing the right furniture is very important, as modern melamine won't be a good fit at all. Start with the bed, as this is a key piece for any bedroom. French country style is very romantic, so a glorious rococo bed or luxurious gold bed with a padded headboard will be perfect. French-style beds come in different colours, including white, cream, gold, black and silver leaf. The more luxurious and romantic, the better. For an even more elaborate touch, create a beautiful bed crown coronet canopy above your bed using velvet or a heavy brocade fabric.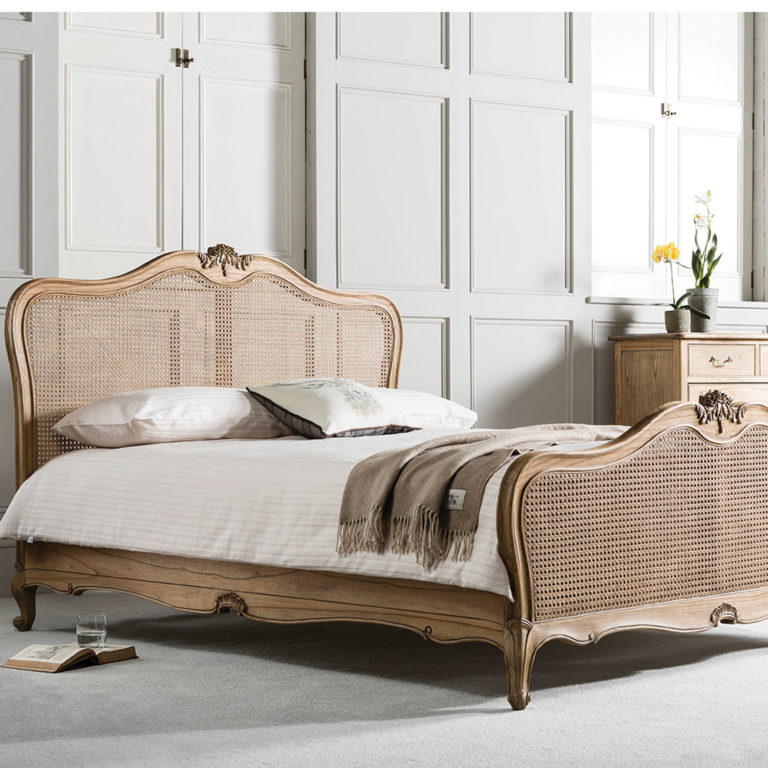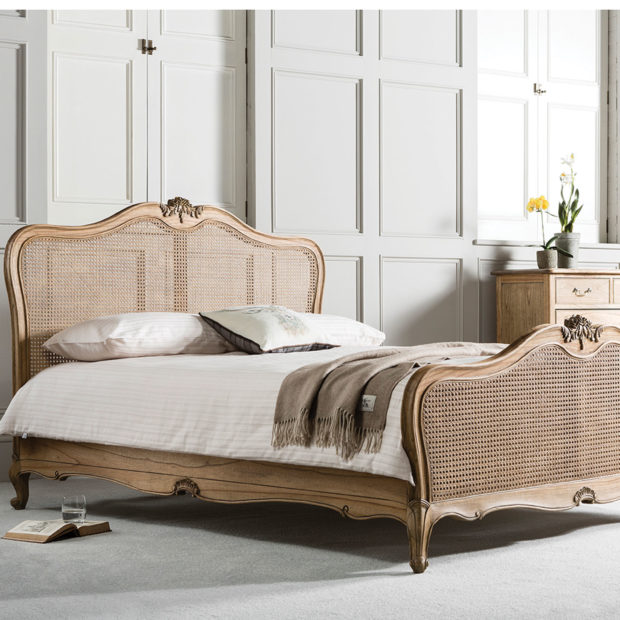 French country style furniture is often vintage with a distressed finish. The 'Weathered Rattan' bed (pictured above) is from the Frank Hudson collection at Newtons Furniture. The more decorative an item is, the better it will fit into your overall theme.
Bedding and Soft Furnishings
Most French bedrooms have white sheets offset with motifs and floral patterns on pillows, bed covers, curtains, and throws. You can mix and match patterns to your heart's content, as long as you stick to your muted palette of soft pastels.
Lighting
The right lighting is essential. For a fabulous, luxurious look, buy a gorgeous glass chandelier to act as the centrepiece for your design. There are some wonderfully decorative lighting designs to choose from, but if you prefer a more muted look, go for a rustic style of light instead.
Bedroom Accessories
Show off your design flair with some carefully chosen bedroom accessories. Look for decorative mirrors, an antique style chair with a faded floral fabric seat or a dressing screen. They all add to the sense of romance. Mix and match colours and fabrics with French country style. If the overall effect is whimsical and romantic, you've nailed it.