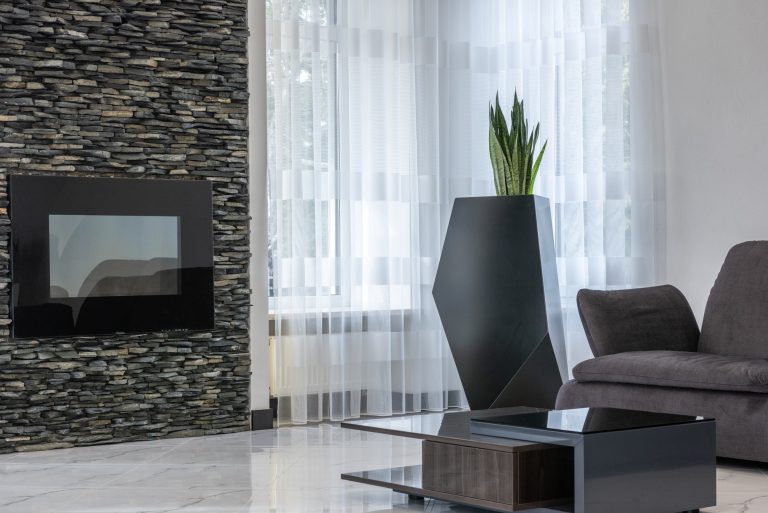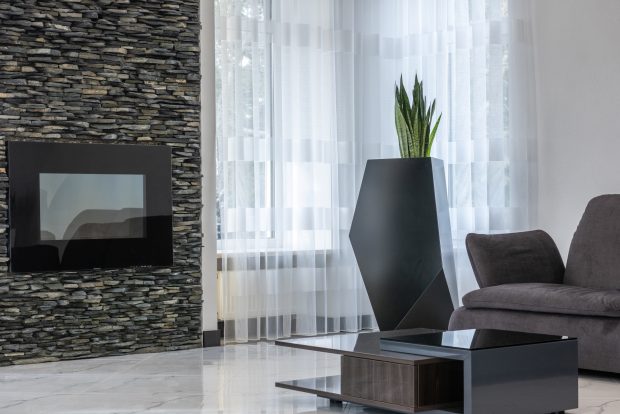 Photo by Max Vakhtbovych via Pexels.
There's something about fireplaces that we're drawn to. Fireplaces are soothing, inviting, and set the ambience for a memorable night, whether you're gathering by a campfire to tell stories or huddling together in front of a fireplace with loved ones.
An electric fireplace will efficiently heat a space and instantly add style to any room, without adding the worries over ventilation, getting firewood or tending to the fire. Electric fireplaces also allow you to do something you can't with a fire or traditional fireplace: turn off the heat and just enjoy the flames with the push of a button.
Electric fireplaces are relatively easy to install, and most only require a regular electrical outlet. If you decide to add the comfort and ambience of an electric fireplace, make sure you choose a reliable brand and go with a Dimplex electric fireplace. They're leaders in home heating products, and their innovative electric fireplaces are safe and energy-efficient.
In this post, you'll learn about the different types of electric fireplaces to point you toward the right one for your space.
Electric Fireplace Mantels
For homeowners wanting a more traditional-looking fireplace, an electric fireplace mantel will act as both a fireplace and a shelf that you can use to display pictures, vases and ornaments, hang stockings from during the holidays and/or place directly below a wall-mounted TV like a TV stand. The good news is that they don't need a lot of floor space.
Whether your room has classic, elegant, modern or rustic décor, you can find an electric fireplace mantel for you. These mantels are available in several colours and finishes, including stone, brick and crown molding, and can either blend in seamlessly or boldly stand out as the centerpiece of any room.
Electric Fireplace Inserts
If your home already has a fireplace or a fireplace cut-out, but you want to avoid the headaches of cleaning up and maintaining a fireplace and chimney, inserts are for you. Electric fireplace inserts are designed specifically for existing fireplaces as a low-maintenance substitute. These models are ideal if you are concerned about safety and air quality or simply want control over the room's temperature.
These freestanding electric fireplaces are available in different sizes, from compact fireboxes with just the logs, flame panel and embers to full firebox inserts with detailed backgrounds and customizable, remote-controlled features. No matter which you decide on, they come with intricately crafted logs, glowing embers and bright, randomized, reflection-free flames that make you feel like you're sitting in front of a real fire.
Built-In Fireboxes
These electric fireplaces also come in a variety of sizes, colors, styles, backgrounds, frame sizes, etc. Built-in fireboxes are designed for flush installation, saving you space as you enjoy the full fireplace experience.
Wall-Mounted Electric Fireplaces
Wall-mounted electric fireplaces are designed to be built into your wall and are perfect if you want an off-the-ground fireplace but don't want to renovate. These fireplaces can either be hung like a TV or placed on a table using an included stand.
Linear Electric Fireplaces
Linear fireplaces are also built into a wall or façade but are rectangular instead of square and have a longer, sleeker look. Designed for modern spaces, many come with features like the ability to change the flame color, realistic sparks and crackling wood fire sound effects.
Water Vapor Electric Fireplaces
Water vapor electric fireplaces are the most realistic-looking of all electric fireplaces as they use ultrasonic technology and water mist to produce 3D flames and the illusion of smoke. Because the flames are 3D, they can be installed to allow for double-sided viewing, giving you the look and feel of a fire without the harmful smoke or emissions.