It's time to transition your wardrobe from the light and breezy summer styles to the cozy, layered ensembles of autumn. One timeless pattern that never goes out of style and seamlessly fits into the autumn palette is stripes. Whether they're bold and attention-grabbing or subtle and sophisticated, stripes are a must-have for your fall fashion collection.
Why Stripes for Autumn?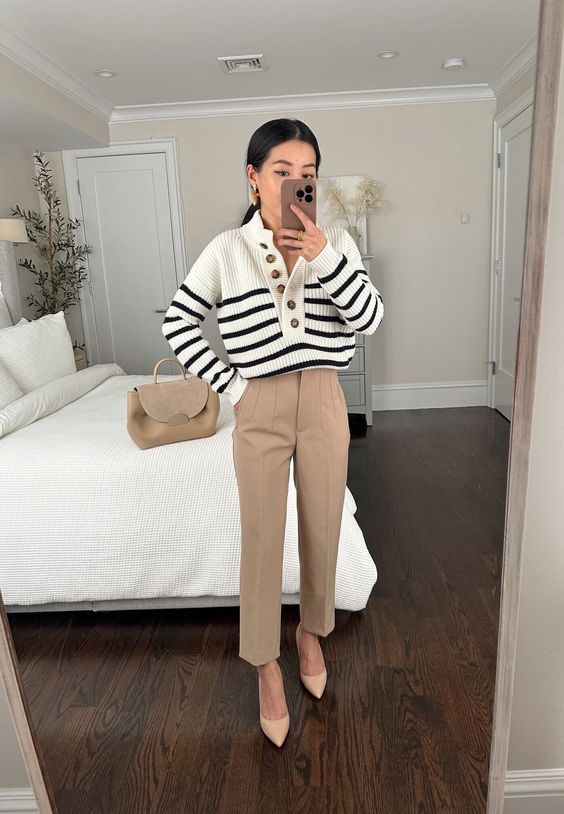 1. Classic Appeal: Stripes are a classic pattern that never goes out of style. They've been a fashion staple for centuries and continue to make a statement every season. Incorporating stripes into your fall wardrobe ensures you'll always look chic and on-trend.
2. Seasonal Transition: Autumn is a season of transition, and stripes provide the perfect bridge between the warm, sunny days of summer and the chilly, crisp days of fall. They can be worn alone or layered under sweaters and jackets, making them ideal for fluctuating temperatures.
3. Endless Options: Stripes come in a variety of styles, including horizontal, vertical, diagonal, and even asymmetrical designs. This wide range of options means you can find the perfect striped pieces to match your personal style and preferences.
Styling Tips for Stripes in Autumn
Now that you understand why stripes are a fall fashion essential, let's delve into some styling tips to make the most of this classic pattern during the autumn season:
1. Mix and Match: Experiment with mixing different stripe sizes and directions to create unique and eye-catching outfits. For instance, pair a vertically striped blouse with horizontally striped pants for a bold, fashion-forward look.
2. Layer Wisely: Autumn is all about layering, so use stripes as a base layer for your outfits. A striped turtleneck or long-sleeved tee can add both warmth and style to your fall ensemble.
3. Accessorize with Stripes: Don't limit stripes to clothing alone. Incorporate striped accessories like scarves, handbags, and socks into your outfit to add a touch of pattern without going overboard.
4. Play with Colors: Autumn is known for its rich and warm color palette. Opt for stripes in fall-inspired hues like deep burgundy, forest green, mustard yellow, or rustic orange to embrace the season's spirit.
Autumn's Must-Have Striped Picks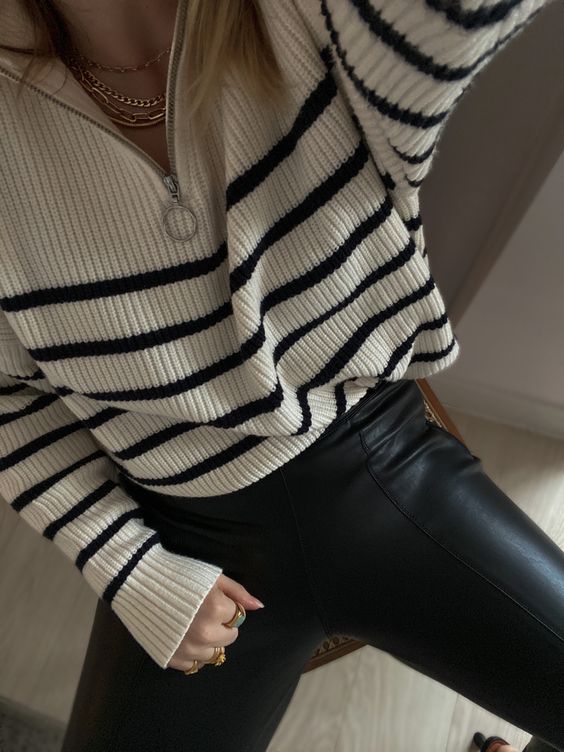 Now that you're armed with styling tips, let's explore some of the must-have striped pieces for your autumn wardrobe:
Striped Sweaters: A cozy, striped sweater is a timeless choice for fall. Look for chunky knits in autumnal shades for the perfect blend of comfort and style.
Striped Midi Dresses: Transition your summer dresses into fall by choosing striped midi dresses. Pair them with ankle boots and a denim jacket for a chic autumn look.
Striped Blazers: Elevate your workwear with a striped blazer. It's a versatile piece that can be dressed up for the office or down for a casual weekend outing.
Striped Scarves: Add a pop of pattern and warmth to your outfit with a striped scarf. Choose one with fall colors to tie your look together.
Striped Pants: Striped pants are a bold choice that can make a statement. Pair them with a neutral top and let your bottoms steal the show.