Getting engaged is an unforgettable occasion and a memory that you will have for the rest of your life. This is particularly true if you opt for a gorgeous engagement ring to commemorate this beautiful experience. However, pairing your glamorous engagement ring with your wedding band can be tricky. Can I wear my wedding band with my engagement ring? Read on for some tips.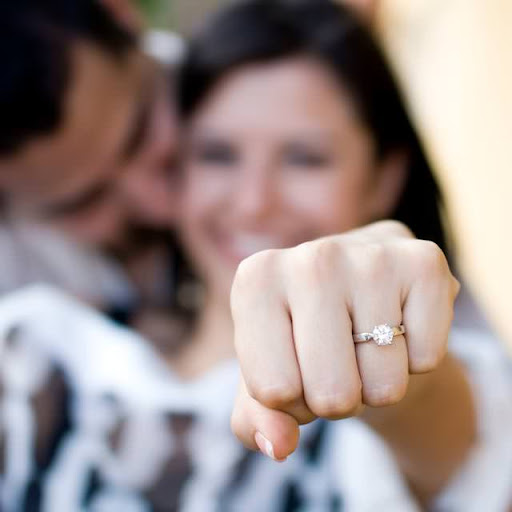 How to Choose the Best Engagement Ring?
If you're planning on buying an engagement ring, don't settle for anything less than the best. There are many factors to keep in mind to achieve that stunning look. Diamond engagement rings come in various metals and are always a classic choice. They come in distinct shapes, so you should think about which silhouette will look best on your finger. For example, you can go for a pear cut diamond or a radiant cut diamond!
One is demure, and the other has more inner fire to the stone. Also, the most popular and classic option is a solitaire engagement ring that also allows plenty of room for customization. If you have a wedding band, this can emphasize a simple engagement ring, making it stand out. Other considerations to make when shopping for an engagement ring include the carat weight, color, and type of setting.
How Can I Wear My Engagement Ring and Wedding Band Together?
People love to show off their engagement rings, but the confusion begins after the wedding. Should I wear both my engagement ring and the wedding band? Of course, you can pair them together when you understand how to do it right.
Typically, the wedding band and the engagement ring are worn on the fourth finger on the left hand. Although many people prefer putting the wedding band first (so it sits closer to their heart), there's no specific order on how to do this. Here Are Some Classic Ways to Wear Your Rings:
Stack Both Rings on Your Left Hand
Almost everyone who wears both rings puts them on the left hand. And this is the traditional way of wearing wedding rings. The tradition originated from Ancient Egyptians who believed an internal artery connects the finger to the heart. Therefore, wearing the ring on the fourth finger is a way of keeping it close to the heart. The custom is now widespread throughout the US, Canada, UK, France, and many other parts of the globe.
Wear Both Rings on Your Right Hand
Wearing both rings on the left is standard in most places worldwide, but that does not mean you have to. Many cultures recognize that rings can be worn on the right hand, though keep in mind that some may be confused by your ring placement at first. If your ring is meant to signal that you're married to the world, this may not be the arrangement for you. If your ring is a symbol of your love between you and your partner, then this arrangement of rings can absolutely work for you!
Wear the Wedding Ring First and the Engagement Ring on Top
Some people wear their engagement ring stacked on their right ring finger. You can also wear the engagement ring on the right hand before the wedding and then put it on the left afterward. This combo is excellent if you pick a matching band or an eternity-style band, so your wedding band is just a sparkly complement to the engagement ring. A combo like this is sure to get noticed! This is a favorite of those who want to wear their engagement ring long-term or wish to have a thin diamond band for vacations or sports, a glamorous stack for events, and an everyday diamond ring otherwise.
The Bottom Line
As you shop for your engagement ring, keep in mind how you may want to wear it. There are many different engagement rings in the market, and some are best worn one way versus another. Finding a diamond engagement ring that meets your needs can be easy, as long as you know what to look for and have a clear idea of your style. Whether you want a glamorous bridal set or a simple set of bands, you'll surely find something you love.