Here we are with Part II of the yummiest Halloween deserts!
PUMPKIN CARROT CAKE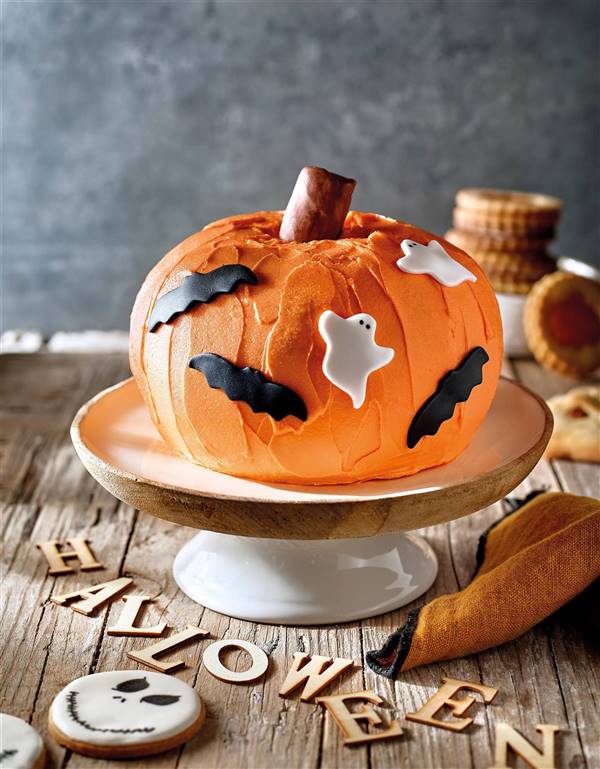 What a good idea! Professional cooks would call it a trompe l'oeil, we a delight! And it is also a carrot. It will be super fun when you take it out among your Halloween desserts.
Preparation time: 1 hour 40 minutes
Ingredients for 10-12 servings
220 g flour
330 g brown sugar
12 g yeast
250 g carrot
160 ml mild olive oil, butter
4 eggs
½ tablespoon ground cinnamon
50 g of peeled walnuts
50 g black fondant
50 g of white fondant
50 g brown fondant
For the cream:
450 g butter
500 g icing sugar
1 tablespoon of vanilla flavor
Orange gel dye
The step-by-step recipe: 
Step 1. Preheat the oven to 180ºC. Butter a 6-inch pie pan and flour it. Wash the carrot, dry it very well and grate it. Chop the walnuts.
Step 2. Beat the eggs with the sugar and oil until white. Add 115 g of flour and yeast, sifted, and mix until you get a homogeneous dough. Add the walnuts, carrot, and cinnamon, and mix again.
Step 3. Pour the preparation into the mold and bake for 40-45 minutes, until when the cake is punctured in the center with a toothpick, it comes out clean. Let it cool on a wire rack, remove it from the mold, and trim it, rounding it with a knife to give it a pumpkin shape.
Step 4. Prepare the cream. Beat the butter with the icing sugar and vanilla until you get a very fine cream. Add the coloring, mix and cover the entire cake with this cream.
Step 5. Spread the black and white fondant, cut out figures of bats, ghosts … with cookie cutters, and glue them to the pumpkin. Also, spread the brown one in a strip, roll it up, and put it on the pumpkin, in the center, simulating the tail.