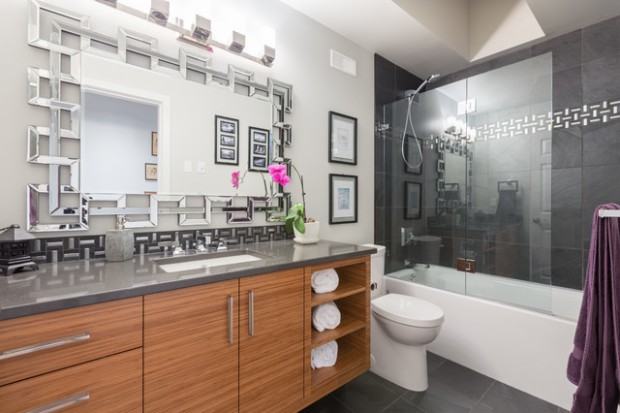 There are numerous benefits to a carefully chosen bathroom mirror. Apart from its utilitarian quality, a bathroom mirror can be used as a strategic décor. For example, it can be used to cleverly conceal cluttered storage space as in the case of a mirrored medicine cabinet affixed to the wall. So, when buying a new bathroom mirror, don't just pick the first one that comes your way. Here are the different types of bathroom mirrors to aid you in selecting the one that suits your needs. An easy-to-follow installation guide is also included, so you can hang the mirror properly. For bathroom mirror maintenance safety tips, visit these two webpages: TheScope and Texas School for the Blind and Visually Impaired.
Selecting a Bathroom Mirror
Bathroom mirrors come in a wide variety of shapes, mounting styles, and designs. On top of the popular mirrored medicine cabinet, these nine other bathroom mirror types may be what you are looking for.
Ledge mirrors come with shadow box constructions. The ledges double as storage space for bath products.
Framed mirrors are traditional mirrors with either plain or intricately designed frames.
Frameless mirrors, when installed, seem to float as opposed to their framed counterparts that are flush against the wall. Sporting beautifully buffed edges, frameless mirrors have a modern vibe that goes along with contemporary bathroom design.
Venetian mirrors are characterized by etched designs on the glass surface. These mirror types are most suitable for a romantic bathroom style. They double as striking bathroom décor.
Pivot mirrors are wall-mounted using two hinged pivots, which make it possible for the mirrors to be tilted upward or downward. Melding form and function, pivot mirrors are best paired with classic subway tiles.
Extension mirrors feature a swinging arm that can be extended or retracted like an accordion. They are stylish and are excellent space-saving solutions for small bathrooms.
Vanity mirrors, which are also known as makeup mirrors, are normally equipped with built-in lights. They are propped on the tabletop instead of being mounted on the wall.
Captain's mirrors are round mirrors suspended from a strap. This dramatic mirrored construction, which is rarely encountered in bathrooms, looks particularly stunning in a powder room that mixes modern and traditional styles.
Installing a Bathroom Mirror
To install a typical bathroom mirror that's hung on the wall, you will need a hammer, nails, and mirror hangers. The mirror hangers hold the bathroom mirror in place and make it easy for you to adjust the mirror's alignment.
Decide first on the mirror's placement. Then measure the positioning of the wall hangers relative to each other. Their placement should ensure full support for the mirror's weight. If the mirror seems unbalanced by your initial choice of mirror hanger position, adjust accordingly. Hammer the mirror hangers. Then hang the bathroom mirror, carefully adjusting until it is balanced and secure on the mirror hangers.
Suzanne Green works in property and has completed plenty of makeovers. She enjoys passing on her tips and ideas to an online audience and is a regular contributor for several property and lifestyle websites.