So it's time to remodel your bathroom and you've picked out your theme. Americana. You're not sure where to begin. Should you be picking red, white and blue striped wallpaper? Perhaps hanging a Yankees cap from your wall? These tips will help you pick out the right fixtures and accessories to fit with your Americana bathroom design.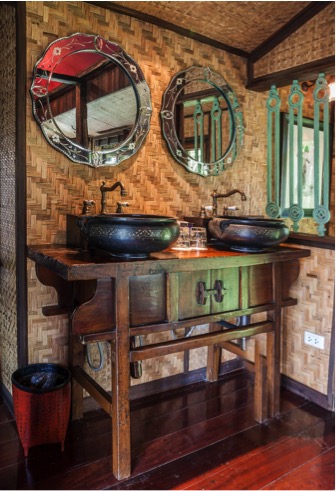 Start at the Beginning: Know Your Theme
Americans like innovation. They appreciate simplicity and order. And they love the elegance of re-invention. When you're picking the fixtures for your Americana design scheme, you'll need to skirt the line between antique and eclectic, vintage and innovative. Flirt with unusual materials like reclaimed wood and refinished metal. Go shopping at flea markets, antique stores and consignment shops. Upcycle beautiful, elegant objects and give them strange new purposes. Turn that antique bird cage into a soap dispenser. Use that old chamber pot for a toilet paper holder.
At the heart of Americana aesthetic, old things can become new things. It is the waste not, want not approach. Breathe new life into every object.
Toilet Selection: Go Vintage. Very Vintage.
You may not have seen one of these recently—or, ever, really—but pull chain toilets still exist and are sold today. Pull chain toilets have a toilet tank mounted on the wall near the ceiling and rely on gravity to pull the water out of the tank and into the bowl. The clever thing about pull-chain toilets is that with the toilet tank out of the way, the toilet bowl itself can fit flush against the wall and the toilet takes up less space, which makes your bathroom seem more spacious and roomy. On top of all those additions, the vintage look will always stand out when your guests visit.
Think Outside the Light Fixture
Lights are a critical part of nearly any bathroom design, and this is no less true of the Americana bathroom. Look for the unexpected when choosing light fixtures for your bathroom space. Think: a bare, low-wattage antique light bulb hanging from the ceiling, paired with a few lamp-post style light fixtures mounted on the walls. Or, what about a tiffany hanging lampshade over the mirror, like what you might find in a pizza parlor? Choose several light sources for your bathroom. Don't rely on any one source of light in your bathroom. With lighting emanating from several sources, the space will feel warmer and more intimate.
Go Shaker Style with your Bathroom Vanity
Shaker style furniture is characterized by clean lines, smart design and natural materials. Elegant but practical, utilitarian but beautiful, with a touch of a modern bathroom design; shaker bathroom vanities embody the American love of hand-crafted objects and sturdy, well-built furniture. Dark woods like walnut are common for shaker style furniture pieces, but if your bathroom needs a lighter touch, seek out a painted white bath vanity. When choosing a sink for your bath vanity, look for an under-mount model that will keep the attention on the beautiful wood and the smart, clean lines of the vanity itself. Vintage hot and cold faucet fixtures will emphasize the old, classical design that you strive to achieve.
Oversized Showerheads are the Best
One of the under emphasized aspects of Americana culture is the focus on the comforts of hearth and home. Americans love to feel comforted and comfortable. Achieve that American comfort with an oversized showerhead that will rain warmth down on your body with every use. This type of showerhead also captures perfectly another unique aspect of American culture: bigger is better. Why have something small when you can enjoy something big? Why have less when you can have more?
Unattached Bathtubs Harken Back to an Older Time
Claw foot bathtubs represent the ultimate luxury because they're large and spacious, with room to sink into the bubbles. Today, unattached tubs come in a variety of styles, not just claw foot. Your unattached bathtub will be the icing on the cake in your Americana-style bathroom.
Good luck with your upcoming bathroom remodel! With a little time and effort, you'll soon be relishing the beauty and simplicity of the Americana aesthetic.