Ordering furniture online can save you a lot of time and money, but it does come with the drawback that you can't see the furniture first-hand to make a decision. There are some things that are just hard to point out in a picture. As such, it is important to check product descriptions carefully to make sure that the furniture will work for you.
Here are a few of the things that tend to be important to growing families.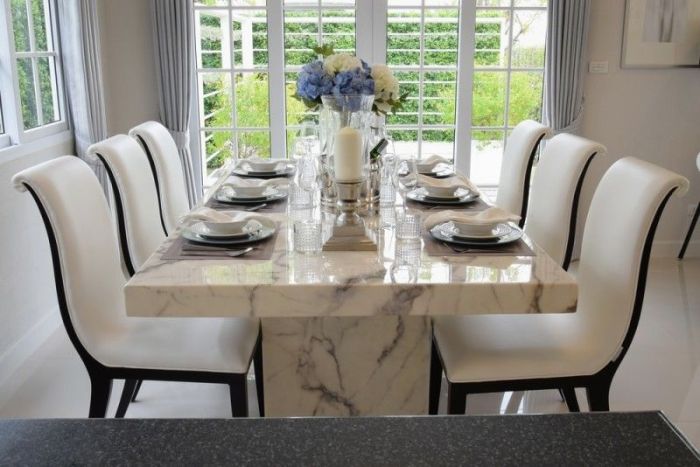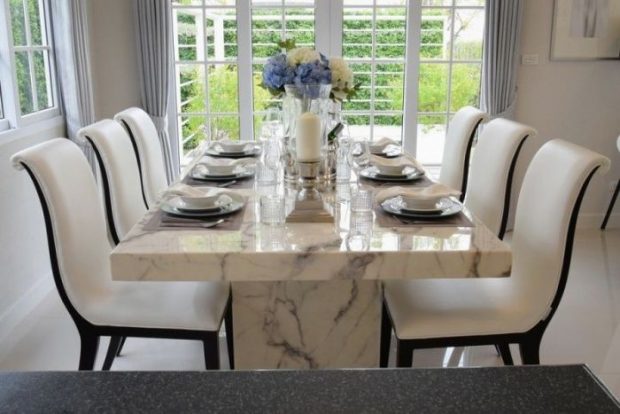 Check the weight limit and dimensions on dining chairs
Most people will not have any issue with finding durable dining sets, but if you or someone in your household is tall and solidly built you should check for weight limits. Most dining chairs have a weight limit of 200 to 250 pounds, but many tall men are close to or over that weight. You may need to get an armchair dining chair rated for more weight for added support and stability.
You also need to look at the dimensions of the chairs, including the seat height. A dining set with a table over 36 inches in height will come with chairs that are suitably tall for the table. However, if you have children or shorter people in your household, you need to make sure that the chair is a heavy design with a rung for them to step up into the chair.
Stability and durability of the dining table
While reviews can be helpful for determining the overall quality of the dining set you have chosen, there are some things to look for in the product description that will give you a good idea of whether or not the dining set will stand up to the use (or abuse) of your family and/or household.
Continuing the theme from above, tall people will need some extra legroom, so factor that into your calculations when checking dimensions. You should also check the description to answer the following questions:
Of what material is the dining table constructed? (Families with small children should stay away from glass and steer more towards solid wood dining tables that stand up to abuse.)
What type of frame is used for the dining chairs? (Again, wood is the sturdiest option, but metal frames will work as well.)
What material is used for the dining seat? (Polyester is both flame and stain retardant.)
Adaptability to varying needs
If you or someone in your household have mobility issues or use mobility aids, you need to make sure that the dining set you choose can accommodate them. Look closely at the height of the table to make sure it won't be too tall for someone in a wheelchair or sitting on a walker to reach the table comfortably. Counter height dining sets are trending, as well as a height somewhere between traditional table height and counter height. For handicap accessibility purposes, your table should be between 28 and 34 inches tall.
On the other hand, if you have rather tall people in your family, you may need one of those countertop or mid-height options to give them adequate legroom.
Do you want to see more options for your dining room? Go URL.