It is part of a fashionista's lifestyle to integrate flair into the most mundane of tasks, and the fashion industry demands style and function no matter where you are or what you're doing. Fashion is more than being able to look pretty on a runway, but is a way of life that anyone can embrace. When I'm traveling, for instance, I make sure to add some pizzazz to my luggage and carry-on bag. I go for bright colors and patterns so my luggage not only stands out, but everyone can see my personal style. I also carry the latest smartphones and personalize them with cases to match my outfit or mood. So what device is better for your fashionista lifestyle, a smartphone or a tablet?
Pros of Smartphones
Although smartphones have more processing power than the original Harvard Mark-1 computer, they are still phones. The most important function of a cell phone is that you can call people on it. For this, the new HTC One leads the way.
With the 95 decibel HTC Boomsound system, your music and your conversations will come through loud and clear. For the traveling fashionista, add an international calling plan or a voice over IP package so that you are connected everywhere you go. The HTC can handle either of these communication methods nicely.
Another feature of importance is its camera. The HTC boasts one of the best smartphone cameras on the market with a pixel size 2.0 um, a sensor size 1/3" and a 28mm lens. Furthermore, its refocus feature will let you snap quick runway shots or a pic of your stylish outfit, and adjust the focus later with one touch.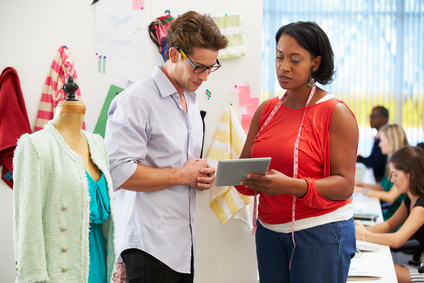 When the Tablet Wins
Tablets simply have more screen size and more computing power. Samsung's Galaxy Note has a 10.1 inch high-definition screen and enough processing power to run design software. Since it comes with the S Pen, which allows you to digitally draw on the tablet, you can keep your creative spirit working even when traveling. Furthermore, it is thin, elegant and beautifully designed, so it is sure to impress.
All you need to do is download a couple of essential apps, and you are good to go. The first of your must-have apps is Sketchbook Express. This is a professional grade application that has three layers, 15 brush strokes and 4 different drawing styles. Plus, this app allows you to seamlessly upload your art to DeviantART, the world's largest internet based art gallery.
Carrying Tech Is So Last Season
Wearable technology has taken the fashion industry by storm, both as a style and as a utility. From a functional perspective, technology like Google Glass allows you to do many of the same functions as your smartphone, but without needing to use your hands. They come with a 5 megapixel camera, Wi-Fi, Bluetooth connectivity and bone conduction audio so that others cannot hear your conversations.
Science fiction meets fashion when it comes to smart fabrics. The Wearable Technology UX conference in London on September 22–23 will be featuring smart fabrics. This cutting edge design innovation promises to give us wearable tech that can take biometric data for the sick, interact with the environment and integrate all of the technology that is normally carried in one's hand. For the traveling fashionista, smart fabric is the newest, best thing.