Perhaps you have just bought a new home or you think you need a makeover to make your home cozier than ever, but you're worried about the costs. Doing home renovations are exciting, but imagining the material and labor costs can be stressful!
Don't worry, we have all the tips and tricks for a budget-friendly home renovation for every room in your house! You can achieve your dream interior and exterior looks by following these simple and easy steps to cut out some bucks on your total renovation costs.
Kitchen: Add an Island!
Do you need an extra room when you're working around your kitchen? Putting an island in the center of your kitchen might be perfect! This is great for people who need more storage space in their kitchen, especially those who don't have a pantry area.
You may try scouting for an island that is already assembled, so you may put it directly in your kitchen. If you have the extra budget, you may have a customized island with a sink! If you're up for this idea, you just have to make sure to call your local plumber for your sink installation.
Bedroom: Time to Change Your Walls
With under $50, you can revamp your dull bedroom walls into something more inviting and cozy! Accent walls are very trendy these days, and you can purchase inexpensive paints to paint your walls.
Pro tip: Assess the colors of your linens and furniture, and come up with a certain color scheme so you can pick a new paint color with style.
Bathroom: Organize, Declutter, and Add Storage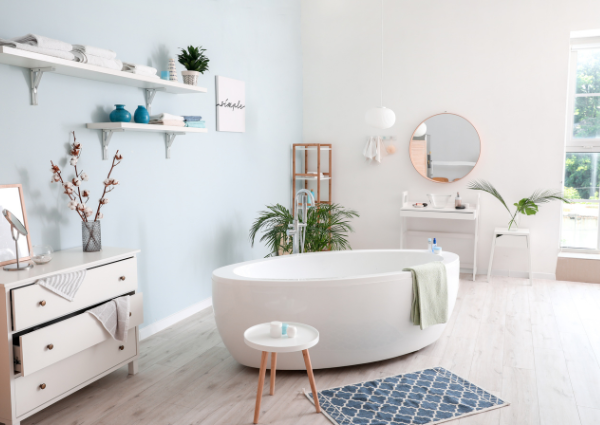 Does your bathroom seem to be overcrowded with all your toiletries? It might be time to make your bathroom look more spacious and lively!
Taking the time to declutter and organize your bathroom can make a big difference in how the space looks and feels. Consider using storage solutions, such as shelves and baskets, to keep things organized and reduce clutter.
Also, adding new accessories, such as towels, rugs, and shower curtains can give your bathroom a fresh new look without requiring any major renovations.
Living Room: Change Your Flooring
Since we're talking about affordable renovation ideas, we won't have you remove your existing floors and change them into a new one (unless they are really old and worn out). Nowadays, you can shop for peel-and-stick floors that you can easily do on your own.
This type of flooring option is very cheap at less than $80 for every 40 sq. ft. of space. You can skip the hassle of having a major and messy renovation for your floors with no drying time! There are a lot of color ideas to choose from, and you can change your flooring any time you want to!
Dining Room: Let There Be Light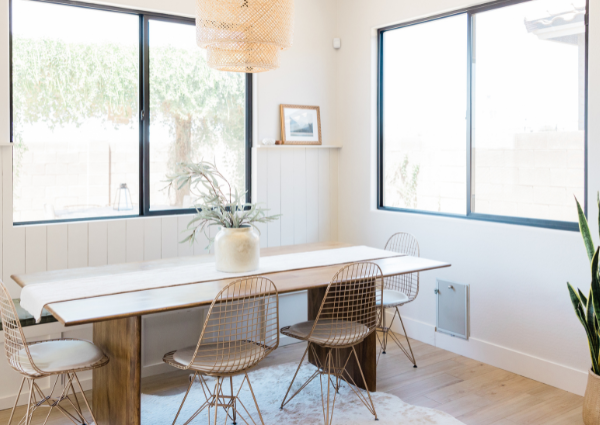 This renovation tip is pretty simple and straightforward, especially if you have those old pendant lights inside your dining room. Replace these outdated pendant lights with something more modern.
Also, don't forget to add more natural lighting to make every dining experience more enjoyable. This means that you should pay more attention to your windows. Invest on light colored linens that are breathable, and don't block out the lights from outside.
Front Yard: Create a Stone Path
Do you have a big space in your front yard? Try adding a stone pathway! Stone pathways are a popular choice for garden paths because they are durable, attractive, and easy to maintain.
Stone paths can be made from a variety of materials, including flagstone, slate, and river rock, each of which has its own unique texture and color. In addition to the pathway, you may also install some lights to brighten up the path at night.
Pro Tip: If you have a really big space in your front yard and your regular security camera cannot capture your entire yard, consider adding more reliable home security systems to protect your property.
Other Renovations: Check Your Roofs Too!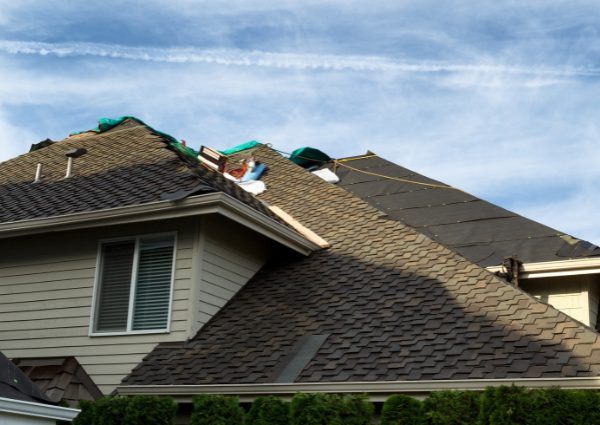 Now that we have given cheap renovation ideas for almost all of the rooms and areas around your house, you should never forget your roofing system too! Your roofs protect your entire home from all year long, so getting your roof repaired and renovated is a must too. Consider hiring a home and commercial roofing repair company to ensure high quality workmanship.
Your Renovations Doesn't Have to Be Overpriced
A home renovation does not need to be very expensive. Simple renovations like fixing your furniture, removing unnecessary stuff, painting the walls, and adding some accessories can spice up your homes like they're brand new!
We hope these tips will help you renovate your home better!