Looking for a way to decorate your walls but don't want to go with the omnipresent gallery wall? How about opting for a wall tapestry?
They are an excellent way to add pattern, color, and texture to any space, whether you hang them behind the sofa or over your bed. A wall tapestry is also perfect for covering damaged walls and a great solution for those who like experimenting with home decor, as this type of textile art is so easy to remove!
However, many people aren't sure how to get tapestries up on the wall. We've gathered several ideas to help you get inspired.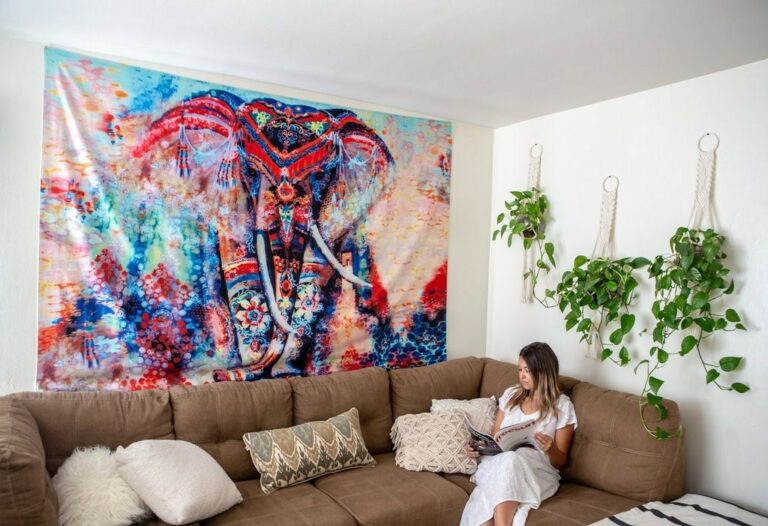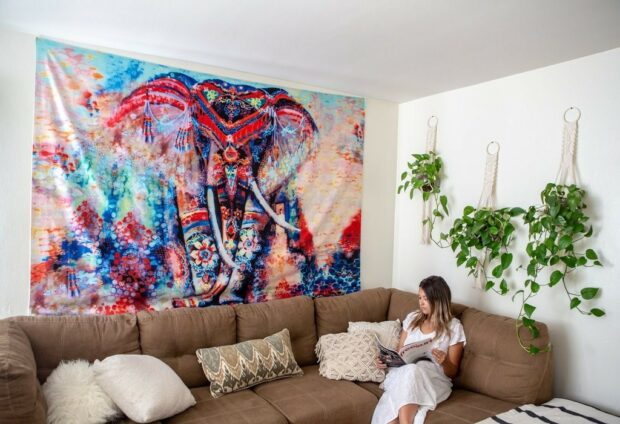 Image: tapestrygalaxy.com
1.  Hang it with Clips
Clips are a very popular way to hang wall tapestries, often used by rug and carpet galleries. If you choose clips, you'll need some preparation beforehand as this approach requires using a drill and some plywood.
Once you've selected the location for your tapestry, drill a piece of plywood to the wall (make sure it's larger than your tapestry). Then, drill another, thicker piece of plywood to the first piece. Be sure that this second piece of plywood is about one inch higher than the first one.
Next, attach the clips to your tapestry, spacing them at about ten inches apart. Finally, hang the tapestry, making sure to unfold it gently in order to prevent it from ripping.
2.  Secure It with Velcro Strips
If you're not 100% sure about the placement of your tapestry and there's a chance you might decide to move it, opt for velcro.
Velcro is also a great solution if your space is rented and you don't want (or are not allowed) to make any permanent fixes in the wall. Self-adhesive Velcro tape is strong enough to hold big tapestries, and also a perfect solution for arched walls. No wonder this technique of tapestry hanging is preferred by museums!
Make sure that your velcro trip is narrower than your tapestry (you can pick from sizes ranging from half an inch to four inches). Apply the fizzy side of the strip at the tapestry's back, and its stiff side to the baseboard. You can use wood staples to attach the stiff strip to the board faster.
Double the cotton button thread when sewing the strip to your tapestry, as it is durable and strong and will make sure the tapestry is hung securely.  When you're done, paste the velcro strips together, straightening any bumps and lumps out.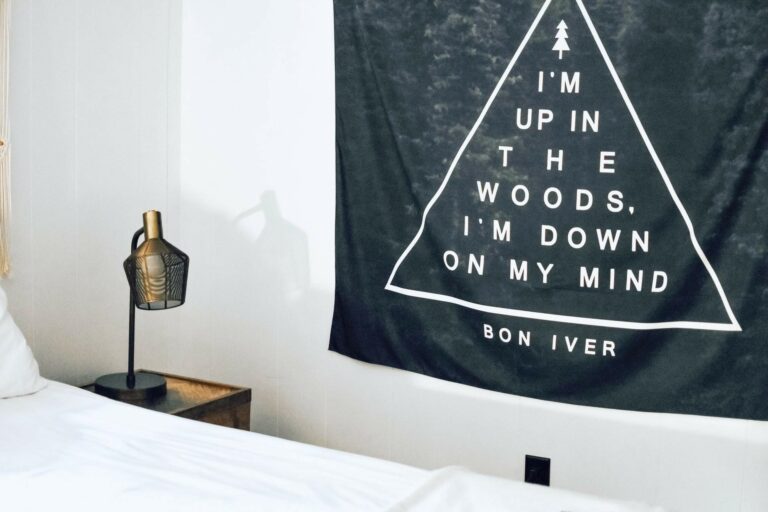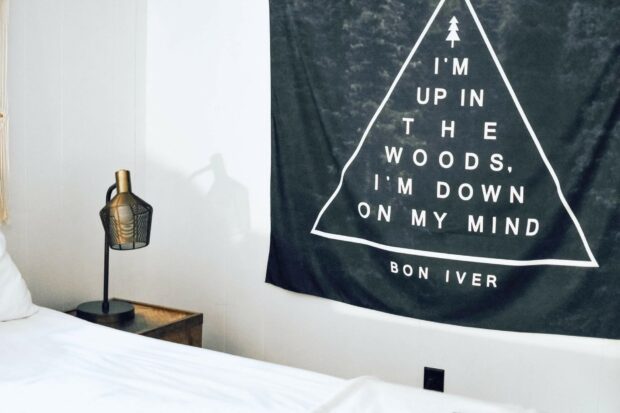 Photo by Andrea Davis on Unsplash
3.  Fix It with Pushpins and Nails
Using pushpins or nails is probably the easiest tapestry hanging method.
If your tapestry is small and light, place one pushpin on each corner, and another one in the middle. If your tapestry is large, each pin should be about ten inches away for even distribution of weight and to make sure the tapestry is straight.
Bear in mind that this method is good with bigger weaves; otherwise, it could result in holes.
4.  Hang It from a Rod
If your tapestry comes with pockets, then using a rod is a logical solution. These pockets are usually located at the tapestry's top or in the back, which makes it very easy to hang the tapestry, just like hanging a curtain!
This method is also great because it prevents damaging the tapestry and allows you to easily move it.
If you choose this approach, you'll need brackets or hooks to secure the rod. Bear in mind that in this case, the tapestry will be a bit away from the wall.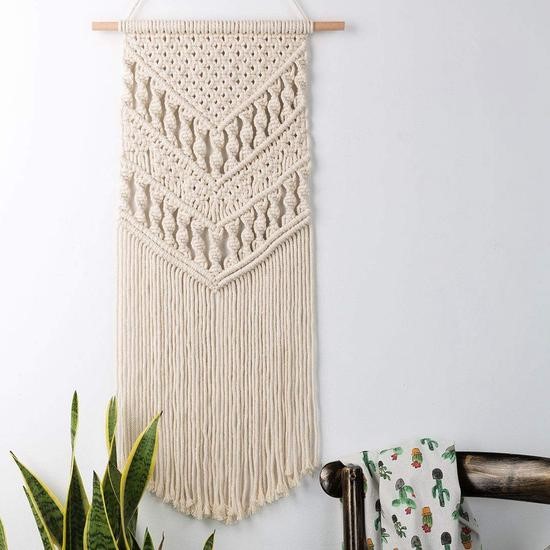 Image: tapestrygalaxy.com
5.  Stretch It Across a Frame
Wanna turn your tapestry into a work of art? Why not stretch it across a plywood board or a wooden one? Stretch the tapestry out, fold it over the frame, and use a staple gun to bind it.
Use sawtooth picture hangers to mount it on the wall. If the fabric is thin, it might be a good idea to stretch a canvas to the frame first to make sure the wood is not visible through the textile.
6.  Use a Baseboard
If the tapestry is heavy, it will need lots of support, and a baseboard will provide just that.
Make sure the board you choose fits in the rod pocket in the tapestry's back. In case the tapestry doesn't have such a pocket, use heavy fabric to make one yourself.
Cut the board so that it's smaller in width than your tapestry, then mark the points where you want to insert the screws, and drill holes. Slide the board into the pocket, fold the tapestry sides back, and screw the board into the wall.
7.  Make a Canopy
If you want to hang a tapestry in your bedroom, consider making a canopy. Hanging a tapestry above the bed is a great way to create a dreamy vibe and works especially well with boho patterns!
Hang your tapestry from the ceiling or drape it from the ceiling onto the wall to make a relaxing bed or a calming sitting area.
Final Thoughts
Tapestries are a great way to decorate your space. From neutral wall textiles to bold and bright patterns, they can be exactly what you need to take your home decor to the next level.
Whether you prefer displaying your tapestry in a classic way or you want to try something new, decorating your walls with tapestries is an excellent way to add a dash of uniqueness to your home decor. Try out some of these 7 methods to help your space make a statement!