White tiles have a timeless appeal and can be used as part of a vast array of interior designs. White is a colour that never seems to go out of fashion and will match with just about anything. White tiles are available in a variety of styles and sizes so you have plenty of scope when it comes to creating the design of your choice. One of the many reasons that white tiles remain such a popular choice for home designs and bathrooms and kitchens in particular, is they can be complemented extremely well by standard fittings and materials like wood and chrome. Below you can take a look at five different white tile varieties which could be used to transform your home.
1. Plain Polished White Floor Tiles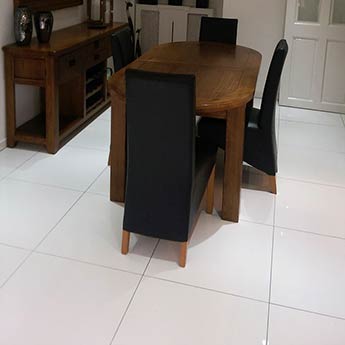 A polished finish helps to accentuate a white colour making it appear even brighter when light shines upon its surface. In a modern dining area, white polished floor tiles can really emphasise the available space by producing a fresh and clean style. Larger format tiles are often preferred, not only because they are a more practical option for flooring areas but also because the reduction in grout lines creates an uncluttered, minimalistic finish. A plain white interior design is a timeless classic and can be a great base upon which to develop your home layout.
2. White Metro Tiles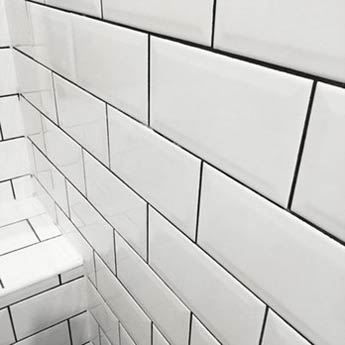 When people talk about popular bathroom and kitchen tiles it's never long before a metro style is mentioned. This retro brick design can be seen almost everywhere, including; shops, bars, cafes and restaurants and of course home interiors. The reason it has stood the test of time opposed to other styles, which have gone in and out of fashion, is down to its timeless appeal and versatility. You can incorporate metro tiles within a classic brick layout but they are equally well suited to a herringbone pattern. You can also accentuate the brick structure in white metro tiles by using a darker coloured grout for a distinctive contrast.
3. White Rock Panel Cladding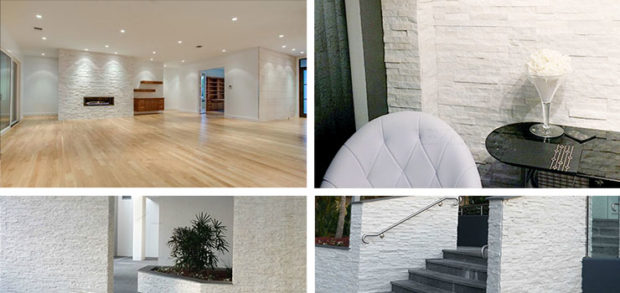 If you want white tiles to add a unique character to your interior layout then rock panel cladding is the perfect choice. These tiles have a rustic style and can be used as a feature in any room. Cladding produces a distinctive look which makes it a great option if you are looking to create a focal point in your home. They can also be used in outdoor areas so if you are looking at ways to transform the exterior of your home then white rock panel cladding is certainly worth taking in to consideration.
4. Sparkly White Quartz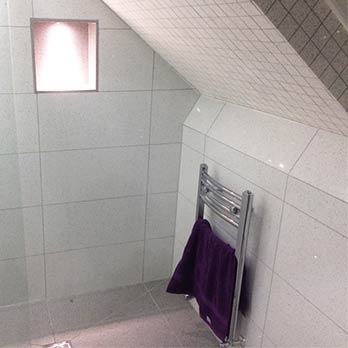 If you really want to provide your home with a genuine wow factor then sparkly white quartz tiles may just be the perfect option. White quartz has a surface covered in reflective mirror pieces which create a standout feature when light shines upon its surface. White Quartz produces a unique look in bathrooms and will match superbly with black and grey colours for classic appearance. They fit perfectly within modern interiors and will bring your home layout to life.
5. White Marble Effect Tiles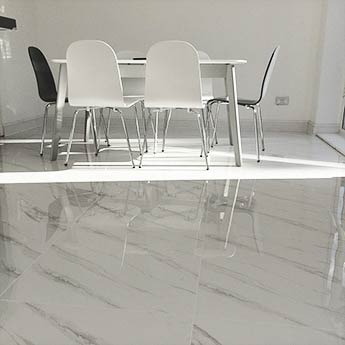 You can add a natural look to your home with marble effect tiles. These tiles feature a classic veined marble style and produce a timeless character. It is no surprise that a marble appearance is still sought after for a variety of home designs. Large white marble effect tiles can be applied in open plan designs throughout living and dining areas for a consistent layout. You can also choose from a wide selection of genuine natural stone tiles but porcelain varieties are becoming increasingly popular as a result of the ease at which they can be cleaned and maintained.
Information Supplied by Tilesporcelain