There are two kinds of people on this planet – those who adore their pets and those who know someone who dotes on a furry friend.
Whether you belong to the first or second category, you already know how obsessed pet parents can be with their four-legged family members. It's only natural, considering the immeasurable joy pets bring to our lives.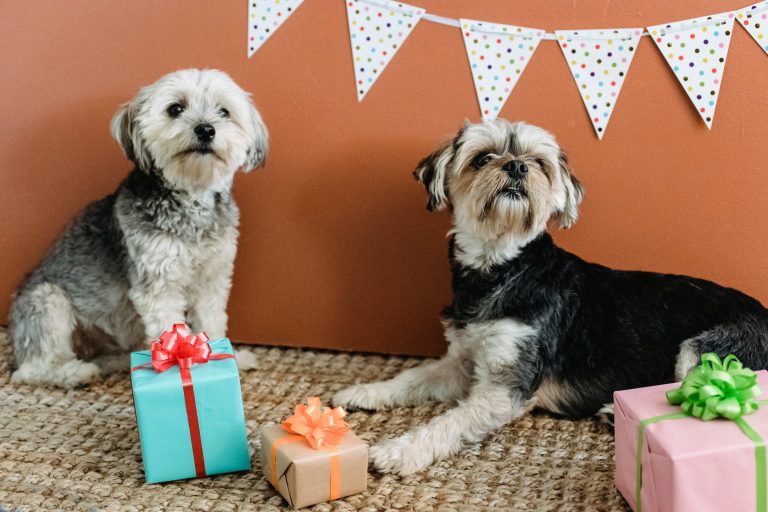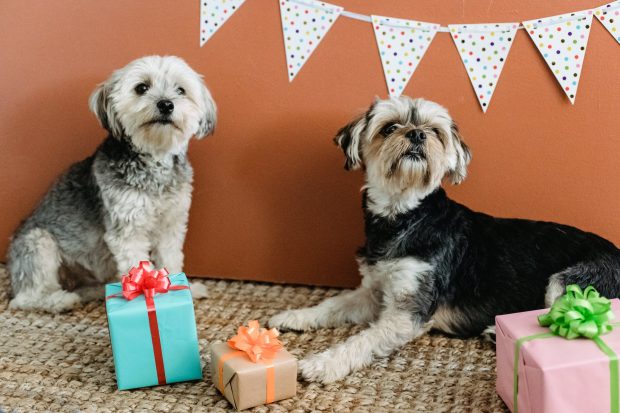 If you have to go gift shopping for such a doting pet owner, you might wonder what you can possibly buy for them that they don't already own. From personalized collars and leashes to fancy bowls and beds, most pet households already have a ton of paraphernalia.
But we've got good news for you.
New advancements in technology have led to the development of cutting-edge and innovative products for pet parents. In this article, we'll cover a few such tech-inspired gift ideas for anyone who's obsessed with their pets. Let's dive right in.
1. Automatic Pet Feeder
One of the biggest challenges pet parents face is leaving their adorable furry companions alone at home. They worry about their pet's safety and well-being while they're away.
They might even have to bribe friends or neighbors to check on their pets and feed them daily. Or they might leave a large portion of food in a bowl, hoping that their pet will finally learn to ration (which never really happens).
An automatic pet feeder can eliminate all those problems. Users can set it up to dispense specific amounts of food at regular intervals. Many automated feeders also come with slow-release features, which is particularly ideal for cats who prefer to nibble on their food over a long period.
Besides the convenience of having your pet's meals taken care of, an automatic feeder also helps with weight control. And it teaches pets to disassociate feeding time with their favorite human, thus improving their relationship.
It's a good idea to look for a WiFi-enabled product like the PetSafe Smart Feed Automatic Pet Feeder. It comes with the handy My PetSafe App that lets you program and adjust your pet's feeding schedule. And it's even compatible with Amazon Echo, meaning you can command Alexa to feed your furry pal.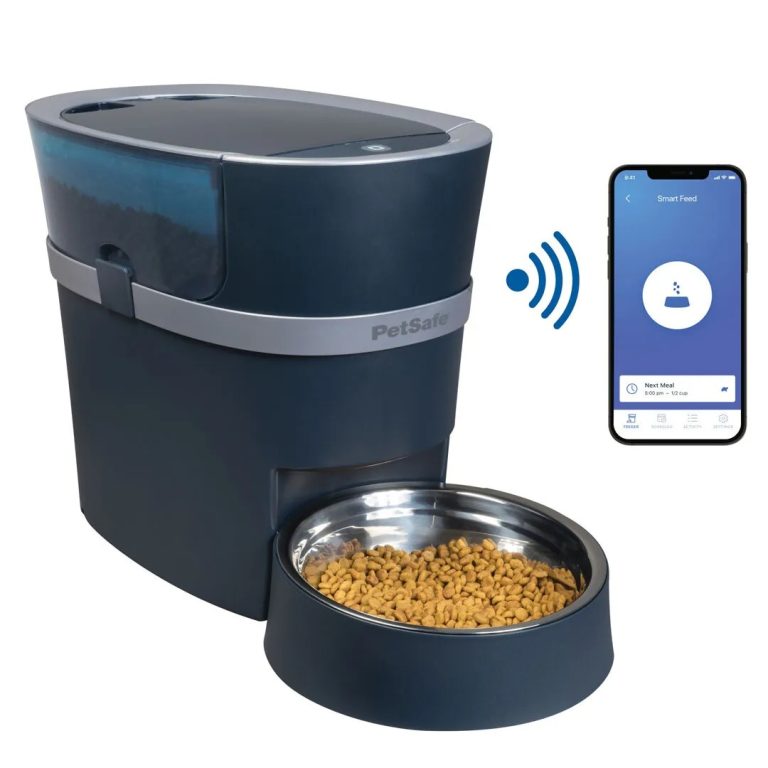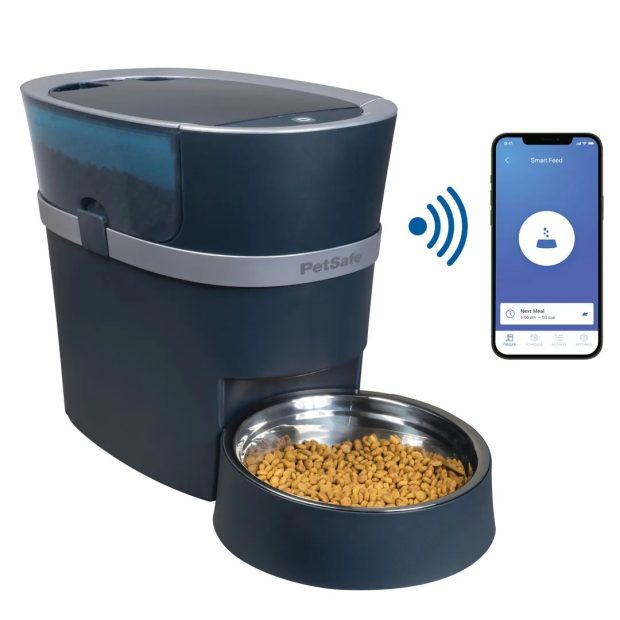 Image via PetSafe
If you gift an automatic feeder to a pet parent, they'll thank you every time they leave home for work or head out for an overnight without their four-legged friend.
2. A Portrait With a Twist
Any loving pet parent will have countless pictures of their furry companion adorning their home. Some people even go to the extent of hiring professional photographers to take dazzling portraits of their pets.
But what if you could create such professional quality pet portraits without a long and tiring photoshoot? Better still, what if you could create these pictures in the styles of famous artists like J. Scott Campbell and Tom Bagshaw?
That's right. With Facetune's new AI avatars for pets, it's now possible to create stylized portraits in a few easy steps. From popular movie-inspired themes to a royal setup, Facetune can generate images according to your preferences and get them ready in a jiffy.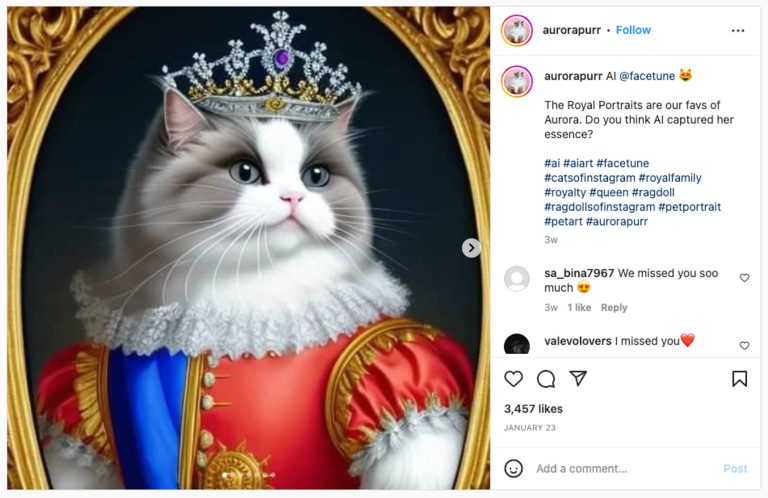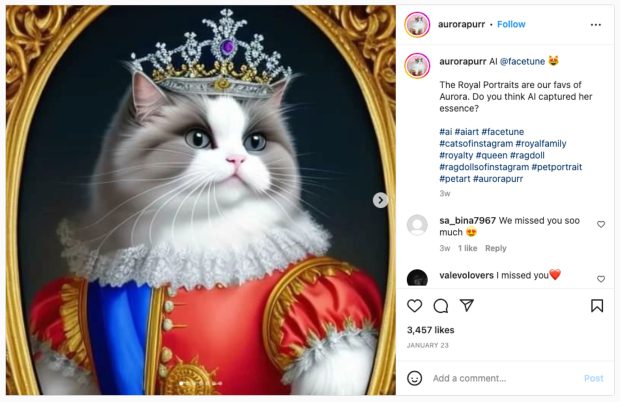 Image via Instagram
All you have to do is select upload 10 to 20 separate images of the pet, and the app does the rest. If you don't have enough pictures of the pet with you, better ask their parent to send a few more. They'll always be happy to share. What pet parent wouldn't want to show off a picture of their four-legged friend dressed as royalty or a Studio Ghibli character?
In about 20 to 30 minutes, you'll receive a notification saying your bundles are ready. You can download the images you like and share them with the pet parent as a gift. But if you're looking to go the extra mile, print out the best picture and encase it in a sleek photo frame.
3. Smart Collar
Every year, more than 10 million pets are lost in the US. Even with ID tags and microchipping, only a small percentage of lost pets find their way back home. Most of them end up in animal shelters, leaving their human families with a lifetime of grief, guilt, and heartbreak.
If you know a pet parent, you would never want them to go through such pain. That makes a smart collar an ideal gift for anyone who's always worried about losing their pet.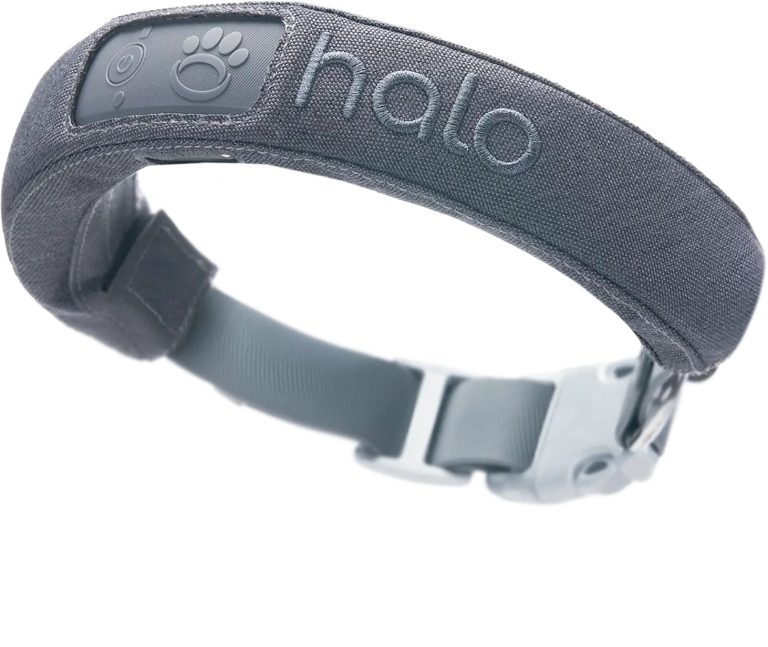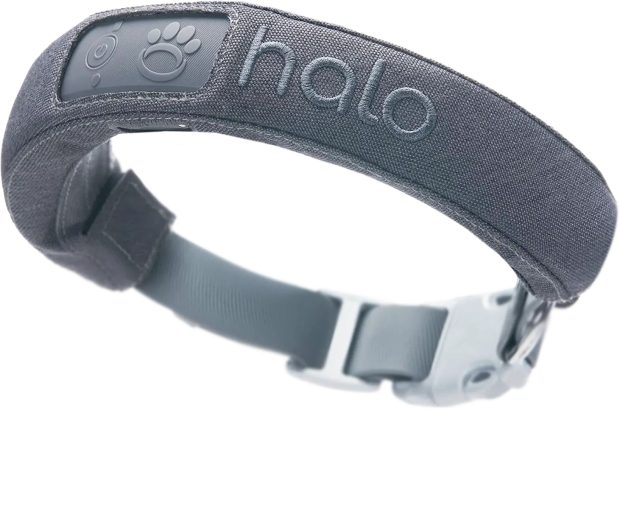 Image via Halo
With GPS-enabled smart collars, users can track their pet's whereabouts 24/7 and even monitor their physical activity and overall health. Many products also come with geofencing features to alert users whenever their pet crosses a predefined threshold.
While there are plenty of options available online, top-rated products like Halo Dog Collar and Fi Smart Dog Collar are excellent choices.
4. Wickedbone Smart Bone
Dogs love bones. There's no denying that. But regular bone toys aren't enough to engage canines for long. This results in bored and frustrated pets who throw various tantrums to get their human's attention.
An interactive toy like Wickedbone comes with built-in responses to different types of touch. It's the perfect solution for dog parents who want to keep their pooch busy while they're away at work or finishing household chores.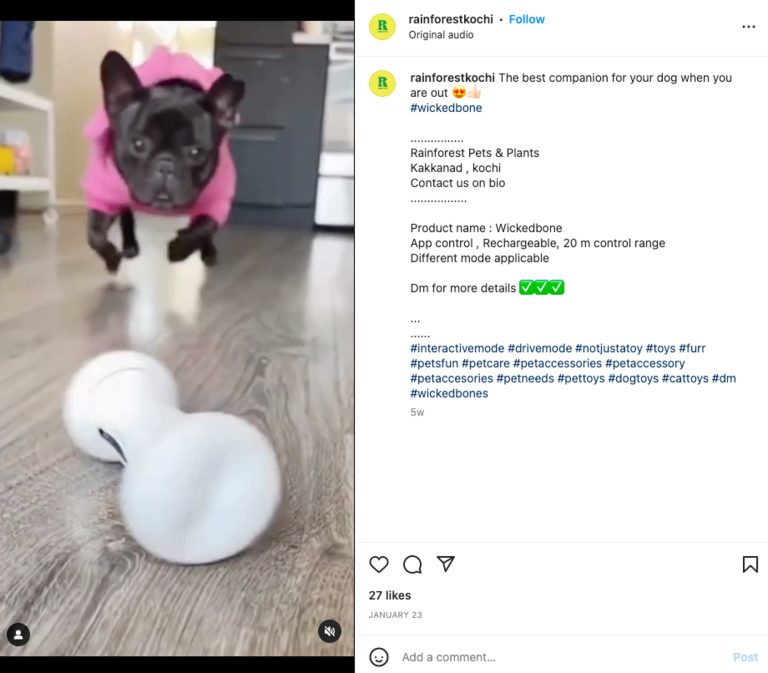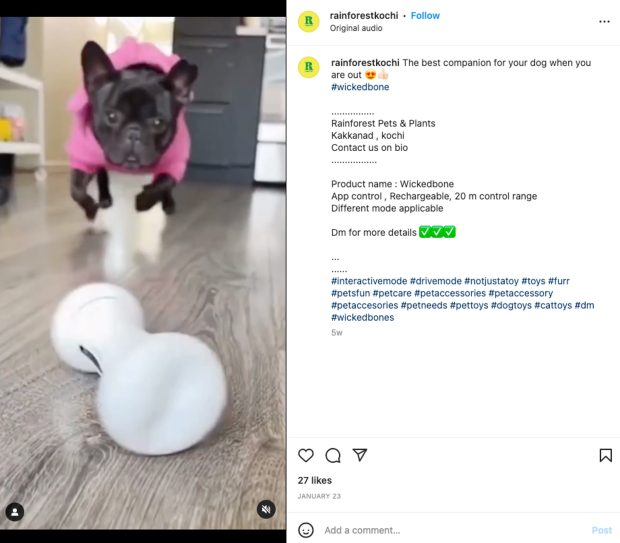 Image via Instagram
Wickedbone is made with FDA-approved food-grade plastic, which means it's durable and safe. Also, it comes with a mobile app (for Android and iOS) that lets users control the toy's movement.
While Wickedbone is suitable for puppies and adult dogs, Wickedball makes an excellent toy for cats. Both products encourage pets to explore and run, thus stimulating them mentally and physically. And that's what every pet parent ultimately wants.
5. Pet GPS Tracker and Activity Monitor
Pet trackers and activity monitors offer the same benefits as smart collars. The added benefit is that they can be attached to a pet's existing collar, which they're already used to.
Products such as FitBark and Whistle GPS Tracker can be a blessing for anyone who's worried about their pet's wellbeing. Besides physical location, these devices let users stay on top of their pet's daily sleep schedules, behavior patterns, and physical activities.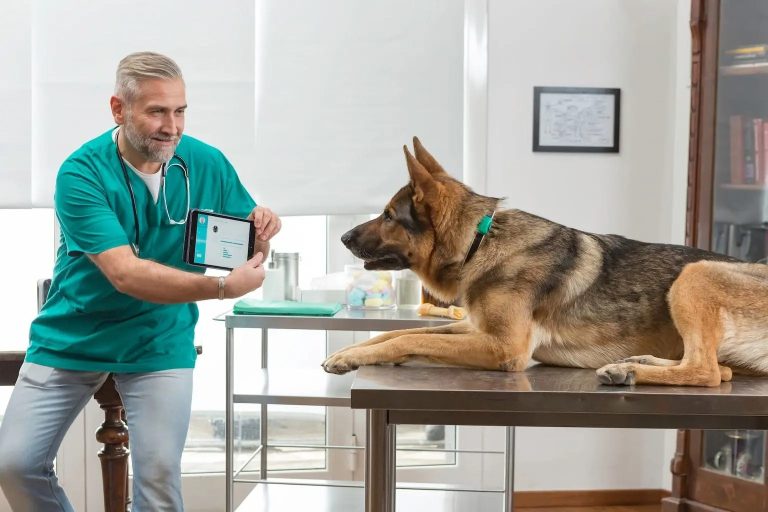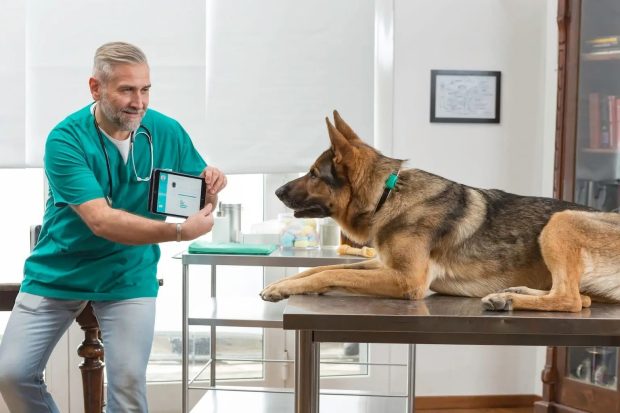 Image via FitBark
If you're planning to gift a GPS tracker to a pet parent, ask them about what features would be most valuable to them. Also, find out whether they have a preference for any specific brand or product. These simple steps will make your gift even more special to the recipient.
In Conclusion
When choosing gifts for a doting pet parent, you don't have to restrict your options to regular pet toys and accessories. From AI-created portraits and smart toys to GPS trackers and automated feeders – tech-inspired gifts are ideal for modern pet parents with busy schedules. Consider their unique relationship with their pet before making the final choice.