When landscape designers or architects are engaged to draw up plans for an outdoor swimming pool installation, they will often rely on expensive limestone or sandstone slabs for paving around the pool to give the area a luxury look. Porcelain tiles, wooden decking or natural stone are even more expensive options.
Whilst these are very effective ways of achieving a luxury look, many homeowners may not have the budget to spend so much on paving – especially if they've spent a lot on the pool installation itself.
However, there are some other ways in which a high quality feel can be achieved without spending a fortune on the paving and not diminishing the professionalism of the overall landscape design.
Firstly, it's essential that sufficient budget be set aside to install an efficient pool chlorination system so that the water is kept sparkling clean. No amount of effort in the landscaping or pool design is going to be worthwhile if the water looks murky.
Secondly, a decision needs to be made as to whether the pool owner is looking for a tropical look or a Mediterranean style feel to the pool design. The tropical look is easier to achieve in warmer and more humid climates, whilst the Mediterranean design is more suited to drier or cooler climates.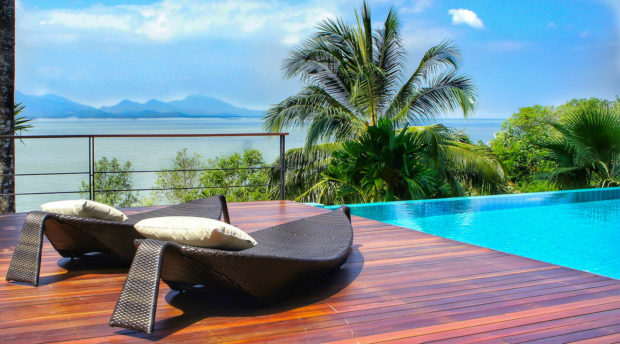 Then there are three approaches that can be taken to reduce the cost of the paved areas:
1.Use Stamped Concrete to Replicate Stone Slabs
Concrete is much cheaper to install on a square meter basis than tiles or stone slabs. However, stamped colored concrete (also known as stenciled concrete in some places) can look almost as good as stone slabs if properly installed.
This option works well for both tropical and Mediterranean pool designs. Stamped concrete designs to replicate the look of natural stone works well for tropical designs, whilst stenciled terracotta-colored concrete can look almost as good as terracotta tiles for Mediterranean designs.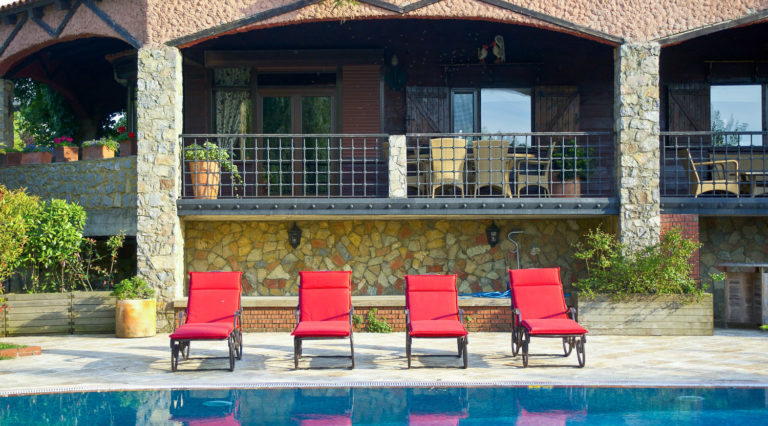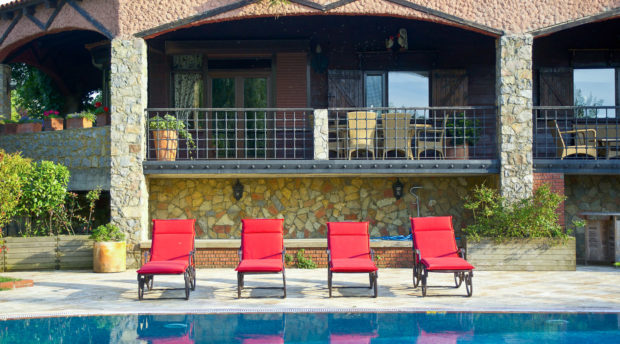 2.Use Grass to Complement Tropical Designs
The next cheapest option is to establish lawn areas around the pool. This works well primarily for tropical designs, although some other swimming pool designs have successfully integrated grassed areas into the overall landscape design as well.
Grassed areas do require more maintenance including application of fertilizers, aeration of the lawn and mowing of the grass, but offer the added advantages of being a non-slip surface and providing a safer environment in which children can play.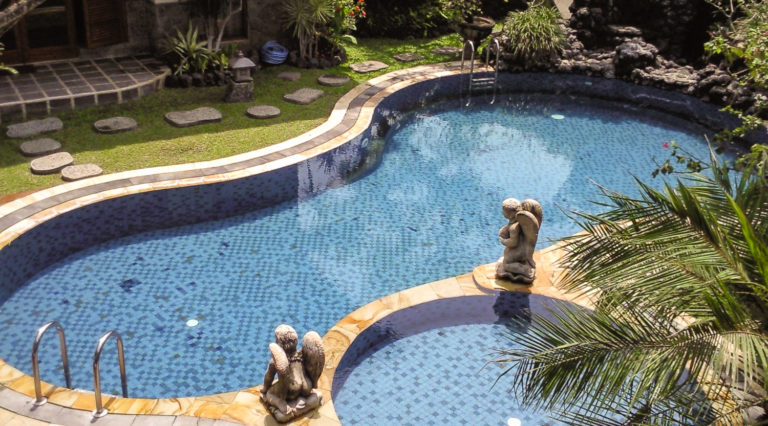 3.Use Sand to Enhance Mediterranean Designs
The cheapest option to replace expensive paving is to use sand. One large truckload of beach sand is usually sufficient to cover the area around an average-sized pool, and after that initial outlay there is very little maintenance expense.
However, using sand is not such a good option for homeowners with pets, because both cats and dogs will be attracted to the area to do their 'business'. It will also be necessary to install footbaths at either end of the pool to avoid swimmers taking sand into the pool on their feet.
A great way to see how other homeowners have incorporated concrete, grass or sand into their landscape designs is to browse photo-sharing sites like Flickr or Pinterest to see how others have used these materials. Search for "swimming pools" to see some innovative ways in which these materials have been used instead of traditional paving.