Creating a comfortable outdoor living space is the key to turning your outdoor space into your favorite space. An outdoor space is perfect for getting fresh air without leaving home, entertaining guests, and adding another functional room to your home.
Summer is coming to a close which means that many patio furniture brands are discounting this year's product line. Now is the perfect time to jump on some new outdoor furniture to turn your patio into an outdoor living room. In fact, Totally Furniture has a large stock of items from TK Classics' so we thought this would be the perfect time to share some of our best tips to creating a comfortable outdoor living space.
Tip #1: Comfortable Outdoor Seating Is Essential
If your goal is to make your outdoor space as comfortable as your living room, try getting the most comfortable outdoor seating possible. If your outdoor space allows, you may want to consider an outdoor sectional to provide ample cushiony seating. On a smaller patio, a couple of chairs and a loveseat might make more sense. Another consideration to make is what material you want your seating made of. TK Classics recommends wicker or metal due to the durability and ease of maintenance. Regardless of the type of seating you choose, the cushions and additional pillows you choose are the keys to comfortable seating.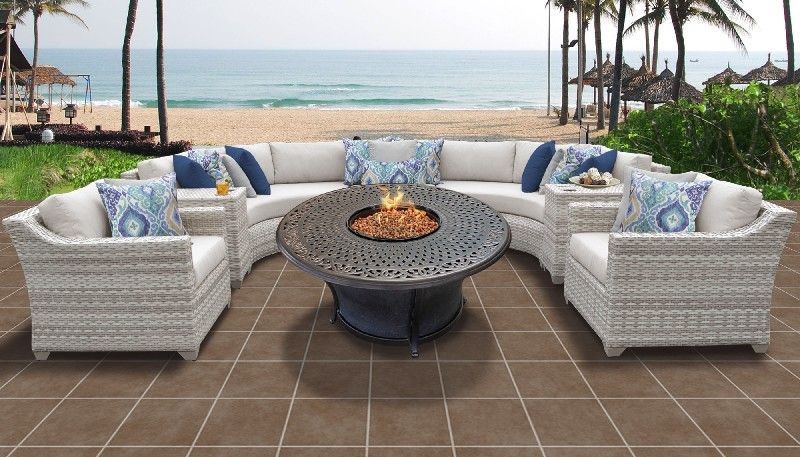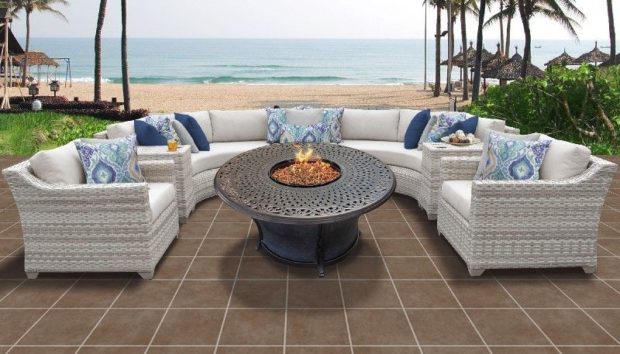 Image Of TK Classics Fairmont Wicker Furniture Set From TotallyFurniture.com
Tip #2: Choose An Eye-Catching But Functional Outdoor Table
Much like in your indoor living room, you will want to have at least an outdoor coffee table and, depending on the size of your space, a couple of end tables. Outdoor tables are useful to put your drink or a book on plus they are an easy way to add a pop of color. You can use your outdoor tables to compliment your patio chairs. In today's outdoor furniture market, you can even get outdoor tables that have added functionalities like a fire pit or a cooler.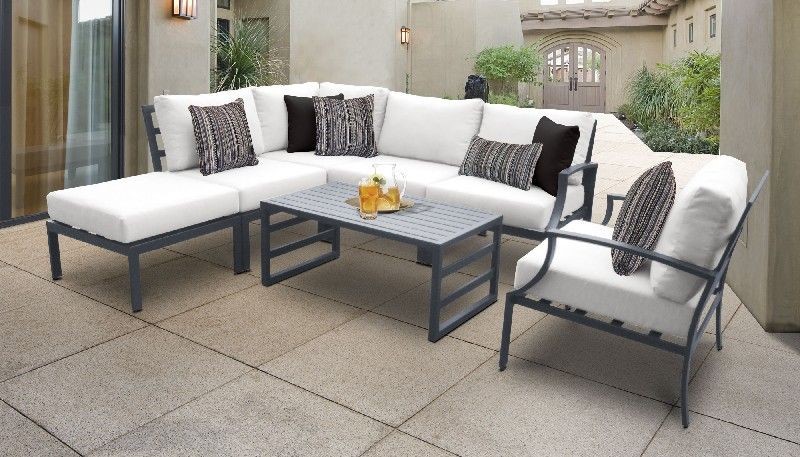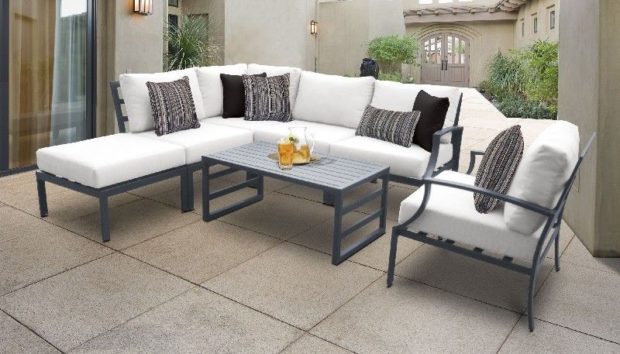 Image Of TK Classics Lexington Aluminum Furniture From TotallyFurniture.com
Tip #3: Add Some Personal Touches Based On Your Patio's Features
Based on the features of your patio you may want to consider extra features. If your patio doesn't offer much for coverage, you may want to invest in an umbrella for sunny days. Umbrellas are another fun way to add a pop of color to your outdoor space.
Another great addition to any patio is outdoor lighting. String lights or ground lights can add both light and ambiance to your outdoor living space. Pairing some lighting with outdoor speakers, a water feature, and some plants is a surefire way to make your outdoor living space as cozy and comfortable as possible.
A final addition that we think is a must for all patios is an outdoor rug. An outdoor rug offers yet another opportunity to add some color to your outdoor living space and truly brings home the idea that your outdoor space is meant to be an extension of your home's living room. We find that matching your rug, your umbrella, and your outdoor pillows create a zen-like setting.
We know that we could write a novel if we compiled a list of every tip for creating a comfortable outdoor living space but these are our top 3 tips. We encourage you to take advantage of any end of summer sale you can find. We love TK Classics outdoor furniture so jump on TotallyFurniture.com's sale before it's too late.