From now on, and with these recipes, your breakfasts will stop being monotonous and will become healthy and delicious. If you want to continue with a healthy diet, do not miss these dishes. 
APPLE CRUMBLE WITH CORN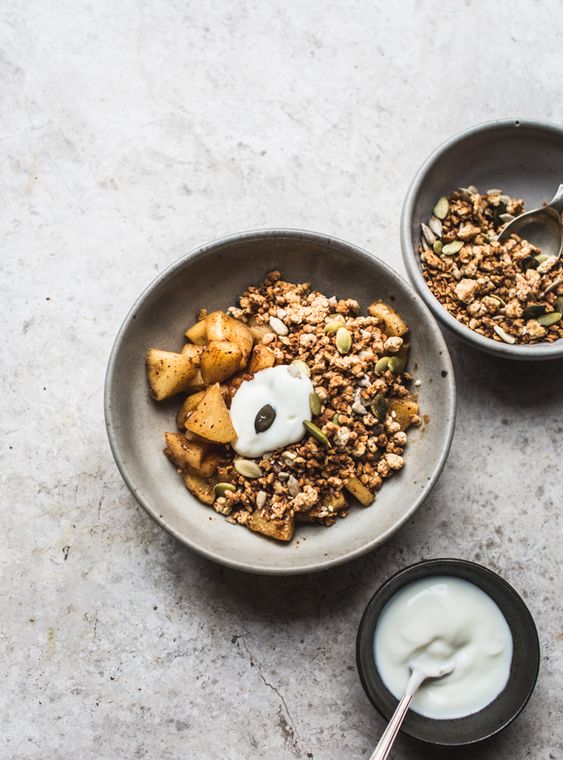 Apple crumble is a traditional English dessert made from fruit, flour, butter, and sugar. However, we can enjoy the crumble in a saner way thanks to this version with corn.
Time: 35 minutes
Ingredients (for 8 people)
4 organic apples
150 grams of organic corn flour
100 grams of sunflower oil
125 grams of whole cane sugar
40 grams of oat flakes
40 grams of raisins
Zest of an organic lemon
1 vanilla pod
Cinnamon powder
Sea salt
Elaboration
Step 1: Wash and dry one of the apples and pass it through the coarse grater. Then, add a few drops of lemon to prevent the apple from darkening.
Step 2: Next, make a longitudinal cut in the vanilla pod and carefully remove the seeds inside. Heat a pan over low heat with two tablespoons of sugar.
Step 3: Add a tablespoon of sunflower oil, a pinch of cinnamon, and the vanilla seeds. When the sugar begins to caramelize, add the grated apple and cook everything for 4 or 5 minutes.
Step 4: Peel and dice the three remaining apples and add them to the pan along with the lemon zest. Sauté for a couple more minutes, turn off the heat, and reserve.
Step 5: Preheat the oven to 180 °C in a large bowl, mix the corn flour, the rest of the sunflower oil, the oat, or cornflakes until you get a homogeneous mixture.
Step 6: Place the sautéed apple that you have reserved in a container suitable for the oven and distribute the dry dough on top.
Step 7: To finish, bake for 30 to 40 minutes at 180 °C, until the surface is golden.
CUP OF FOREST FRUITS WITH COTTAGE CHEESE AND HONEY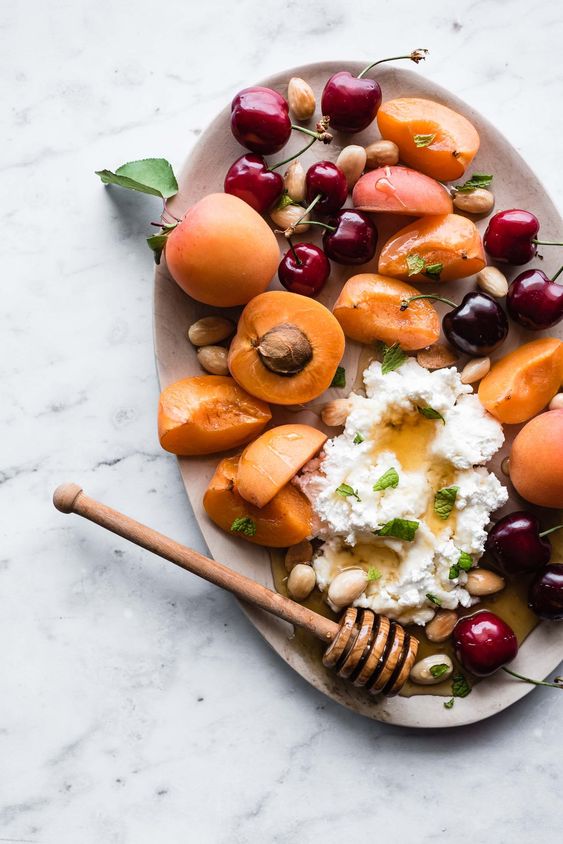 If you want to start the day with a healthy and light breakfast, this cup of forest fruits is delicious and it won't take you any time to prepare it. Plus, it's only 134 calories! You can also take it as a healthy snack option in the middle of the afternoon.
Time: 15 minutes
Ingredients (for 4-6 people)
50 grams of blackberries
50 grams of blueberries
50g raspberries
50 grams of forest strawberries
50 grams of currant
200 grams of cottage cheese
4-6 tablespoons of honey
Fresh mint
Elaboration
Step 1. Clean and cut the fruits of the forest, also remove the leaves and stems that they may have. Cut up some raspberries and some blueberries. The blackberries are cut into halves or half-quarters.
Step 2. Put all the fruit in a bowl and mix gently so as not to crush it.
Step 3. Pour the fruit in equal parts into the base of four crystal glasses. On top, put a few pieces of cottage cheese and a little honey.
Step 4. Place more red fruits, a little cottage cheese, and honey.
Step 5. Finish this dessert with some redcurrants, a bit of honey, and a few sprigs of fresh mint.
The trick:  when serving, instead of adding more honey, add a bit of raspberry coulis.
PANCAKES WITH LEMON SORBET AND FOREST FRUITS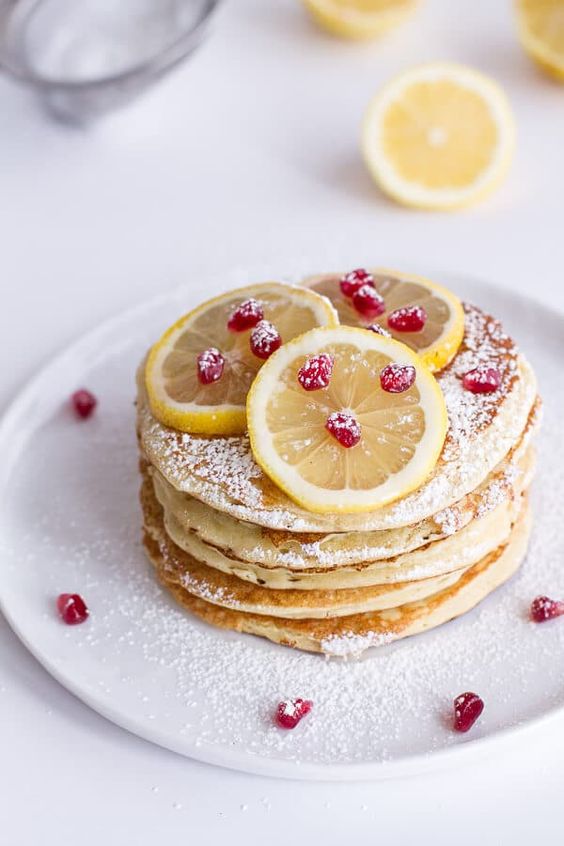 This healthy pancake breakfast is perfect to prepare as a family for a weekend or a holiday. Also, it is perfect for gluten-intolerant people.
Time:  60 minutes
Ingredients (for 6-8 servings)
200 grams of buckwheat flour
150 grams of teff flour (a gluten-free cereal originally from Ethiopia. Rich in fiber, it provides a certain "glutinity")
300 ml of soy drink
2 tablespoons of extra virgin olive oil
2 tablespoons agave syrup
1 tablespoon gluten-free chemical yeast
a pinch of salt
To accompany:
iced lemon sorbet
Sugar-free forest fruit jam
fresh raspberries
fresh blueberries
Elaboration
STEP 1. Mix the ingredients to make the pancakes in a large bowl with the help of a hand whisk. Do it until you get a semi-dense texture dough.
Step 2. Put a non-stick frying pan on high heat, together with a little extra virgin olive oil.
Step 3. Pour 5 tablespoons of batter into the pan and spread it out in a circle; once golden on that side, turn it over and brown it on the other.
Step 4. Once the pancakes are golden on both sides, let them rest until serving time.
Step 5. To serve the pancakes, accompany them with a scoop of lemon ice cream (optional), berry jam, and fresh fruit.