If you're thinking about adding a deck to your garden space, you'll want to make sure you choose a material that's going to look great, last a long time and require minimal maintenance. There's nothing worse than completing your garden renovation to realise that it's going to require a ridiculous amount of upkeep.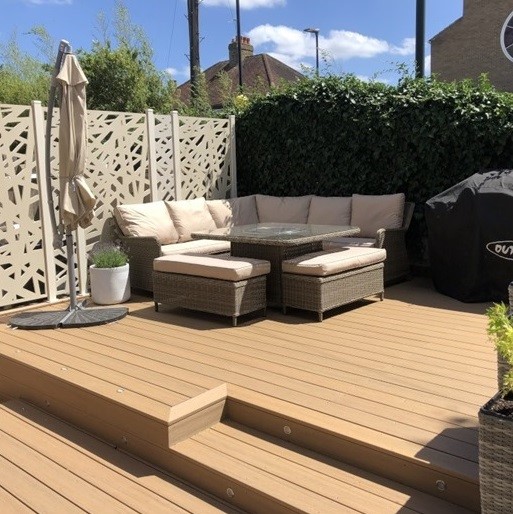 Wood Decking
Wood decking is a nice choice if you want to achieve that 'traditional' wood decking look and feel. People have been installing real wood decking for years, and it's clear to see why. Natural wood brings an organic feel to any space and can be easily painted to match your garden décor perfectly.
For some people, timber decking seems like the very best option on the market, but it definitely has some drawbacks. Wood is a very porous material, and without a proper seal it can quickly rot warp and splinter. This can be dangerous underfoot as well as unsightly!
To avoid this, you need to sand, stain and seal your whole deck at least once a year. As you can imagine, there are a lot of people might not be able to commit to this level of work, so it's important that you take this into consideration when you're choosing the material for your new garden deck.
Plastic Decking
Another popular option for garden decking is plastic decking. This man-made material is more durable and easier to maintain than the wood decking, making it a much better option for low-maintenance households.
Plastic decking comes in a huge array of colours and can be manufactured cheaply, which makes it accessible to people with a small or limited budget. As with most things in life, you get what you pay for. Cheap, poorly made plastic decking is probably not going to last you longer than a couple of years. Everyday wear and tear will lead to cracking and splitting which can be very dangerous and costly to repair. You may even have to replace your whole deck if the damage occurs in every deck board.
Therefore, plastic decking might not be the best choice if you want something that'll last a lifetime. Plastic decking is suitable for homeowners that want a temporary change in their garden.
Composite Decking
Finally, there's composite decking. A decking material hybrid that combines elements of both wood and plastic decking to form a natural looking, durable option that works well in every garden.
Composite decking is made by combining wood fibres with polymer resin. This creates deck boards with the appeal of real wood but without all the downsides like, rotting, warping and maintenance. Some premium composite decking brands offer lifetime warranties on their deck boards, so you know that they're going to last you much, much longer than plastic or wood decking.
So, in terms of the best material to use for your garden deck, we'd recommend composite decking as the best 'all-rounder', although other types of decking have appealing features too.