Home theaters were once a luxury reserved for the rich. Today, they're common. The components necessary to create a home theater have become affordable for nearly everyone. You can get a big screen T.V. for under $200, Costco sells cheap recliners, and the price of projectors has come down significantly. And the movies? They're on-demand for less than twenty bucks a month if you've got Netflix.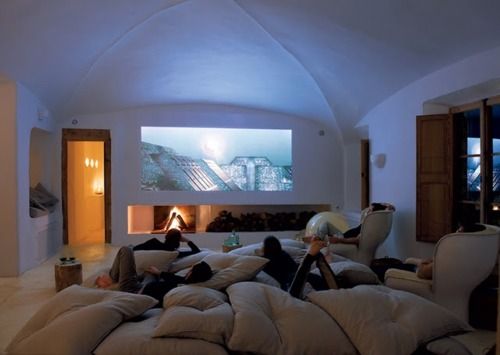 Now that you know a home theater is affordable, here's how to make it a reality for you and your family:
1.Choose a room or area to designate as your theater
The best place to build a home theater is in a spare bedroom or an extra living room. Putting your home theater in a designated area separate from the rest of the house will ensure others aren't disturbed while a movie is on. If you don't have an extra room, you'll need to get creative.
If you've got the space and it's logistically possible, section off a portion of your living room for your home theater. Separate the space with a ceiling-mounted curtain rod and two thick curtains designed to block light and sound. It won't be completely sound proof, so you'll need to create rules for using the theater while others are in the house. For example, you could host scheduled movie nights and pipe the audio through a surround sound system, and at all other times require movie watchers to wear wireless headphones.
2.Intentionally select your window shades
When it comes to darkening the room, your home theater will be at a significant disadvantage compared to a professional theater. Unlike a theater, your home was designed to be lived in, and windows are going to let in the light. Your current drapes and curtains probably won't block much light. Any light coming through the windows will be a distraction, so you'll want to reconsider your shades.
For building a home theater, there's no reason to get anything but motorized shades. They'll help you create a true cinematic experience since you can raise and lower them from the comfort of your recliner at the touch of a button. You won't have to deal with cords or chains. Some motorized shades can even be operated from an app on your smartphone.
3.Research necessary equipment before you buy it
You can create a home theater on a budget by researching the equipment you need before you buy it. Many consumers discuss positive experiences with electronics, but you want to look for the negative experiences to uncover patterns that could point to manufacturer defects. For example, say you're researching a particular projector. Check out the one-star and two-star ratings on Yelp. If you find that over several years, a handful of people reported the same problems with their projector (perhaps it stopped working after 18 months), consider that information a red flag.
Electronics aren't immune to malfunctioning, so don't let every bad experience scare you off. Reserve most of your concerns for patterns that indicate a manufacturer's defect.
4.Go wireless
There's no point in hiring an electrician to install a hardwired surround sound system when you can setup a wireless one in minutes.
With a wireless system, your kids and pets won't trip, and there's nothing to accidentally yank out of the wall. Having wireless earphones for your home theater means someone can watch a movie and you can get work done at the same time. You can bet wireless technology will continue to improve, since the wireless audio marketplace is expected to be worth $54 billion by 2022.
Using wireless headphones is a great way to enjoy full wireless freedom when listening to music. With true wireless earbuds like xFyro, there is nothing to cut on your zipper, get tangled in your pocket, and whack around your neck during a workout or while playing games.
5.Buy only what you need
You can save even more money by purchasing only the bare necessities. For example, some people need surround sound to accommodate a large room, but if your theater space is small, you might be happy with two powerful speakers up front. If you're going to use Netflix and an occasional DVD, and you're not going to use the theater for gaming, you probably don't need a storage cabinet. In that case, mount your T.V. to the wall to save money and space.
If you have an old couch in the garage that looks bad but is still comfortable, get a slip cover and put it in your home theater. A slip cover will cost under $100, and you can buy recliners later.
Don't forget the popcorn
No matter how you build your home theater, don't forget the popcorn. The best sound system in the world can't make up for a lack of fresh popcorn smothered in butter.