It's many people's dream to start their own business, and be their own boss.
During 2020, so many more people have begun to reevaluate their lives, and start working on making their dreams come true.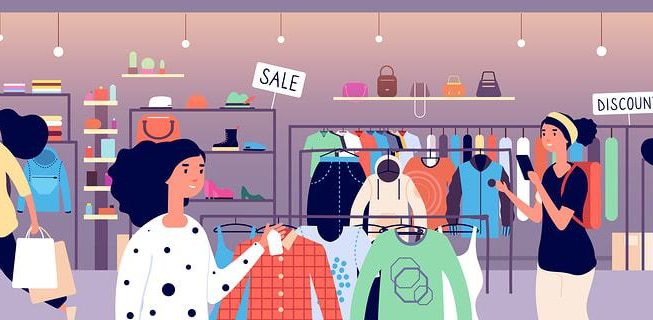 If your dream business consists of being a clothing business, then hopefully this article will help you with some ideas and tips on how to make your clothing business a success.
Find Your Target Audience
What makes a business successful, is being unique and knowing their target audience. It is very difficult to make clothes to suit everyone and anyone, and be successful.
It is better, therefore to have a certain market to aim for, at least initially. It is far better to be very successful in one area, than to cover many areas and not have any success.
So decide on who you want to buy your clothes, for example, are you marketing towards fashionable gym goers, or would you rather market to those wishing to purchase sustainable fashion? There is a big difference between how you would market these types of products, and therefore it is important to know what you're selling, and to whom.
Knowing your target audience will also help you with your branding, and finding a logo and slogan that reflect what you want your clothing to be.
At the same time, investigate your competitors and find out what they are doing, and what you could do better to stand out from them, and be more unique.
Figure Out Your Brand
Once you know what you want to sell, and to what audience, you can start to work on your brand.
Your brand is the personality of your business, and how you want people to recognise you.
A good brand will reflect your business and it's ethos, and be unique and instantly recognisable, and make you stand out from the crowd.
Branding involves deciding on a logo, a slogan, fonts and specific colours you will use. This should be aimed towards your target audience, so for example a sports clothing range should have a dynamic, modern brand.
Once you have this sorted, you can start getting your brand out there, and start being recognised.
This means getting a website, social media presence, and also ensuring your products are branded with custom clothing tags so that everyone knows where their wonderful clothing has come from.
Have A Plan
Every entrepreneur needs a plan for their business. This can be as formal as making a business plan, or just writing down things that you need to do.
It's also a good idea to work out a budget, so you know how much you are spending on materials, and how much it costs to advertise and so on. Once you have this information, you can work out what you need to sell your clothes to make a profit.
Your plan should also include where you're going to start selling your clothes. For example, are you going to start with your own website, and advertise, or on a seller website like Etsy or similar. These options all have their pros and cons, and different fees you will need to take into account.
You should work out how many designs you are going to start with, are you going to start a whole range of products, or rather concentrate on variations of the same style.
How are you going to obtain the money to start your business. Hopefully you will start turning a profit before long, but you will need money to get started, and it's important to know how that is going to be available. Is it from savings? Or a loan? It is important to take these things into consideration before starting.
Knowing Your Designs
It can be very tempting to just start producing straight away, however it is well worth taking the time to be sure of things first.
Start first by creating all the designs you plan to sell initially, and all the measurements and materials you are going to use.
If you are going to be producing the designs yourself, then you can record these in any way that makes sense to you, however if you are going to be outsourcing to an manufacturer, then you will need to make sure that all the information you are passing on is in a format that they can understand, and that will translate into exactly the product that you are expecting to receive from them.
It is a good idea to have some sample pieces made first, so you can test the quality and the sizing as you want them.
You can also ask friends and family to test your sample designs, or even give them away for free to testers to get honest, sometimes brutal, feedback. As long as all the feedback you get is constructive, you will be able to tweak your designs until they are exactly as you want them.
As your business grows, you will no doubt start adding new designs to your catalogue, and it is important, no matter how much you trust the manufacturing process, to test each piece to ensure your quality remains the same.
The last thing you want is to build a brand that relies on you having high quality products, only to start making low quality products which will drive your customers away. Obviously, the best way to take control of quality is to create your own designs and if you can get started with just a laser engraver and plain clothes to engrave on. Ultimately, your business plan and vision will decide the path you're taking, but don't forget that quality is of utmost importance.
Get Ready To Sell
Once you have everything in place, it's time to go live with your products.
You need to, as previously mentioned, settle on a price that both makes you a profit, and is attractive to your target audience.
Consider how you will post or ship your products, and again make this attractive to the customer, so you may need to work some of the postage cost into your product to entice people to buy.
If you are deciding to start with any discounts or promotions to get sales going, ensure you know exactly how these work to avoid any hiccups in the beginning.
Always be aware that success isn't a straight line upwards, and you will have setbacks initially, but keep going, be passionate about your business and you will hopefully be a success!