Area rugs can be the final touch that a room may need, turning it into a great room or ruining it completely. It can be the artwork of the floor or fade into the background- it's you to decide which one works better for your room.
For instance, you may switch a red Turkish rug with a plain sisal model. With just one simple move, you may get rid of the traditional feel and have a modern feel in your room. However, this isn't that easy in real life so you do need to have in mind some rules that are going to help you choose better.
Do you know anything about rug styles?
It goes without saying that there are many area rug styles. After all, it's not only the room styles, lighting styles, furniture styles that are so different and various.
Gone are the days when you would go with only traditional Persian rugs or the classic European ones. The new and contemporary models give you plenty of alternatives: simple jutes, bold florals, sisals or strong geometrics are only few to name.
Before you settle on a style, it's not a bad idea to give a thought on what type of atmosphere you're trying to create in a room.
Don't forget that an area rug doesn't have to match every single item in a room. It's rather more important that it combines with the tones and textures of existing furnishings a lot better.
One of the best online store for you to buy rugs, lighting,fans, décor and many other accessories necessary for redesigning your home, is Southforklighting.com. With over a 50 years of experience, they offer some of the best designing services and products. They cater to individual home owners, custom builders, business owners, and anyone looking to give their space a personal touch. Now you can benefit from these southfork lighting coupon and save up to 60% on your next purchase.
Which color should you go with?
Color is one of the easiest factors to consider when choosing the rug. You should think about what colors you typically like and which one you'd like to live every single day.
We cannot stress enough about the color of the rug which is able to set the tone for a whole room, so take your time when choosing. If the room already has the furniture in place, imagine how the colors of the rug are going to go with everything in the room.
If your room is already filled with colors and patterns, you should go with something neutral or just one color for the rug.
It's a bit easier if you don't have the furniture in the room just yet. You may play a bit more with the rug colors, without forgetting about the tones of walls, flooring and ceiling.
When it comes to rugs, there are two main streets to take: they rather stand out or blend in so think thoroughly which way you want to go with.
Here are some tips when selecting the color of the rugs:
For the dining room, it's better that you go with coordinating rug color and pattern that match the living room. Don't pay attention to a separating wall; you're going to be able to create a flow just fine.
As for the bedroom, you should select an area rug larger that the foot of the bed width. It's better that you allow 2-3ft. on the side of the bed so that your feet stay warm when you come out of the bed in the morning.
Remember that showroom colors and lights may change the true color tones of the area rugs. If you're admiring a rug that is hung up at the store, it's better that you talk to the clerk and ask him to take it down, placing it on the floor. The harsh store lighting do change a lot the color hues.
What's the best size for a rug?
Despite of one may think, choosing the wrong size of the rug is the most common mistake that customers make. It's quite common for people to end up with a smaller rug in a room. You should take your time and measure twice the area you need a rug for.
In the case of average-sized rooms, you should have around 10" to 20" of bare floor between the edges of your rug and the walls of the room. You may go as low as 8" or as high as 24", but it depends a lot on the size of the room. Nevertheless, the rug has to be centered in the room and the distance between the walls and your rug should be the same on all four sides.
A creative way to use rugs is to use them for defining spaces. If you have an open concept space, or if layering the rugs is an idea you fancy, there are other tips to keep in mind. You need to make an idea about how big the area you want to highlight is going to be and choose the size of the rug accordingly. The rule of thumb is that you should always go big and not too small.
Most rugs come in standard size (5×8, 6×9 or even larger than that). The best way to see which size you really need for an area is to use some masking tape or mark the floor with your eyes, making an idea about how big the rug should be. On the off chance the area is larger than the standard size, you should consider getting a custom rug in the size you need.
The main advantage for custom made rugs is that you can choose not only the size, but also the type of material you want for the rug.
Just to give you some hints, you should get a rug at least the size of the length and width of the furniture grouping in the family room. Go with a rug that is 2ft outside the dining room chairs in the dining room (you want to be able to slide the chairs in and out).
Do rug patterns matter?
This isn't a common factor to consider when choosing the rugs. As a matter of fact, not many people out there pay attention to this detail. If the furniture and walls are solid colors, a patterned rug is going to bring a new vibe into the room.
On the other hand, if the furniture is patterned, a solid rug is going to create a calming feel into a room. Balance is the key when decorating any room. If your room has the furniture already, you should keep that in mind when selecting the rug.
However, if the rug is the first piece for the décor of your room, give a good thought to its pattern. Do you want to go with a subtle one or you want the pattern to be the first thing you notice when you get in the room? Patterns and colors go together and try to make them work in a nice way.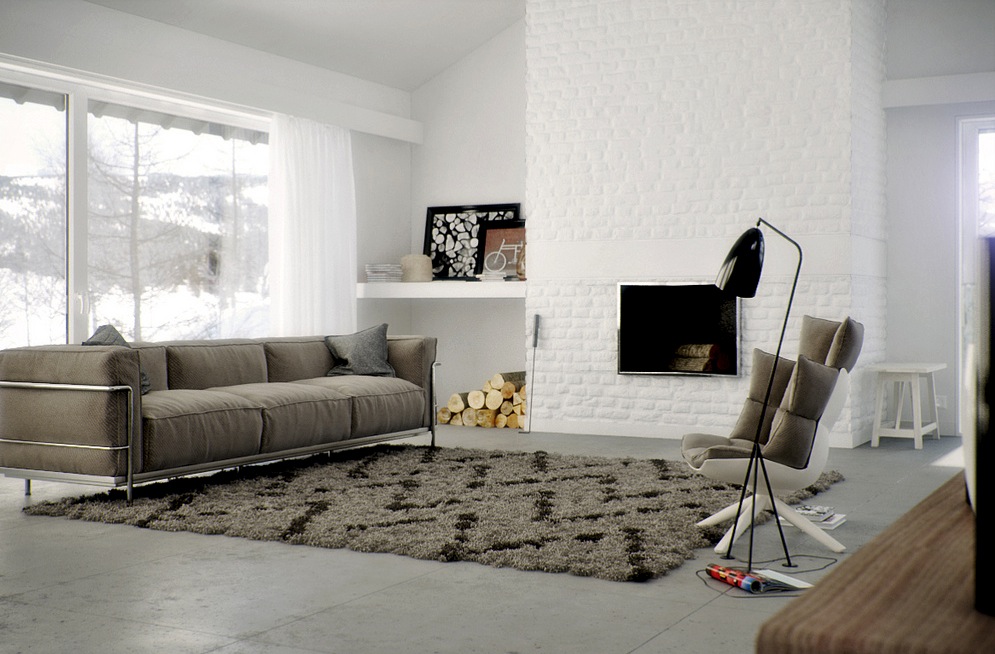 High pile or low pile?
This is another factor to consider when choosing the rug. There are three main types to choose from: low, medium and high.
Low pile rugs stand out with their sturdiness and are a lot easier to vacuum and to maintain clean. They're pretty affordable, as opposed to the high pile rugs.
The rugs with long piles are softer and comfortable underfoot, giving a luxurious feel to any room. They turn any room into a cozy and inviting place.
You should go with low pile rug in a room that has a lot of foot traffic, whereas a thicker rug becomes the more appropriate choice for a room that has less traffic.
Does your lifestyle count when choosing a rug?
Surprisingly enough, your lifestyle plays a big part when choosing your rug. Do you have any pets? Do you have kids? If that's a "yes" for both, you should definitely stay away from the white and high pile rugs.
If you expect for the rug to take a lot of wear and tear, a flat weave rug with a pattern that hides the stains is the best option for you. It's going to be easier for you to clean it and to maintain it clean. Keep in mind that this type of rug is anything but luxurious or comfortable, so choose right.
A high pile rug is always going to bring an elegance and comfortable vibe to any room, but it has to be in the right room in order to pass the durability test.
The final aspect to think about
Be true to yourself: how much work are you willing to put into keeping the rug nice and clean? Most of the rugs out there do need vacuum and rotation on a regular basis. Flat weave rugs are easy to clean, whereas the high pile ones are challenging when it comes to cleaning.
Choosing the right rug isn't difficult, especially if you get all the info you need. Keeping it clean and pretty for a long time, well…that's another story.