Sportswear is not only for sports: fashionable and comfortable clothes are used every day. This style combines spectacularity, freedom of movement, lightness, and practicality. At the moment, sports brands and fashion houses offer to combine comfortable sportswear with classic outfits, add vintage elements, and prefer neutral colors and interesting prints.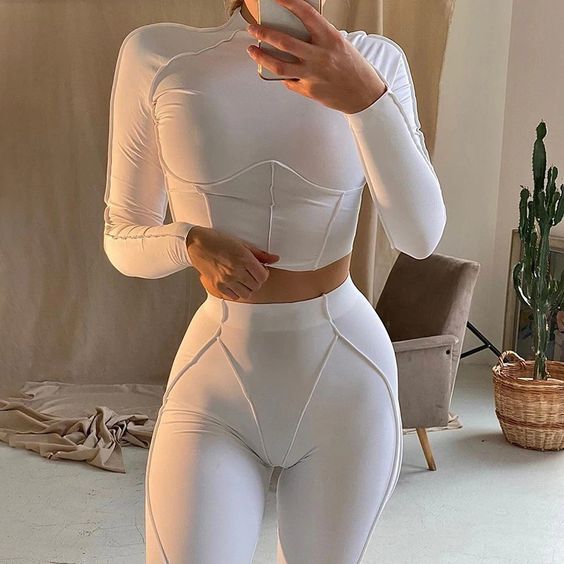 The most current trend in sports style is considered to be a mix of sports and classics. We can say that strict boundaries have been erased, and a "visa-free regime" has formed for modern clothing. A classic-style jacket is easy to combine with jeans or a knitted dress, and sports trousers with heeled sandals.
Every woman wants to be the center of attention and tries to look stunning, so it is important to choose the right clothes that would suit her and emphasize her figure. If you want to dress in a sporty way, you only need a few basic things: pants or leggings, shorts, T-shirts or T-shirts, sneakers, and hoodies. Choose clothes and add sports accessories, and a couple of pieces of jewelry, and the girl's sporty look is complete.
Sport chic style in clothes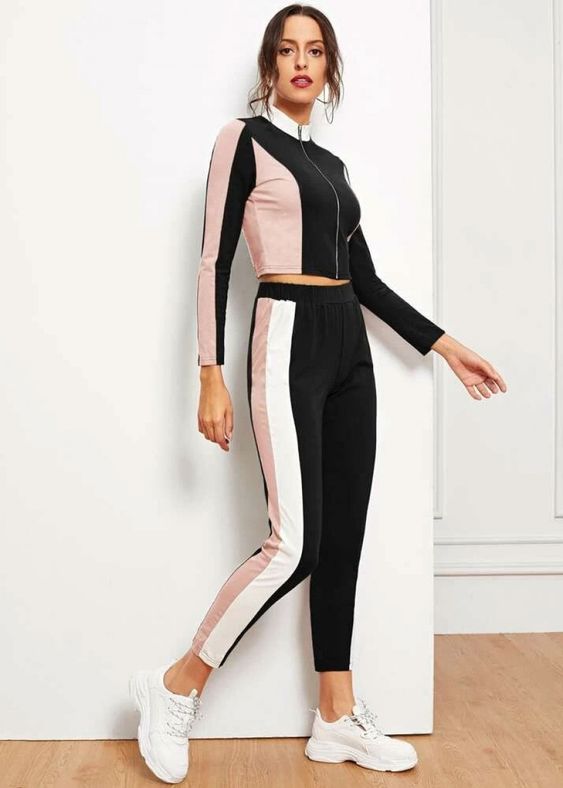 What is meant by "sporty chic" in clothing? It's a laid-back street style that combines athletic elements with office or dressy wear, resulting in a cool, modern, and stylish look that feels light, and casual, yet comfortable. For this, the couturier uses bright and rich colors, as well as various prints and patterns, but pastel colors are no less relevant.
Hence the dizzying popularity of sport chic. In this case, these are clothes and shoes that are comfortable, practical, and easy to move around in, but at the same time, they are modern. Shoes are an integral part of the sport-chic style. Works best with most outfits and casual sneakers. Spectacular sports images are increasingly appearing at high fashion shows. Let's go back to the street and see what women who prefer sport chic style are wearing.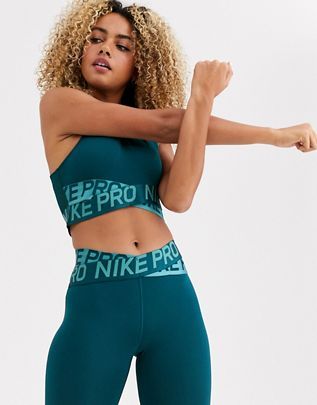 Sports dresses and skirts remain the most feminine element of clothing. At the same time, a fashionista looks beautiful and elegant, flat shoes, moccasins, or sneakers, the so-called "all-terrain" shoes, are appropriate.
Sports pants. Previously, sweatpants were worn only for training. Today it is the most fashionable and comfortable clothing. They can be combined with various clothes: cozy sweaters and pullovers, casual jackets and cardigans, strict shirts, long coats, and raincoats.
Boring leggings. The more unusual your legs are dressed, the more interesting. The entire catwalk world admired the original leggings, so they vied with each other to produce outrageous leggings: with an author's print, in rich and neon shades, with an ornament or pattern, glamorous in metallic colors, or with chic decor. However, remember, not everyone can afford to wear such leggings, they will look chic on long slender legs and will go well with matching sweaters and tops, as world designers advise.
Hoodies & Sweatshirts. Such things will effectively replace an outdated warm sweater in a casual look. They can be worn with trousers, jeans, skirts, and undercoats, or fur coats. Are you embarrassed to wear a shapeless hoodie? In this case, a sweatshirt, which is preferred by conservatives, is suitable.
T-shirt. Can be an addition to any image. It can be worn alone on warm days but is also suitable in combination with a business suit, jacket, strict office trousers, or sundress.
Footwear. For women in the style of sport chic, sneakers or moccasins are definitely suitable, preferably with thick soles. We make an unusual combination of sports shoes with classic things: business suits, flying dresses, elegant cases, coats, dress pants, and short or long skirts, and get an irresistible look.