Dubai is famous for its tourism. Many people spend abundant amount of money for touring this place, but have you ever thought of having overnight tours of this city. Exploring a city at night in the gleaming light of stars can be exciting for you and your family. Here are ten Dubai overnight tours listed below that one can have to relax and refresh themselves. Have a look!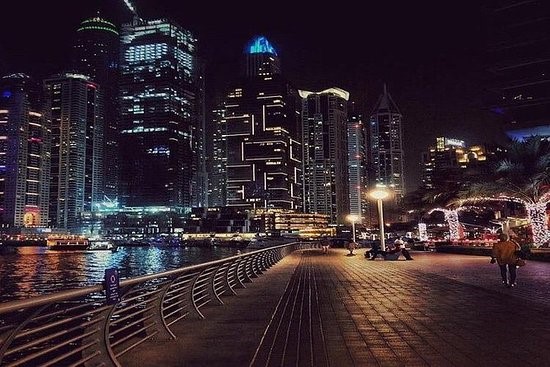 1. Have a tour to Burj Khalifa at Night
Witnessing the huge fountain dance with the pleasing sound of music is heart-stirring. The feeling of standing on the largest building of UAE and viewing the beauty of Dubai underneath you is mind blowing. Feel the luxury of Dubai when the sun sets and the city is glistening with lights and stars. Go on the last floor of Burj Khalifa and have a sight of the beautiful city from your feet.
2. Book a Cruise in Dubai
Dining between the seas, inhaling the fresh air and having an exotic dinner in a yacht is what everyone desires for once in their lifetime. If you are planning a trip to Dubai then book a Dhow Cruise Dubai Marina and experience fine dining in the breezes of Persian Gulf. Roam around the sea and enjoy the luxuries offered by the crew members. Let them serve you the finest buffets, juices and fruits and rejuvenate yourself with captivating views around you. You can book a yacht from yacht rental Dubai and have a romantic date with your partner on a lavish yacht. Or if you are on a holiday with your family you can spend your precious moments in a luxurious yacht and experience the fun of being between the waters.
3. Evening on a Desert
As we are living on the land since we are born it is quite difficult to think how people would be living in deserts. This can be experienced in Dubai where you can spend an evening in Desert Safari with your loved ones. You are taken into the desert in a 4 vehicle car and you admire the life of desert where you witness Arabian dance and you are served with Arabian cuisine. There isn't just the food that you will love to have again and again but there is much more entertainment waiting for you once you enter the Desert Safari. It is one of the best spots one should visit if he/she is planning to go on a trip to Dubai. It also falls in one of the best overnight tours.
4. Explore the Souks of Dubai
Dubai is not just famous for its tourism but people love to shop stuff from there. The souks of Dubai are quite famous as people enjoy buying stuff from there and places like Deira's Gold Souk and Spice Souk are way too attractive when you visit them at night. Enjoy an Arabian style dinner and discover the Arab life at night
5. Explore the mosques of Abu Dhabi
A trip to Dubai is incomplete if you haven't visited the famous mosques of Abu Dhabi. Abu Dhabi is known for its huge and shiny mosques where people offer prayers and visit to view the beautiful architecture. Witness the spectacular museums in Abu Dhabi and wander on its streets at night to have a glimpse of the night view of the city.
6. Marine Life at Night
Explore the beauty of marine life at night at the biggest Dubai Aquarium and delve into the life of the fishes. To view the life of the sea animals you enter into the tunnel of underwater zoo and experience different types of fishes and reptiles that are roaming around you. People who don't know swimming but still want to explore the beauty of marine life can walk through this underwater zoo and seek the nature's beauty of underwater life.
7. Sightseeing in a Bus
Walking on the roads of Dubai and having a glimpse of its building while walking is good but nothing is better than sightseeing from a bus. A double decker bus that has a tour guide and is guiding you about the city's cultures, traditions and facts is something that will make your day. You get to know about the city's ancient and modern cultures and you experience the city from a different perspective. You pass the famous landmarks of Dubai and get associated with the radio commentary that is available in 12 different languages. So don't forget to experience the fun of being on a double decker bus trip.
8. Night Crab Hunt in Umm al Quwain
Are you a fan of those crunchy bites of crabs that are deliciously cooked and served? Well you can have crabs for dinner at Umm al Quwain where you hunt crabs from its mangroves and get them cooked on your own. Having a mouth-watering crab dinner on the seashores of Dubai is an amazing feeling that one should experience. The low tides allow all types of people to hunt for crabs and a buffet is served in the end to end the day with some scrumptious delights.
9. Spend an evening with Camels and Bedouins.
Be it a child or a middle aged person camel ride is a favorite activity of everybody. Spend a day out in the sand dunes and go on a camel trek at Al Khayma and explore the life of Bedouins. After a tiring day relax yourselves in a calm and serene environment, and an evening in the desert will wash away all your worries. Experience a splash of adventure by camel trekking, sand surfing and dune bashing and enjoy a delicious BBQ dinner in the end at Al Khayma.
10. Shop till you Drop
For shopaholics Dubai is an amazing city where they will find a variety of stuff to fill their closets. From women's wear to children's collection you will find everything in the malls of Dubai. Be it the Mall of Emirates or Dubai Mall fill your carts with exciting stuff and shop till you drop.